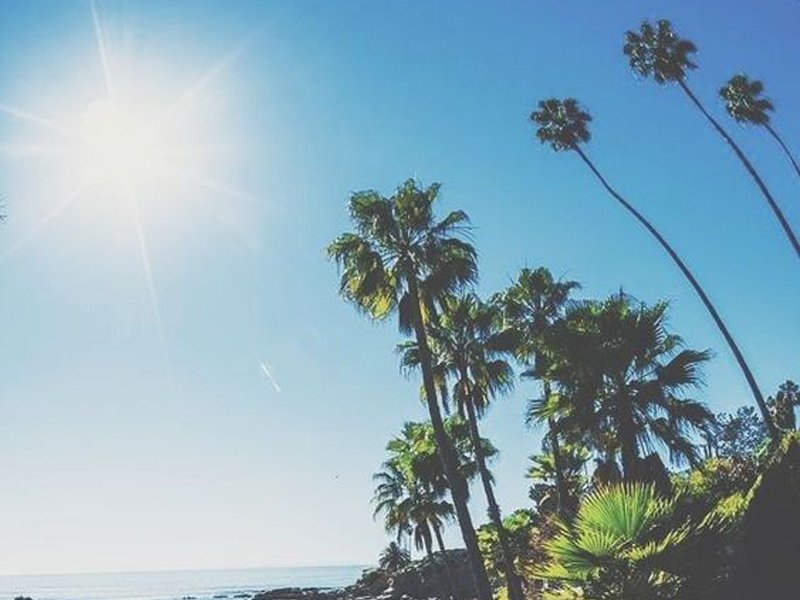 There's something about the July 4th holiday that makes it officially feel like summer. Our favorite American holiday is often filled with outdoor fun—parades, picnics, swimming and other festivities throughout the day before the sun drops and the fireworks begin. If there's one day of the summer when we're likely to be out in the hot sun for too long, it's the 4th of July. Whether you're enjoying popsicles and homemade ice cream in the backyard or taking a tour around a new city before the sun sets (I love visiting other places for the 4th), sometimes you just get too much sun.
Sunburn isn't the only thing that can result from a long day in the sun. Heat rash is also common, which is uncomfortable and unsightly, as well as other types of irritation. Whatever your reaction may be to overexposure, our skin can truly benefit from some cooling therapy and extra love, which calls for hydrating, soothing and antioxidant rich botanicals. Did you know that ultra-violet rays can continue to adversely affect your skin even after you've retreated indoors. Let's do ourselves a favor and assist our skin's ability to stop and repair UV damage. How? A simple DIY skin cocktail of antioxidant and anti-inflammatory rich botanicals of course!
While it's normal to think you've done your due diligence by wearing SPF alone, I'd like to encourage you to think about after sun care as an important step in your summer routine.
Keep this easy DIY spray on hand and use it liberally after sun exposure to cool, calm and boost skin's repair mode. Use it before you apply sunscreen for an added layer of antioxidants, which help fight free radicals and prevent sun damage. Use it during your time in the sun for a refreshing bit of hydration, and use it after sun exposure to really take the heat out of your skin. If you keep an extra bottle waiting in the refrigerator, you'll get an extra cooling sensation every time you apply. Each ingredient contains anti-inflammatory properties and antioxidants. Like aloe, lavender is also known for its ability to heal burns expediently.
DIY Post-Sun Repair Spray
Ingredients:
1/4 cup liquid aloe*
1/8 cup chilled, brewed green tea
1/8 cup lavender hydrosol**
1 tsp. sunflower oil
4 ounce glass spray bottle
Directions:
Combine all ingredients and pour into the glass spray bottle. Shake well before each use. Store in the refrigerator and use within 2 weeks to ensure freshness.
* I love Lily of the Desert aloe vera for its purity
** Lavender hydrosol is easy to find at your local health food market, and Integrity Botanicals also offers a beautiful option from Kari Gran
Have a Happy 4th of July!