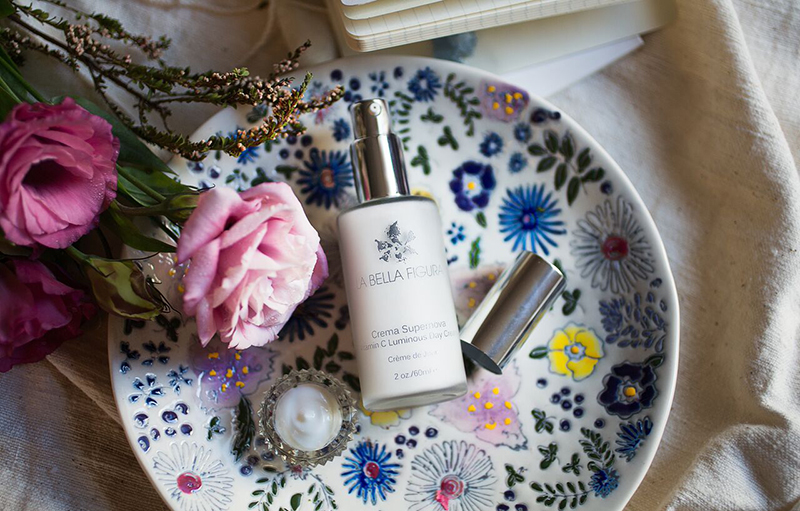 As much as I love and depend on face oils to replenish fatty aids and add vitamins and minerals to my skincare routine, I am an ardent fan of a good old-fashioned cream moisturizer. La Bella Figura has been on top of the face oil and serum game for a long time, producing gorgeous and highly effective products using innovative and active natural ingredients. It's no secret I think LBF makes some of the best skincare products around, so when I heard that they were producing new creams I began counting down the days. Well friends, the wait is over!
La Bella Figura recently launched the Crema Super Nova Day Cream and the Crema Virtuosa Night Cream, and both have taken my skincare routine to a new level in terms of hydration and repair.
Both creams are rich in terms of ingredients but light enough to wear alone or layered underneath something like the Barbary Fig Seed Oil. Both creams have an incredible soft finish and a delightful light floral scent that produces an involuntary sigh of pleasure and relaxes any bit of tension. I love when creams smell fresh and ethereal, like a spa in a bottle, and these do the trick. Most importantly, both creams improve the texture and hydration levels of my skin while promoting a clear and bright complexion. In other words, they work.
The Crema Super Nova Day Cream is more than a moisturizer. It's a treatment cream that is packed with vitamin C from Kakadu Plum Extract, the same ingredient that gives the Modern Radiance Concentrate its brightening punch. Vitamin C supports collagen production and brightens the complexion significantly while offering antioxidant protection from the environment around you. Fatty acids that keep skin plump are added to the mix by way of vitamin E rich Barbary Fig Seed oil, protein rich Sacha Inchi oil and moisture boosting Cupuacu butter. The Super Nova Day Cream is packed with intelligent nutrients like wasabi extract and licorice root extract, all working together to repair and prevent damage while keeping skin hydrated. The Crema Super Nova Day Cream will be wonderful on its own in the summer, but right now I'm layering it with my face oil for the ultimate antioxidant-rich hydration.
You know how we're taught to eat the colors of the rainbow? The Crema Virtuosa Night Cream is a light pink shade that should signal to you there are some vitamin-rich ingredients lurking in this bottle. Indeed, the Crema Virtuosa takes its bright color from a blood-red tree resin called Sangro de Drago extract that protects damaged skin and reduces the oxidation of DNA from free radicals. Polyphenol rich green coffee bean extract improves fine lines, wrinkles and pigmentation while ingredients like saffron flower, C0Q10 and ferulic acid boost antioxidant levels and neutralize free radicals. Count on a host of rich moisturizers like Marfura butter, Barbary Fig and Sacha Inchi seed oil to plump and hydrate. The Crema Virtuosa feels like heaven on skin. It's the perfect medium weight texture and absorbs quickly, but deeply nourishes and repairs, so skin looks luminous and clear the next morning.
If you aren't getting the hydration you want from face oils alone, or if your current cream just doesn't have enough reparative action for your taste, you must try these new Cremas from La Bella Figura. You'll fall in love with everything about the experience, and you'll love the results, too.