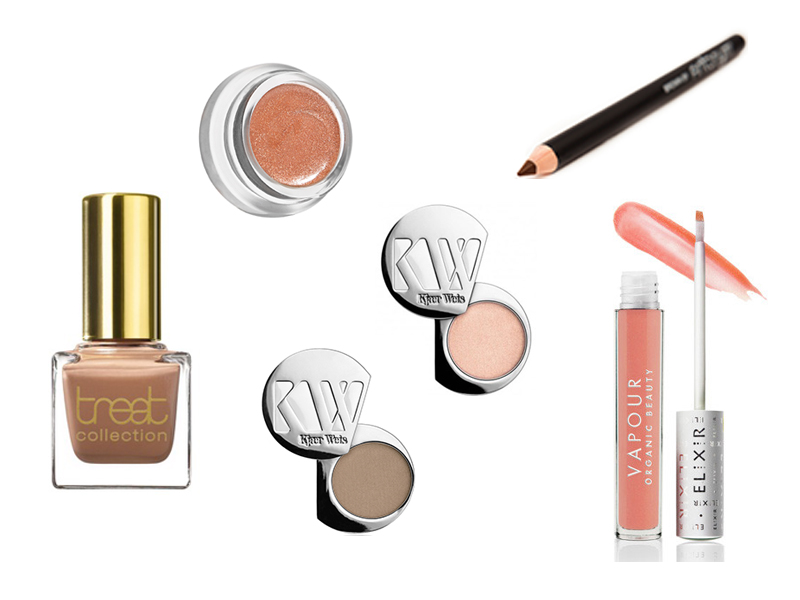 The holiday season always calls for a bit of glamour. Seasonal parties, special gatherings and festivities galore — it's the perfect excuse to try a new look and get creative with your makeup and other adornments. Whether you're going to a laid back ugly Christmas sweater soiree or you'll be dressed to the nines for the New Year's Eve ball, the makeup look I'm reaching for this holiday season will translate in any situation. It's glamorous in a subtle way, with tones that lend a soft-focused glow and let your best features shine.
The main focus of my holiday look is the soft and sultry eye, rounded out with glowing cheeks and a kissable fresh lip. Here's what's in my makeup bag this Christmas…
Vapour Organic Beauty Illusionist Concealer — I'm having a love affair with this illuminating organic concealer. It deposits enough color to brighten without looking cakey, and it's hydrating enough for winter but it stays in place. This goes under my eyes and gets dabbed on any red blotchy spots and buffed out in lieu of foundation to even out skin tone.
Kjaer Weis Eye Shadows — Cloud Nine and Grace are exactly what this subtle look calls for. Cloud Nine brightens and adds an iridescent touch and Grace provides sultry depth while looking super natural. I like to start with Cloud Nine over the entire eyelid, followed by Grace in the crease and along the lash line. Grace also pairs beautifully with Magnetic, if you'd like to darken the look a little more.
Antonym Brown Natural Waterproof Eyeliner — Since Antonym makes one of the best black eyeliners in natural beauty, I was beyond excited to try out the brown, and it's a must-have. It's richly pigmented and glides on without pulling at skin, and it stays put. This eyeliner adds definition and dresses up the eyes, but it is softer looking than the black version.
La Bella Figura Radiant Cream Blush: Disco Queen Gloria — My absolute must-have and new favorite makeup product, Disco Queen Gloria is the only cheek color I need for this look. I'm skipping the bronzer and the brighter blushes because this rose gold subtle hue does it all. Prepare for compliments on your glowing skin when you wear this. It also looks gorgeous on the lips.
Vapour Organic Beauty Elixir Plumping Lip Gloss in Trust — Sticking with that less is more vibe, this lip gloss is all it takes to finish this holiday makeup look. Easy to apply without a mirror and fuss-free, I like the sheer and warm coral shade called Trust for plumping and defining the lips. Try adding Disco Queen Gloria underneath for a little more color.
Treat Collection Touch of Glamour — A chic mink shade that looks sophisticated yet soft, Touch of Glamour is old Hollywood and incredibly unique. It's neutral and flattering, and looks beautiful with the soft-focused makeup look as well as a bold red lip, should you go that route.
 What are you wearing this holiday season? Something fresh and soft or more bold and colorful?