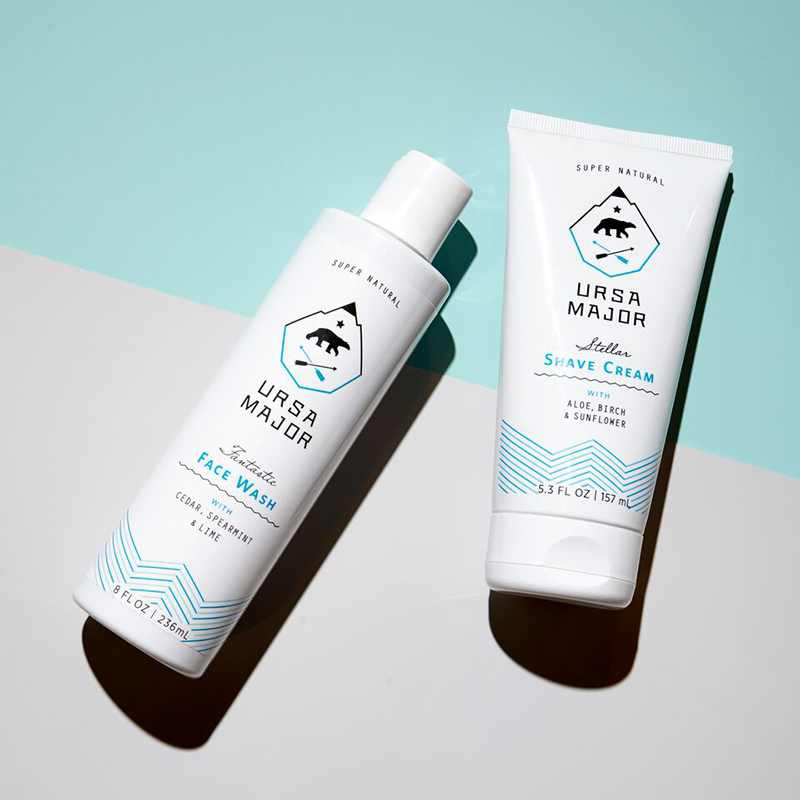 If you haven't been properly introduced to the Vermont-based skincare line Ursa Major, you're in for a treat. This well-edited line is a total gateway drug to green beauty, especially for people who might be on the fence about using "natural" products. Ursa Major does skincare in a way that feels comfortable and stylish while being economical and most importantly—effective! Everyone in your household will enjoy using Ursa Major—boyfriends, husbands and teens in particular will take your supply while you're not looking. It's a great brand to gift as well, since Ursa Major formulas are universally appealing and gentle.
The Ursa Major skincare routine includes the Fantastic Face Wash, the 4-IN-1 Essential Face Tonic, and the Fortifying Face Wash. These essentials cover all the basics and keep skin clear, smooth and healthy. They're perfect for the minimalist who enjoys a fresh smelling experience. The Fantastic Face Wash is a lightly foaming gel formula that cleans thoroughly without stripping or drying out skin. I love this cleanser especially after a sweaty workout or in the summer when my skin is more prone to congestion. My husband uses it daily and makes sure to restock it before the bottle is empty. It's balancing, mildly exfoliating and great for acne prone skin. The fresh scent of cedar, spearmint, citrus and pine is just what it claims to be—fantastic.
Follow your cleansing with the 4-IN-1 Essential Face Tonic to tone and restore pH balance. You can also use this tonic anytime during the day to refresh your skin, or skip the cleanser in the morning and use this instead. The 4-IN-1 Essential Tonic calms and soothes while providing a bit of exfoliation with a natural AHA/BHA complex. The formula is anti-inflammatory and anti-microbial, keeping skin clear and happy—a must for people with breakout woes. The scent is refreshing, herbal and energizing.
For men in particular or those with oily to combination skin types, the Fortifying Face Balm makes an ideal moisturizer. Lightweight aloe hydrates while willow bark, witch hazel and herbs tone and leave a matte finish. This is for those who can't be bothered to use a moisturizer or don.t like the idea of one—no more excuses! It's got a gel-like texture that absorbs in a flash but makes a noticeable improvement in softness and texture.
While Ursa Major in general is a household favorite, there are two products that both my husband and I really, really adore—the Stellar Shave Cream and the brand new Hoppin' Fresh Deodorant. The Stellar Shave Cream is a non-lathering, creamy and emollient delight. It spreads easily and allows for a close shave but leaves skin feeling conditioned and soft. I thought it was fine to shave my legs with soap… until I tried this, and the husband refuses to use anything else. Speaking of refusals, some people just can't get behind deodorant in a pot. That's fine—I get it—and I'd have told you that you're missing out until now. Ursa Major just released their Hoppin' Fresh Deodorant, and it's in a stick! Finally, a truly safe deodorant that keeps moisture and funk at bay that is quick and easy to use. It also smells incredible. Three days into this new deodorant, my husband declared it smells so good he thought about licking the tube—you know,  just to taste it. I have to say I feel the same.