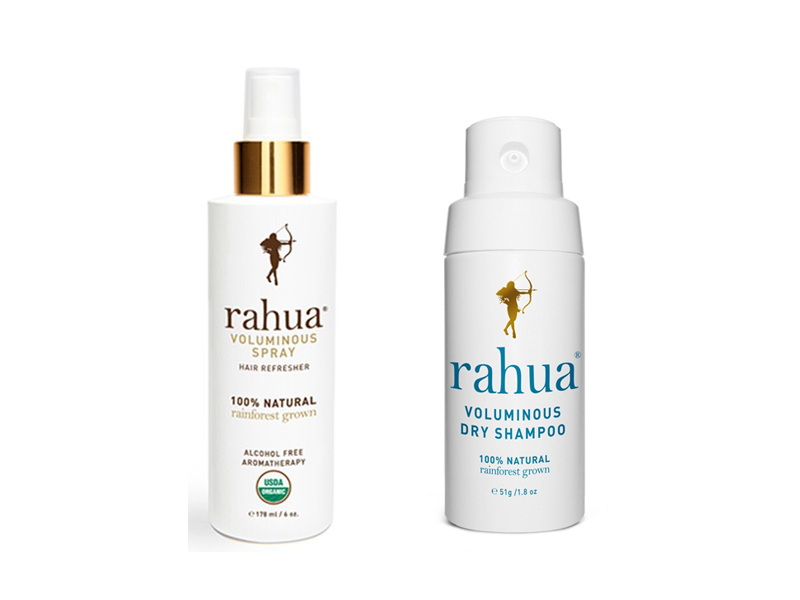 Before I discovered clean beauty, I wasn't big on hair products—thank goodness, since conventional hair products contain some of the worst ingredients, many of which get inhaled during use. However, the clean beauty hair care brands I love make some of the most innovative and effective styling products that give my hair a much needed boost, so I'm all about going beyond simple shampoo and conditioner.
The Rahua Voluminous series was made for fine hair like mine, and I think the Voluminous Shampoo and Conditioner is some of the best on the market. Rahua recently launched the Voluminous Dry Shampoo, so I have been giving it a whirl along with another complimentary product, the Rahua Voluminous Spray. Both add volume and refresh hair while adding effortless style and texture.
If you're looking for practical yet fun products to save time and improve hair manageability, start with these two products.
The Rahua Voluminous Spray is unlike anything else I've tried before, and it's well worth including in your routine if you don't want to wash your hair daily and you need a bit of volume. It provides soft texture and body while refreshing your hair. I like to spray at my roots because the lemongrass and other citrus oils help breakdown the oils in my hair and keep my hair looking fresh and clean for a longer period of time. I usually let the Voluminous Spray sit for a few minutes before using a blow dryer on my roots to lift and activate the spray. I also like to spritz all over and tousle my hair a bit for a messy, beachy look. The citrus oils plus lavender and eucalyptus refresh the scent of your hair without being overwhelming. Rahua calls this product a soft hold hairspray, and it's true that it will help an updo stay in place better and help hair hold its shape, but it doesn't feel tacky or sticky and won't prevent you from running your fingers easily through hair.
The Rahua Voluminous Dry Shampoo is another product that extends your hairstyle between washing and gives hair a big boost (picking up on a trend here?). Dry shampoos are a dime a dozen these days, but the Voluminous Dry Shampoo is very different than others I've tried. It uses Fuller's Earth Clay and Cassava root (or tapioca starch) to absorb excess oil and includes star anise for its medicinal, antiseptic properties and soft fragrance. The Voluminous Dry Shampoo has a yummy light vanilla scent that isn't overpowering, just refreshing. Because there is so much clay in this product, the texture is different than most dry shampoos. It absorbs oil brilliantly, and then the clay and cassava root add volume and make hair a little pliable, adding texture that gives me the ability to grip and manipulate my hair into braids and styles that are otherwise difficult. Another standout feature is the bottle, which includes a nozzle that dispenses little poofs of dry shampoo when you squeeze the bottle. It helps distribute the dry shampoo evenly and makes application much easier.
Both products are great options to add style and extend the amount of time you can go between shampooing, and they compliment each other, too. Use the Voluminous Dry Shampoo on your roots and the Voluminous Spray throughout the body of your hair for clean, fresh and lightly styled locks.