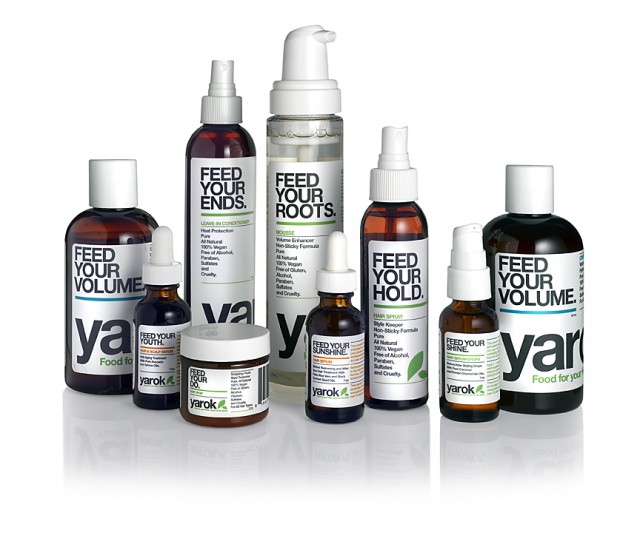 Yarok offers a fantastic lineup of organic, nutrient dense hair products that "feed" your hair and scalp with herbal infusions and gorgeous botanicals.
With some of the cleanest formulas on the market, Yarok makes good hair days the standard. For my hair type — fine hair but lots of it — these four products are standouts, but they will work well on most hair types, especially the styling products Feed Your Ends and Feed Your Roots.
Feed Your Volume Shampoo. This special shampoo was the first truly clean shampoo I ever purchased. To my surprise, it performed so much better than the semi-natural shampoos I had been using prior to Yarok. While the other shampoos seemed to weigh my hair down and lead to oily roots within a day, Yarok's Feed Your Volume Shampoo gave my fine hair the lift and bounce I wanted. Both the Feed Your Volume Shampoo and Conditioner use water that has been filtered through a six-step process of rare volcanic minerals to purify and enhance hydration. Herbal infusions like coltsfoot, slippery elm, nettles and oatstraw are added to increase shine, manageability and volume in fine or limp hair. The fresh sweet orange scent makes your senses come alive, so it's perfect for the morning shower. This gentle but effective shampoo is a true workhorse and one of my favorites.
Feed Your Volume Conditioner. Though I often skip conditioner when I shampoo my hair, it's difficult to pass up the Feed Your Volume Conditioner. It's incredibly lightweight and the earthy and woodsy scent is to die for. It's very grounding and really sets the tone for the day. Infused with jojoba and macadamia nut oil as well as aloe vera gel, the formula fights frizz and makes hair silky soft. Herbal infusions similar to those in the matching shampoo help strengthen, protect and detangle — all without weighing fine hair down. It's rare to find a volumizing shampoo and conditioner duo that work well without drying out hair. Yarok's Feed Your Volume duo actually moisturizes and provides lift without drying out or weighing hair down — the perfect balance. If you typically don't like using conditioners, perhaps because they're too heavy for your hair, try this one.
Feed Your Ends Leave In Conditioner. I was a little stunned how well my hair took to this leave in conditioner because of the moisturizing oils in it, but I love it. Spritzed on wet hair, it nourishes and adds shine while helping to loosen tangles. It includes rosemary oil to invigorate the scalp and the scent is fresh and energizing. Even with organic jojoba, olive oil, grapeseed oil, apricot and evening primrose oil, the formula doesn't feel oily. It has the consistency of a nice lightweight serum. Feed Your Ends seals the hair follicle and leaves a satiny finish while protecting hair from heat styling. I love to use it as a light bedtime treatment, too. I just spray it throughout my hair, massage a little into my scalp and comb into a loose bun so my hair can soak up the nutrients while I sleep. If you like to skip conditioner in the shower, make sure to grab Feed Your Ends for outside the shower.
Feed Your Roots Mousse. Mousse has this very 90s vibe to me. It was the first product I ever used when I started styling my own hair as an adolescent, and I honestly hadn't used a mousse since those days until Feed Your Roots came along. Don't worry — Feed Your Roots lives up to our 2015 expectations, and I love having this on hand. It's such a fun product to use. Just pump the desired amount of foam into your hand and go. It provides body and soft definition in addition to a nice boost at the roots of hair. Unlike the mousse of my past, Feed Your Roots never leaves hair crunchy, sticky or dried out. It conditions while adding bounce. I love a product that nourishes while performing another function like styling, and organic extracts of black currant, blueberry and vitamins A, B and C do just that. Feed Your Roots is in constant rotation for me.
Get a FREE travel size Yarok Feed Your Ends Leave In Conditioner with any Yarok purchase of $25 or more. Code: FEEDYOURENDS