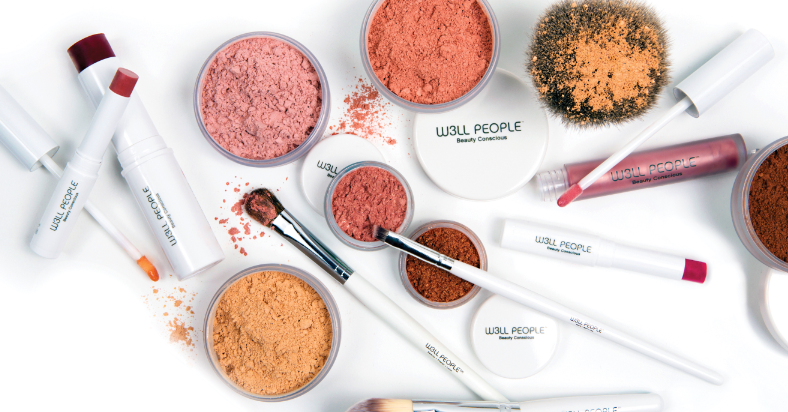 Not long ago we talked about how to pick the right foundation color when shopping online, and Shirley Pinkson from W3LL PEOPLE shared some great tips. We're back with more from the makeup goddess who really knows how to give a gorgeous natural look to any face or complexion. What Shirley wants you to remember when buying makeup is that the goal is to make your physical features beam, and then people forget about the colors you're wearing.
Eyes. Shirley says if you want to bring out your inner glow, look for the color specks in your eyes and reach for an eye shadow in that realm. You can also consult a color wheel. Select a color range that is the opposite of your eye color on the wheel. For example, blue-eyed people know that orange is opposite blue on the color wheel, so peachy shades without too much red and warm bronze colors will make blue eyes pop. Green-eyed beauties can get away with cranberry and red-based undertones. Just choose colors that fit the base of the opposite shade on the color wheel.
Cheeks. Unless you have a specific look in mind and you want the best color, stay within peachy pink neutral tones — not so peachy it's too orange, but not too cool or too blue. The goal is to enliven the cheek, but that doesn't necessarily mean going with a hot pink or bright orange. Shirley says, and I concur, that Universalist Mulit-Use Color Sticks in #8 Creamy Dusty Rose or #9 Nude Flush are two good examples of great universal colors for cheeks. Universalist #9 has a touch of pink and a good amount of peach, so it will naturally warm the cheeks and be soft and enhancing.
If you're a blush lover and you want to make it pop, look to reds and pinks but be mindful that less is more. Shirley notes that reds are great when used in small amounts to create an "I just ran around the block" rush of color to the cheeks. Reds can create an energetic look, but transparency is key. Shirley adds, "Think about how skin can look and where skin actually turns red when you've just exercised or had sun. That is where you'll apply the reds. Be mindful where you put it — keep it toward the center two fingers from the nose. If it's too close to the nose it creates a jolly rounded look — not good! You're widening your look when you apply it further out, so keep it more centered but not close to the nose."
Lips. Lip color is where people can have fun, but Shirley says choose your weapon with intention. If you're always playing up the eyes with a smoky look or really dark eyeliner, choose a more neutral color for lips to create balance. Think about where you want your focus to be. If you do neutral eyes, you can have fun with bright colors on lips. Reds are more personal, but most women can wear all types. When choosing red colors online, Shirley says to pay attention to swatches because when you see a color smeared and feathered out you can see where the tone is going. If you want the strong red lip that makes a statement but is serious, go for brick-based neutral reds. Blue-based reds are more 1950s and bright.
When thinking about lip color, Shirley adds, "We all have a sense of what family of color looks best on us, so go in that direction. Look at what you already own and what you don't like. Pull out your makeup bag and separate what you wear from what you don't wear. If it's been 6 months or more and you haven't touched a lipstick, then don't order more in that family. Order based on the colors you wear all the time." Not sure about you, but that last tip will change how I chose lipstick moving forward. I have some sad and lonely lipsticks that don't get nearly enough wear while others steal the show.