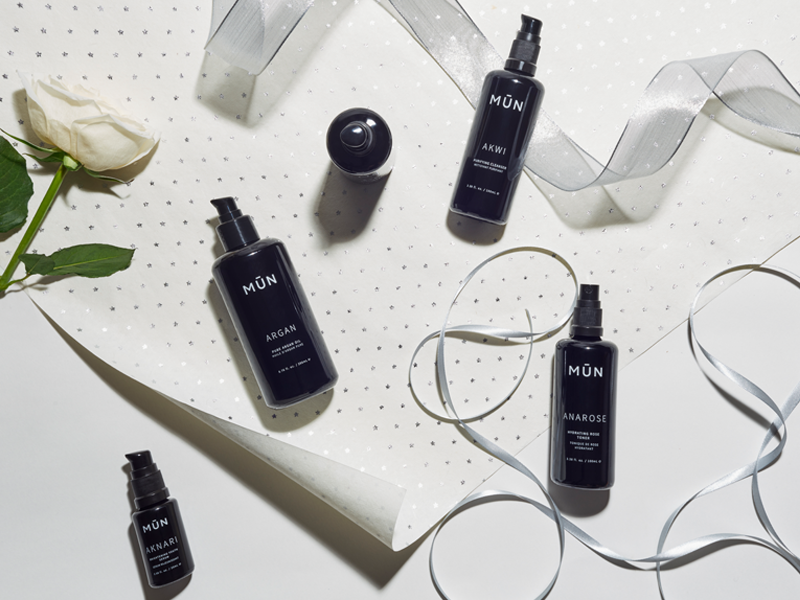 MUN, a longtime favorite brand, has just launched a new cleanser, and it's holy grail status for me all day.
With incredible products already in their well-edited line like the Aknari Youth Brightening Serum and the Anarose Toner, I trust that when MUN releases a new product, it's going to be a knockout—but I honestly wasn't prepared for how much I'd love the Akwi Purifying Cleanser. This is pure magic in a bottle, so let me tell you a little more about what to expect and why I'm obsessed.
Akwi is Berber for "awakening", and while skin definitely feels fresh and new after cleansing with this product, I'd describe it as more comforting than awakening in the traditional sense. Akwi is somewhere between a balm, a cleansing oil, and a cleansing cream. In fact, the texture reminds me of creamed honey without the stickiness—just rich and oh so soft. I use it like an oil cleanser by massaging into dry skin. As I do that, everything begins to melt and lift away, including mascara and other stubborn eye makeup. The founder of MUN is a makeup artist, so I'm certain she was thinking about how effective this had to be as a makeup remover when she was developing Akwi. The cleanser is best wiped away with a warm, damp cloth, just like an oil cleanse. However, if you're cleansing in the morning and not removing a ton of makeup, you can rinse away and let some of the moisture stay behind.
The Akwi Purifying Cleanser is pH-balanced and cleanses without stripping skin of precious moisture thanks to ingredients like Castor Oil, a soothing cleanser and powerful detoxifier, nutrient-dense Argan Oil and antioxidant Camellia Seed Oil. The scent is gentle and subdued with a faint hint of citrus. I simply love the whole experience, but I especially appreciate how soft and moisturized my skin is after cleansing—it's winter after all, and the dry indoor heat and frigid outdoor air want to suck the life out of my skin. The Akwi Purifying Cleanser deeply cleanses while helping to maintain the skin's integrity. Did I mention how relaxing it is?
While falling in love with the Akwi Purifying Cleanser, I've also been giving one of MUN's classics a whirl—the Pure Argan Oil. There's a reason this oil has achieved cult status. Lightweight, deeply moisturizing, protective, and calming—MUN's Argan oil is a great choice for anyone needing an all-purpose moisturizer that is unscented and gentle on sensitive or maturing skin. This is an oil for all skin types, and a great intro oil for people new to the concept of moisturizing with oil. Hand-processed and cold-pressed by a Berber women's co-operative, this Argan is rich in vitamin E, antioxidants, and essential fatty acids that deliver plump and happy skin and beautifully conditioned hair. I've been slathering it all over post-shower and using it to tame the static electricity in my hair and quench dry ends. This large bottle is a great value at this price point, too.
Have you tried the new Akwi Purifying Cleanser? Are you already a fan of MUN's luscious Argan oil? Be sure to pick up these beauties to keep skin happy and healthy this winter!