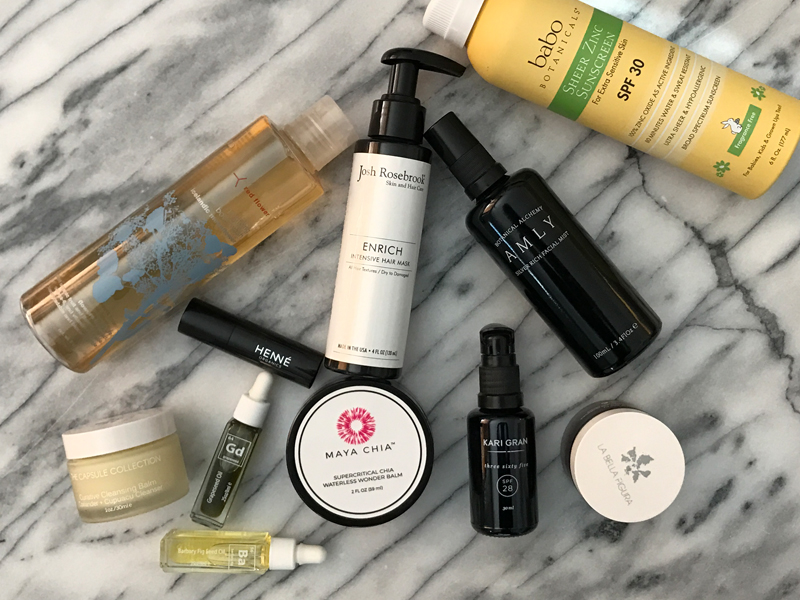 With 2016 out of the way, I have to say—it wasn't all bad! At least where natural skincare products are concerned, I discovered and enjoyed many beautiful, practical, and nontoxic items that really brightened my year. Before we move on to what's new and fabulous in 2017, let's talk about some of the products that were among my favorite beauty discoveries in 2016…
La Bella Figura The Capsule Collection — It was a big year for La Bella Figura, culminating in the launch of their ingenious Capsule Collection, which brought a lot of joy and excitement back to my skincare routine. The deconstructed 15-piece ensemble includes everything your skin needs to thrive and allows for creative customization so your skincare routine is truly unique to your needs. Between the flights of oils and hydrosols, the Gel Concentrates, the Extract Spheres, and the Curative Cleansing Balm, there are endless ways to customize The Capsule Collection to get the routine of your dreams.
Red Flower Icelandic Moonflower Purifying Body Wash — Integrity Botanicals introduced Red Flower to their line up in December, and this brand has quickly made a huge fan out of me. The healing, uplifting, and rejuvenating scents Red Flower is famous for have become a must have in my daily routine. Everything I've tried smells incredibly fresh, but I'm particularly hooked on the Icelandic Moonflower Purifying Body Wash and Moisturizing Body Lotion. The delicate scent is a cool and calming blend of sandalwood, clove bud, rose absolute, sandalwood, palmarosa, lavender and armoise, and it's also available in a candle. Can't. Stop. Sniffing.
Amly Silver Rich Facial Mist — No doubt about it, I've got a thing for face mists, spritzing them throughout the day to tone, hydrate, refresh, or just because it feels good. Amly Silver Rich Facial Mist won my heart this past summer. Imagine a fresh wild-flower bouquet in a base of silver rich spring water that's sourced from a meadow in East Sussex, England. With a touch of moisture to help with this dry winter air and skin-beautifying ingredients like hyaluronic acid and pea and copper peptides help plump and smooth the surface of the skin, Amly is refreshing in everyway.
Babo Botanicals Sheer Zinc Continuous Spray Sunscreen SPF 30 — Quick, convenient, and light as air, this nontoxic spray sunscreen was pretty revolutionary for my skin protection game this past summer. The formula sprays on and leaves no residue to speak of. It absorbs and dries almost instantly, and you won't look like a white ghost afterword. I absolutely love it because it is water and sweat resistant, but it never irritates my sensitive skin. Plus, the spray application makes life with sunscreen a breeze. Who wants to spend 15 minutes rubbing thick sunscreen onto every inch of skin before going out to play? Not me!
Maya Chia Super Critical Waterless Wonder Balm — Balms have this way of comforting skin like no other, and this luscious balm from Maya Chia—a brand I couldn't have been more obsessed with in 2016—is perfect for massaging into my feet, legs, and hands just before bed or as a relaxing treat any time of day. I've even taken to keeping this in my bag when I'm out because my hands get so dry in the winter when I wash them away from home. This balm keeps me soft and hydrated, and the luscious texture reminds me of creamed white honey—minus the stickiness, of course. Plus, the orange blossom fragrance is pure heaven! The fast absorbing and non-greasy finish make it a keeper.
Henné Organics Luxury Lip Balm V2 — As far as I'm concerned, Henné stole the show this year in the lip treatment category. Bursting onto the scene with a sumptuous, comforting pot of Luxury Lip Balm, followed by a beautiful Rose Diamonds Lip Exfoliator, the latest release puts their balm in a lipstick tube that is as convenient as it is chic. This baby goes everywhere with me. The Henné Organics Luxury Lip Balm is totally naked and free of essential oils, which is better for sensitive lips or for moments when your lip balm shouldn't interfere with your taste buds and sense of smell.
Kari Gran Three Sixty Five SPF 28 — This new SPF serum from Kari Gran has been a favorite since it launched this summer. With 9 ingredients total, including naturally protective oils like red raspberry seed oil and French plum seed oil, Three Sixty Five is perfect for sensitive skin, and it wears just like a daily facial oil, replacing the need for an additional moisturizer in most cases. While the skin-smoothing formula creates an almost airbrushed effect, it's not completely invisible. The non-nano zinc oxide leaves a barely there white trace, but it's worth it, especially if you follow my advice and create your own foundation with SPF out of this beauty.
Josh Rosebrook Enrich Mask — For those of us with fine, oily-prone hair, it can be difficult to find a hair mask that treats and repairs without weighing down strands. The Enrich Mask from Josh Rosebrook is everything I've ever wanted out of a mask treatment, and I am obsessed with the smooth, bouncy finish that I get after this treatment. It's how my hair feels after a fresh cut and style at the salon—you know what I'm talking about, right? Josh Rosebrook formulations are gentle and alive with energy and vitamins. They have a vibrancy that comes from all the phytochemicals found in the 20 plus herbal extracts used for their antioxidant properties and more. The Enrich Mask is no different, and it was a big discovery for me in 2016.
 Happy New Year everyone! What were some of your favorite beauty discoveries of 2016?