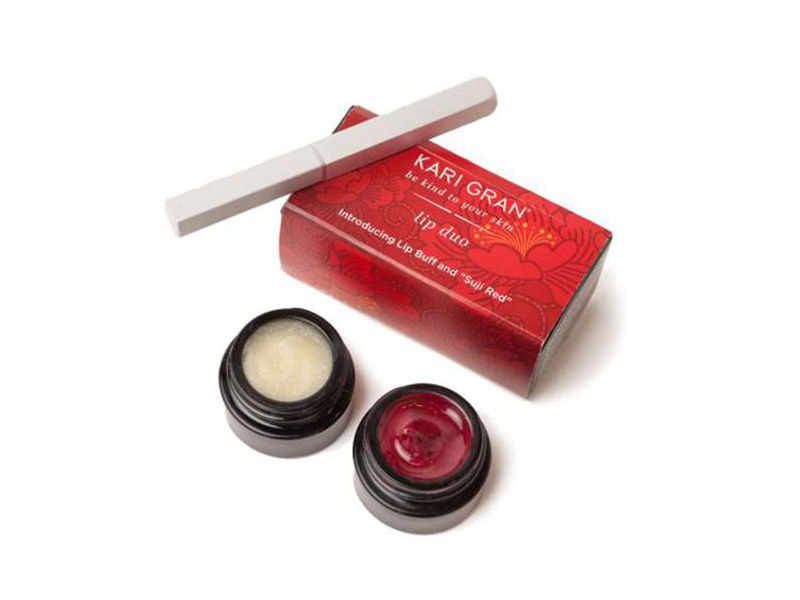 This is the time of year when I most look forward to accessorizing with red lipstick. What would the holidays be without a fabulous red lip, after all? It can take a holiday party look from average to festive and chic with one swipe. This year, I'm going with Suji Red for my red lip fix—it's the latest Lip Whip color release from Kari Gran, and I couldn't be more in love with this hue. Suji is the youngest daughter of Kari Gran co-founder, Lisa. The two worked together to create this gorgeous color, and I just love that the newest Lip Whip is the product of a mother/daughter collaboration.
The Suji Red Lip Whip is beautiful, with slight blue undertones to my eye, which is perfect for my coloring. If you're familiar with the Lip Whips, you know these have a sheer hint of color. Suji Red is a departure from other Lip Whips because it is deeply pigmented for that bold red look we all crave. As with other shades in this collection, you can sheer it out somewhat for a stained lip look, but it's easy to go bright and bold with this red, too. While the formula retains its signature comforting and moisturizing texture (otherwise known as lip heaven), the difference with Suji Red is that I feel the need to look in a mirror when I apply this in order to make sure my application is on point. This is really no hassle since I generally use a mirror for most lipstick applications, especially red, but with some of my lighter shades of Lip Whip I can just swipe on with a finger and go. Reds require a little attention, but the payoff is a head-turning color, and Suji Red is extra stunning with its slightly glossy finish. Lips look healthy and luscious thanks to the conditioning properties of the formula, which is completely addictive—you've been warned!
Speaking of reds requiring extra attention, Kari Gran has also released an exfoliating Lip Buff, which is absolutely perfect for prepping lips to receive bold color. This is the time of year when lips get dry and start to chap and even crack, and little layers of dead skin can totally destroy the effects of a beautiful lip color by making application uneven and rough or even patchy looking. The Lip Buff uses a base very similar to the Lip Whip formula and incorporated organic sugar and organic chamomile powder for gentle exfoliation. Massage a bit of the Lip Buff on before applying Suji Red for a flawless application. You can even get the Lip Buff and Suji Red Lip Whip in a Duo with a Lip Brush!

Whether you're into reds like I am or go for a more subdued lip color, be sure to keep your lips healthy and happy this winter with the Kari Gran Lip Whip collection and the new Lip Buff. They're the perfect holiday gift or stocking stuffer, too!