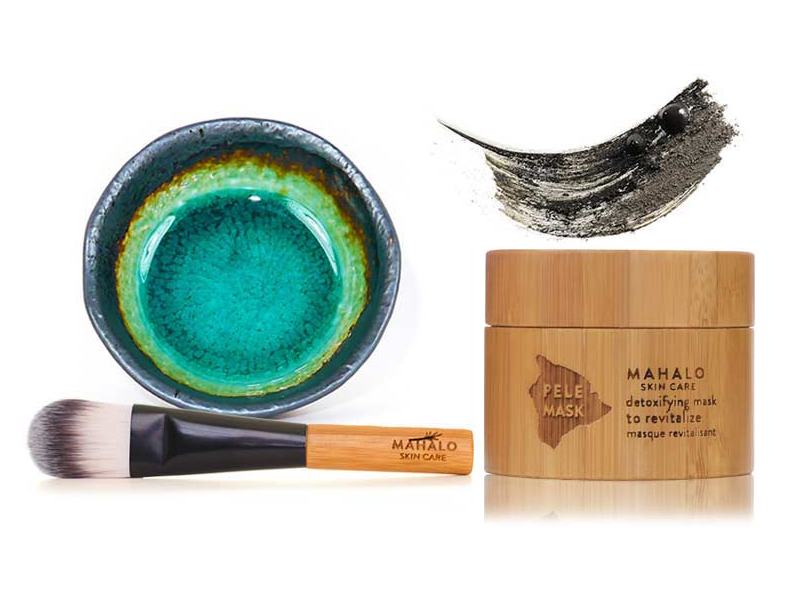 All too often detoxifying masks do little but absorb too much moisture from your skin. Clay based formulas in particular can lack imagination and sophistication, but that's hardly the story with The Pele Mask from Mahalo. Bioactive and concentrated yet gentle and non-irritating, The Pele Mask really does what it claims—gives you a revitalized glow.
Named for the Hawaiian volcano goddess Pele, the mask features volcanic ash clay to draw toxins from the skin and clear the pores. When volcanic ash clay is mixed with water, it swells and acts like a porous sponge and absorbs toxins through electrical attraction, bringing fresh oxygen to skin cells in the process. It also replenishes important minerals that lead to healthy skin.
Volcanic ash clay isn't entirely responsible for the potency of this mask, however. The addition of various botanical powders adds to the nutrient profile and rejuvenating results. While I don't have the most sensitive skin in the world, I expected this mask to be a bit more intense, but the calming, cooling and clearing affects are noticeable, and that makes this an ideal summer mask for me. The instructions suggest we should expect a warm, tingling sensation when the mask is activated, but I haven't experienced that much at all.
Ingredient stand-outs include neem for its ability to fight acne and wrinkles thanks to its high antioxidant content, calming ant-inflammatory turmeric and holy basil, and collagen boosting guava with its incredible vitamin C punch. Also in the mix—skin balancing witch hazel, hydrating aloe vera, skin plumping hibiscus and antioxidant rich raw cacao to promote healthy circulation. Activated charcoal aids the volcanic ash clay in absorbing impurities and bacteria.
I've only scratched the surface of the 27 active ingredients in The Pele Mask, but collectively the formula offers a treatment that leaves my skin feeling purified and revitalized, never dehydrated or irritated.
That's pretty magical in my book. I love that the mask is a powder, which means I can customize it as I please. My favorite way to prepare The Pele Mask is to blend in a ceramic dish with a little dash of rosewater to activate that mask. I enjoy applying masks like this with a brush for a quick and even application. Mahalo makes a pretty Mini Treatment Bowl and Brush set for this purpose. The Pele Mask comes to life and fizzes as it swells into a mousse-like consistency that's easy to spread. The soft earthy scent of the mask is subtle and lovely. After 20 minutes of masking, I like to hop in the shower to rinse clean. Let's face it, some masks are messy to remove, but the benefits of this soot-like formula are worth it.