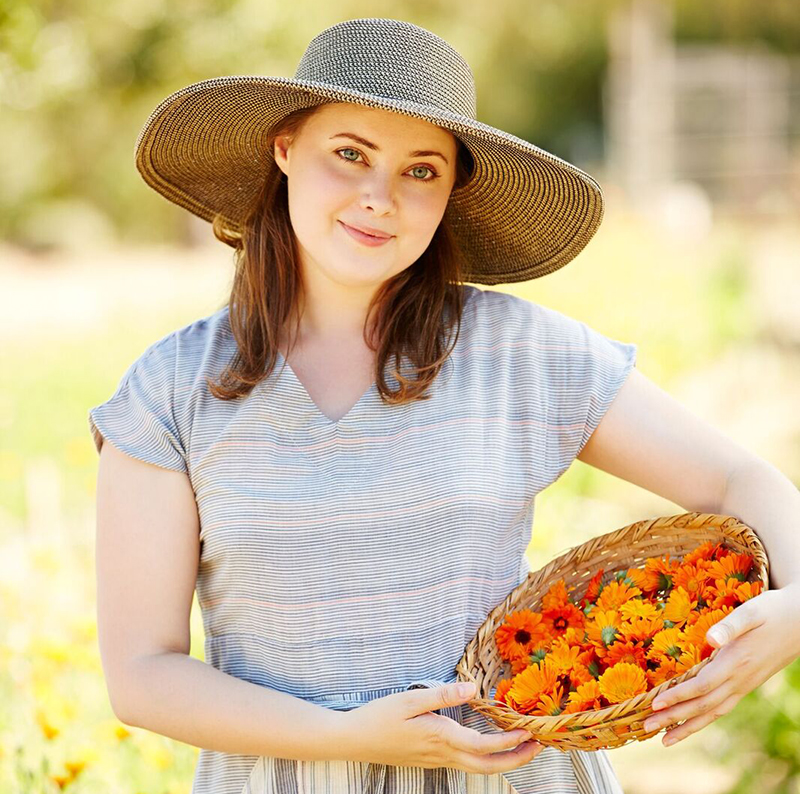 With products in her line like the Sun Damage Repair Facial Serum and the Sun: Before & After Body Oil, I had a feeling that the founder of Laurel Whole Plant Organics would have some great ideas about how to indulge safely in the sun this summer. Laurel's work with herbs and nourishing botanicals is inspirational, and so are her thoughts on sun care. Read on to find out how Laurel approaches sun protection in her daily routine. 
Susannah: What is holistic sun care and how does Laurel Whole Plant Organics embody this approach?
Laurel: Holistic Sun Care is really about being in tune with the needs of your own body, and caring for your skin in a variety of ways other than the conventional way; to apply sun screen daily even when it might not be needed. I encourage people to develop their own relationship with the sun. Each of our own unique bodies responds differently to the sun, some of us are much more in need of the suns rays than others. Zinc is such a wonderful tool to have easy access to, but it just isn't necessary all of the time. I consider these factors: How is my immune system doing? How has my diet been as of late? Have I been giving my body an abundance of antioxidants internally and externally through my skin care products? Do I have easy access to water, shelter, hats, or extra clothing today? I consider all of these factors before I just slather on the zinc. If I'm feeling super healthy, there is really no better feeling than laying in the sun and getting that full exposure. I make sure to apply super concentrated antioxidant rich skin care before and after my time in the sun (hence our body oil's name – SUN: Before & After).
How do you address sun protection in your personal summer skincare routine?
I definitely use sunscreen when I need it. Those times are when I'm not feeling my best, I haven't been eating healthy, or when I will have no form of shelter or shade for extended periods of time (meaning over an hour of full sun exposure – that is what my own personal threshold seems to be). I heavily rely on antioxidants in my skin care routine during the summer months as well to help keep UV damage at bay. My daily summer skin care routine is: Oily/Combo Cleanser, Oily/Combo Elixir, and the Sun Damage Serum. I use the Sun Damage Repair Serum from our line morning and night, to prevent damage throughout the day as well as repair any overexposure I received that day. For masks, our Brighten Mask is remarkably effective for hyperpigmentation and damage – I highly recommend it for any sun-kissed beauties who haven't tried it yet! Lastly, if I do have to head out in the sun for a long time, and need a physical block, then I reach for Josh Rosebrook's tinted sunscreen – it pretty much lives in my hiking / travel bag – right there with my hat, water bottle, and our Sun Body Oil!
What's your favorite way to get sunshine?
I love being outside, so this is such an easy one!! Being in Northern California I am so lucky to be surrounded by hiking trails, mountains, the ocean, as well as a whole web of bike trails. My husband and I try to go on a new hike each weekend, I bike multiple times per week, and we love taking our 2 dogs to the beach when we can too.
How would you treat a sunburn?
I would treat a sunburn with an abundant spritz of our O/C Elixir, which is loaded with soothing anti-inflammatory plants like Chamomile and Helichrysum. I would follow that with a light application of our Sun Damage Repair Serum or Sun Body Oil – or our Anti-Inflammatory Serum would work nicely too!
Does Laurel's holistic approach to sun protection make you think beyond basic SPF? How do you stay safe in the sun?