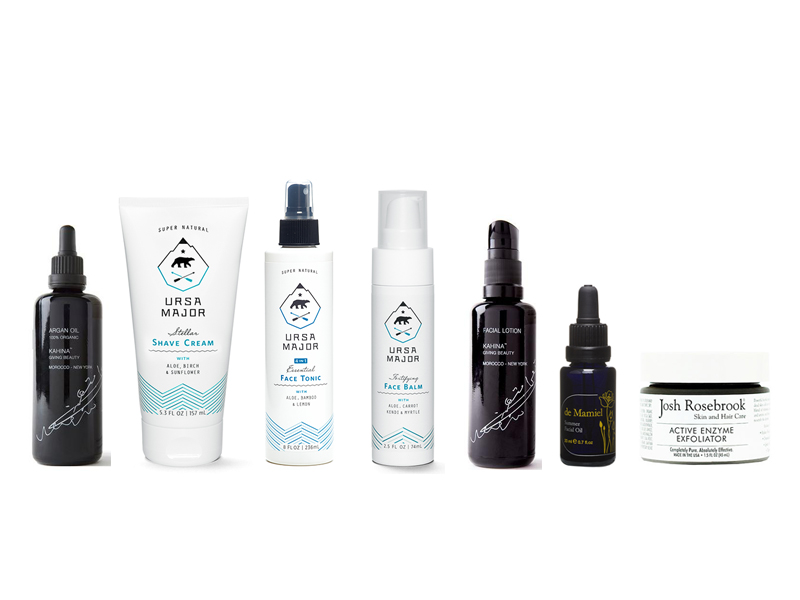 In honor of Father's Day, I thought it would be fun to talk about men's routines for a change. Since most of my skincare advice applies just as readily to a man's routine as a woman's, let's talk about something that is truly manly—shaving! While beards and moustaches don't seem to be slowing down as far as trends go, there are still plenty of clean-shaven men out there, my husband and father included. (My brothers went for the beards, of course.)
Whether you're shaving every single day or every few days, the process can leave skin feeling raw, vulnerable and irritated if your products aren't gentle or contain lots of potential skin irritants in the ingredient list. This all natural shaving routine will prepare, protect and condition skin at every step of the way.
Before taking a razor to your face, prep the skin by massaging a few drops of an all-purpose oil into the hair follicles and skin. Kahina Giving Beauty Argan Oil is perfect for this with its high vitamin E content. You can do this step well before shaving, say right when you wake up before having some coffee.
Protect and condition your skin during your shave with the Ursa Major Stellar Shave Cream. This non-lathering shave cream is nourishing and calming with ingredients like aloe, sunflower and shea butter to protect the skin barrier, and zinc and sea fennel to tone and heal. Willow bark extract acts as a natural beta hydroxy acid to exfoliate and prevent acne. This emollient cream makes shaving as comfortable as it gets.
Rinse and follow your shave with a spritz of the Ursa Major 4-in-1 Essential Face Tonic. This refreshing toner will heal and hydrate while adding gentle exfoliation via a 3% natural alpha hydroxy acid and beta hydroxy acid complex that dissolves dead skin cells and keeps pores clear. This helps prevent those pesky ingrown hairs while soothing skin with anti-inflammatories like witch hazel and rosemary. Consider the 4-in-1 Essential Face Tonic an aftershave treatment in addition to a daily toner.
Follow up with a moisturizer to replenish skin with conditioning essential fatty acids and antioxidants. For a barely-there gel formula that offers hydration that's instantly absorbed, try the aloe-based Ursa Major Fortifying Face Balm. This is perfect for men who aren't inclined to use a moisturizer. Somehow the gel is less threatening. For men who need light hydration, the Kahina Giving Beauty Facial Lotion will do the job nicely. Argan and shea are blended into a light formula that includes sodium hyaluronate to plump and help retain moisture. For men who want a concentrated dose of botanical nutrients and are a little more adventurous (that is, willing to move beyond the standard pump of cream to the magical world of facial oils), the de Mamiel Summer Seasonal Face Oil is a great post-shave moisturizer. The new limited edition release includes a combination of naturally protective botanical oils that help keep skin perfectly in balance.
In between shaving sessions, be sure to exfoliate to help remove dead skin cells, prevent ingrown hairs and soften the skin. The Josh Rosebrook Active Enzyme Exfoliator is a great choice with its vigorous scrubbing action and revitalizing herbal extracts. Rich in vitamins, minerals, natural salicylic acids and more—this exfoliate is a potent and powerful addition to any routine, but it especially helps prep skin weekly for a nice clean shave.