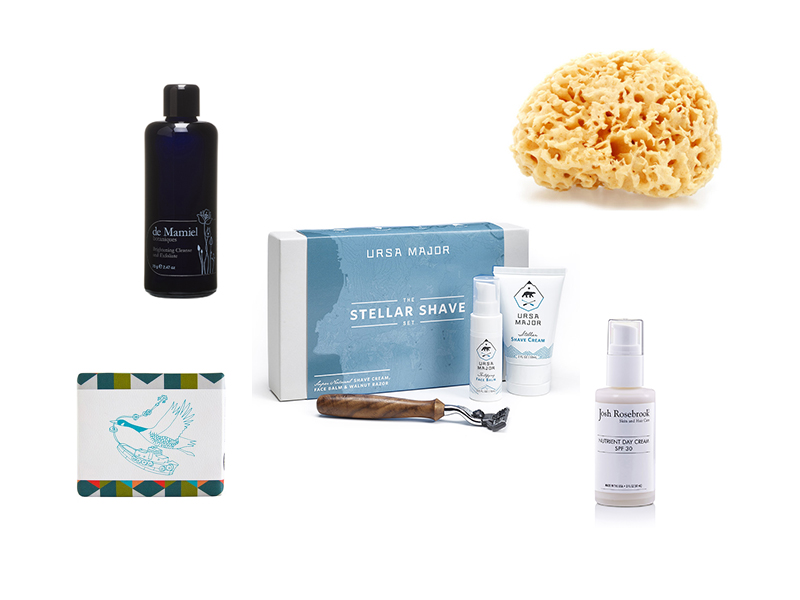 Father's Day is the perfect excuse to spoil the men in our lives with healthy, environmentally positive products. Lets show them how we do self-care, shall we?
The following gifts make for an attainable and practical daily skincare routine that will bring a joy and serenity to any dad's morning, encouraging him to slow down and savor the day. Share your love for clean, botanical ingredients and help the fathers in your life understand the importance of safe personal care products—a lesson that can be passed down for generations to come. Don't worry—these fun, handsomely packaged products will speak for themselves once in his hands.
Five Father's Day Favorites for Gifting…
de Mamiel Brightening Cleanse and Exfoliate — What better way to cleanse and prep for a shave than an exfoliating powder that you activate with a little water right in the shower? Dads will love the earthy aromas that accompany this skin smoothing and brightening scrub. Detoxifying clays and mineral rich salts meet antioxidant rich cacao powder and rose quartz gem powder. This stimulating blend saves dads time by cleansing and exfoliating all at once.
Meow Meow Tweet Bergamot Salt Bar Soap — Little gifts in and of themselves, these soap bars are wrapped in paper that was illustrated by Meow Meow Tweet co-founder Jeff, and they have just as much personality as the bar inside. Handmade and artful, the bergamot salt bar soap has an herbaceous citrusy scent that brightens the earliest morning, and the pacific sea salt provides light exfoliation. Made with moisturizing botanical oils, the Bergamot Salt Bar Soap has a creamy lather dads will adore.
St. John's Natural Grass Body Sponge — The perfect compliment to that handmade soap bar? St. John's Natural Grass Body Sponge! Dads can suds themselves silly with one of these gentle, long lasting natural sea sponges. Sustainably harvested from the warm waters of the Gulf of Mexico, these naturally antimicrobial and mold resistant, these sponges are an awesome replacement for that old plastic scrubby dad's been using for way too long.
Ursa Major Stellar Shave Set — Pre-wrapped in a premium, debossed gift box, this Ursa Major shave set includes travel sizes of the best sellers Stellar Shave Cream and Fortifying Face Balm. Also included is a handsome walnut razor that feels amazing in the palm of your hand. Not included? All the toxins normally found in shaving products! The Stellar Shave Cream is fatty and emollient like buttercream frosting—delicious! And the Fortifying Face Balm is every dude's dream texture—a weightless aloe based gel that absorbs instantly but hydrates well.
Josh Rosebrook Nutrient Day Cream with SPF 30 — Have you noticed how some men don't like to wear sunscreen every day? It's probably because they haven't tried the Nutrient Day Cream, which is far from the feel or texture of a typical SPF. In fact, you won't have to cajole dad into daily sun protection once he's tried this formula. With no whitening effect and herbal extracts that calm and add vital antioxidants, the Nutrient Day Cream will be a family favorite.