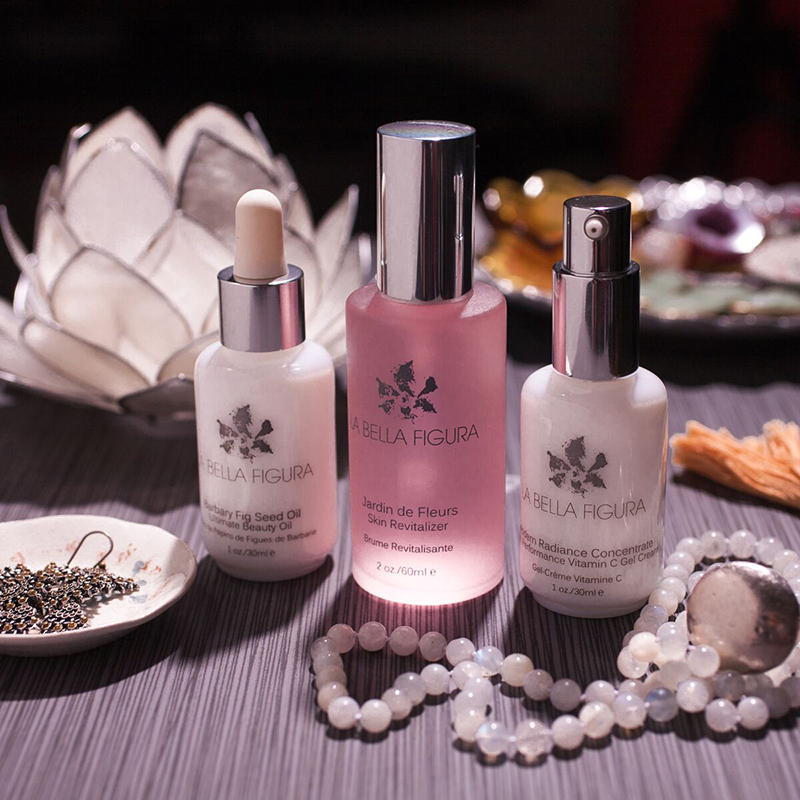 It's no secret I love La Bella Figura for their active, wholesome skincare formulas. Full of unrefined oils, hand crafted antioxidant rich extracts and rejuvenating botanicals plus free of fillers and synthetics, La Bella Figura has truly taken natural skincare to the next level. Their products prove that ingredient quality and nutrient content matters. Five to seven weeks of consistent use of the Barbary Fig Seed Oil and Modern Radiance Concentrate alone will transform the fussiest, most damaged skin.
Summer can be especially traumatic for skin if you're not prepared for the elements, and La Bella Figura has a range of products that help prevent sun damage, heal and balance during these sweltering months. Here are a few things you need in your summertime skincare routine…
La Bella Figura Summer Skincare Routine
Your best bet for making it through the summer sans sun damage is to take preventative steps with your daily routine. A powerful vitamin C serum like the Modern Radiance Concentrate will add serious photo-protection. Vitamin C limits the damage induced by UV light exposure. It's not a sunscreen, but rather the antioxidant content in vitamin C protects against the free radical damage induced by UV exposure. Vitamin C reduces the amount of wrinkles and sun damage you would have otherwise, but it works best to prevent photo-damage when combined with vitamin E, and both are readily available in the Modern Radiance Concentrate. This lightweight gel serum is the ideal first layer in your morning routine, and the gentle but active formula not only protects, it brightens and evens skin tone, fading discoloration that's already there. You can thank the kakadu plum cell extract, a whole bio-available source of vitamin C, as well as other brightening herbs like licorice root and gotu kola for that.
Additionally, layering the Daily Elements Defense Face Oil on top of the Modern Radiance Concentrate will not only give your skin the moisture it needs for the day, it will help further protect the skin from UV damage. With high levels of vitamins A and C from pure guava seed and rosehip CO2, pomegranate CO2 seed oils, collagen building squalene, pore clearing linoleic acid found in organic Camellia seed oil, and the conditioning omegas 3 and 6 found in pure Peruvian Sacha Inchi oil, Daily Elements Defense Face Oil prevents environmental damage and keeps your skin balanced and clear.
La Jardin De Fleurs Skin Revitalizer is an indulgence you won't regret this summer. Use it layered into your morning routine before and after you apply the Modern Radiance Concentrate and Daily Elements Defense Oil to boost hydration and the absorption of your treatments. Spritz liberally during the day to refresh after a hot spell outside or to calm and soothe skin post burn (hey, it happens). When you read the ingredients in La Jardin De Fleurs Skin Revitalizer, you will be dying to put this on your skin. Jasmine, rose damascenca, honeysuckle and carrot seed hydrosols replenish and soothe while raw coconut water and hyaluronic acid infuse the skin with hydration and allow the cells to better retain moisture, leaving you with plump juicy berry skin. Keeping your skin's PH balance and hydration in check is just as important as protecting from UV damage for healthy skin that looks good years down the road.
Finally, the skin first aid essential and wonder oil of my dreams, Barbary Fig Seed Oil, is oh so necessary in the fight to keep skin healthy through the summer. Intensely healing thanks to its high vitamin E content, Barbary Fig Seed Oil is my go-to botanical oil for inflamed skin. For those slipups when you do actually get too much sun and—heaven forbid—burn your delicate skin, I highly recommend slathering yourself in Barbary Fig Seed Oil. Not only is its pure, gentle nature perfect for skin that's sensitive or worse, skin that actually hurts—Barbary Fig Seed Oil will speed the healing process and minimize any sun damage from manifesting in the form of discoloration or fine lines. Even if you don't burn, use this as an after sun treatment to ensure your skin is at its best.