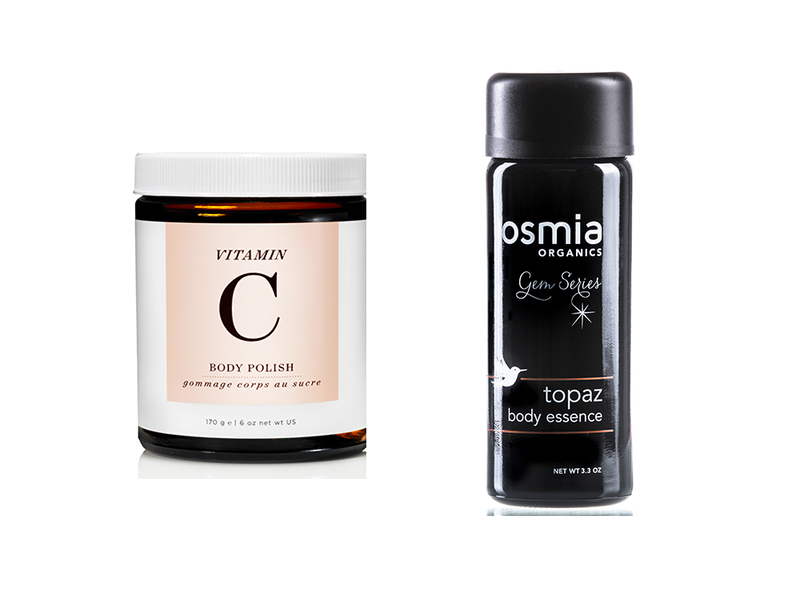 Long flowing skirts may be all the rage right now, but make sure you're ready to bare those legs at any moment this summer nonetheless because—well, summer. If the heat doesn't compel you to wear as little as possible, perhaps summer love will. Didn't your horoscope mention something about a new crush? Either way, One Love Organics Elizabeth Dehn Vitamin C Body Polish and Osmia Organics Topaz Body Essence are the perfect duo for gorgeous summer legs.
The Vitamin C Body Polish creates a little tropical vacation right in your own bathroom (hello sweet pineapple scent!). We've all experienced fruity scents that can be a little too sweet or even fake smelling. This is different. One Love Organics' pineapple scent is kinda their signature thing. It appears in several of their products, and it smells like heaven, so you'll find yourself daydreaming in the best way while using this body polish. It has just the right amount of scrub and is totally rinse-able (meaning no excess oil left on skin if that's not your thing). I'm uncertain how much value the vitamin C ester ultimately brings to the formula due to the rinse away nature of the product (it's important for vitamin C to absorb into skin to do it's job) but it certainly doesn't hurt! Aloe, shea and raw organic sugar crystals provide an invigorating scrub that will leave your legs feeling ultra smooth and soft. Use this as a pre-shaving treatment or right before you slip into those short shorts.
Don't let the tropical vacation end in the shower. The finishing touch in this perfect duo for summer legs is the new Topaz Body Essence from Osmia Organics. Part of the uber luxe Gem Series, this new body oil is like the sexy older woman to Osmia's Sunset Body Oil. The familiar and luscious combination of neroli and jasmine are taken to beachy new heights with the addition of coconut, and a touch of sandalwood adds loads of depth. Massage the Topaz Body Essence into freshly scrubbed legs right out of the shower while your skin is still wet. This helps it absorb quickly with no excess oil to worry about. If you're freshening up for a summer evening out, spritz a bit of rosewater onto your legs and reapply a small amount of the Topaz Body Essence for lustrous limbs. This body oil contains the same base botanicals as the Amethyst Body Essence—a healthy combination of vitamin rich organic oils like sunflower and avocado and reparative oils like borage and camellia seed oils. Dry skin doesn't stand a chance, nor do the effects of the summer elements when you wear Topaz.