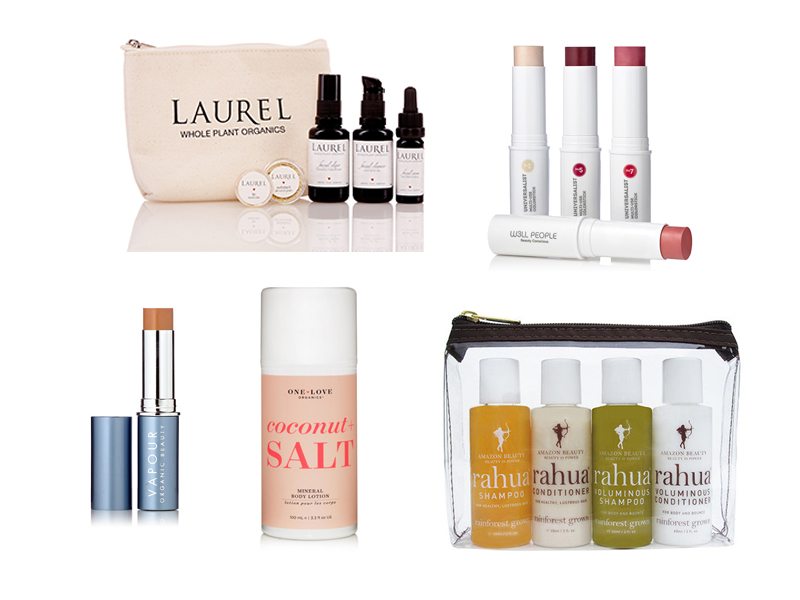 The Memorial Day weekend is coming up, and for many that means taking the opportunity for a long weekend getaway. Maybe you're flying, or maybe it's just a quick road trip. Either way, traveling can be a pain—especially for a quick getaway—if you don't have some easy to pack products that keep you looking and feeling your best without burdening your baggage.
Here are some travel-friendly picks that will cover all your personal care needs for the long weekend.
Rahua Jet Setter Kit. This kit gets even more portable when you consider that it has two shampoos and two conditioners — one each of the Classic and Voluminous versions. Take your pick for the trip and save the other two for the next time. Rahua's Voluminous duo will impress the fine-haired set, while the Classic works for all hair types, especially color-treated beauties. The scents are gentle and gorgeously laced with palo santo and other relaxing herbs.
Laurel Whole Plant Organics Travel Sets. These all-in-one skincare sets are conveniently packed in a pretty yet practical USA-made canvas zip bag, and they include the Laurel Cleanser, Elixir, Serum, Exfoliant and Lip Treatment — a complete regimen for on the go. Even better, you can chose the Travel Set according to your skin's needs — Oily/Combination, Normal/Dry/Mature or the Gentle Travel Set for extra sensitive skin. Now you can take some of the most potent botanical skincare products with you anywhere.
One Love Organics Coconut + Salt Mineral Body Lotion. This new release is the perfect travel companion thanks to its compact and TSA friendly 3.3 oz bottle. Unlike body oils, which sometimes leak in transit, this lotion will stay put until pumped out, and it will keep your body silky soft no matter what the climate is like where you're vacationing. It's also lightweight and ideal for warmer weather.
W3LL PEOPLE + Vapour Organic Beauty. Nothing is more convenient than makeup that's multi-purpose and packaged in a twist-up stick. Messy packaging and spills are completely eliminated when you travel with makeup sticks. Travel with W3LL PEOPLE Narcissist Foundation + Concealer Stick or Vapour Organic Beauty Illusionist Concealer and Atmosphere Luminous Foundation. Don't forget Vapour's Solar Translucent Bronzer for that sun-kissed vibe or W3LL PEOPLE's Universalist Multi-Use Color Stick for cheeks and lips. Both makeup lines have lots of portable makeup sticks to choose from, and will help you condense your makeup kit immensely.
Don't you hate it when you reach your destination only to discover you've forgotten that one quintessential product you can't be without? The less you have to think about to prepare for travel the better, so reach for products like these when you're packing. Stow away a travel kit that's ready to roll at any moment, and you won't find yourself in that situation again—at least with your skincare routine! It's up to you to remember the swimsuit or favorite sun dress.