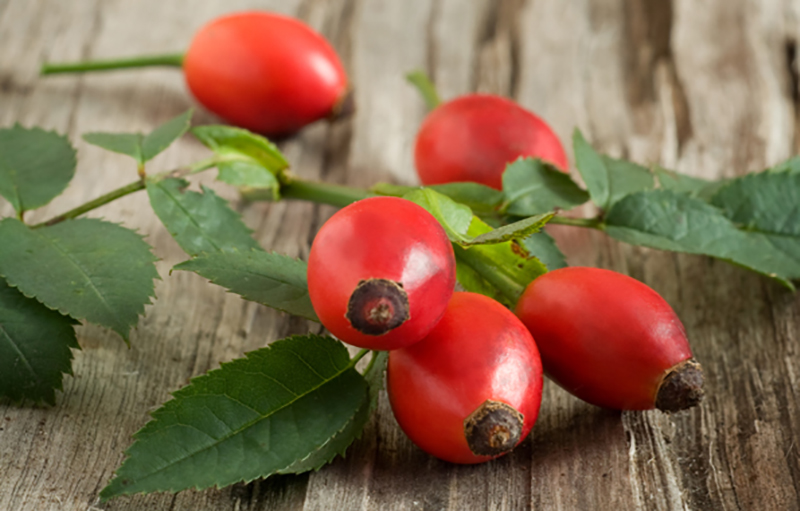 Did you know that rose bushes produce small seed pods that look like little fruits at the end of the growing season? They look like tiny persimmons with a darker coloring. These are the rosehip seeds, and they offer up one of nature's most effective toning and refining ingredients—rosehip seed oil. Studies show that rosehip oil is effective at improving the appearance of scars, sun damage, fine lines and stretchmarks—but this is one instance where I don't need studies to prove the benefits of this oil. I've seen dramatic results first hand. It's one of the best oils for getting that enviable glow that normally only happens when you eat tons of veggies. Rosehip seed oil is appropriate for all skin types, including sensitive and acne-prone skin.
Rosehip seed oil is a bright red-orange color, which tells you right away that it's rich in beta-carotene, like sea buckthorn oil. Packed with antioxidants and high levels of vitamin A and C, rosehip oil repairs skin damage, especially working well to fade scars and hyper-pigmentation. Many call it nature's retinol because the vitamin A content is off the charts, but it gives the rejuvenating benefits of retinol without the irritation found in most anti-aging products that contain high levels of retinol in the form of synthetic vitamin A. Rosehip seed oil is also one of the richest plant sources of vitamin C, which is critical to collagen production and helps improve discoloration from acne scars or sunspots when used consistently.
Let's not forget the essential fatty acids. Rosehip seed oil is a great source of linoleic acid, an omega fatty acid that acts as a powerful anti-inflammatory and helps reduce acne and rashes from dermatitis. It also helps support cell membrane health, working to plump skin and reduce the appearance of aging. Rosehip seed oil contains more than 40% linoleic acid. If there is one downside to rosehip seed oil, it's the short shelf life. This oil is prone to rapid oxidation and typically has a shelf life of around 6 months before it begins to go rancid. However, that shelf life can be extended when the oil is blended among other ingredients that help preserve the integrity of the oil.
Want to try rosehip seed oil for yourself? Here are some products that contain this beauty oil: