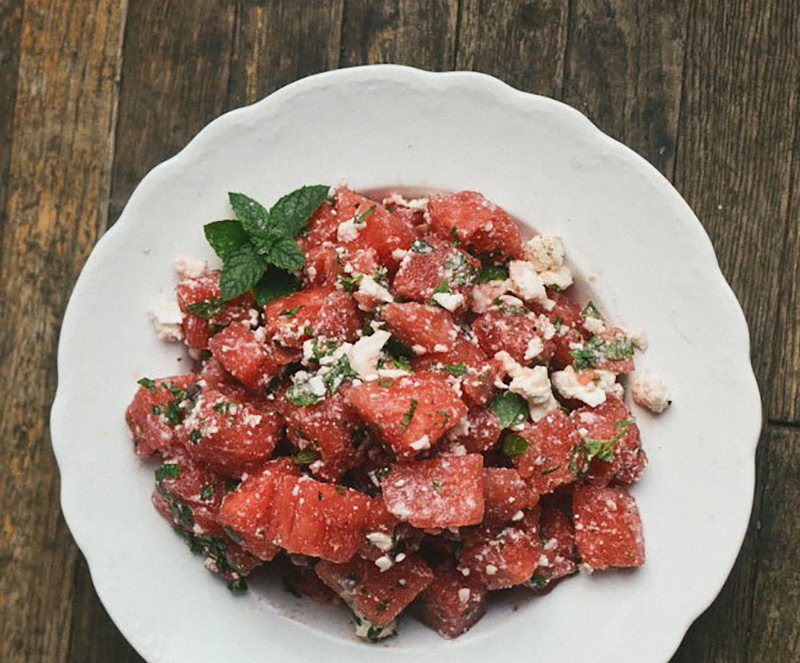 This week at the grocery store I found two items that signal summer has arrived—fresh corn and watermelon. Naturally, I bought both, but it's the watermelon I'm most excited about. Some people think watermelon is just a fluff fruit because it's mostly water—about 92% water, actually. Even so, water is the secret to glowing, hydrated skin, and I happen to be someone who bores easily of drinking water, so watermelon is a great way to sneak more water into my life. Yes, it's got a high water content, but you may be surprised to hear that watermelon is more than just sugar and water—it's very nutritious! Vitamins A, B6 and C plus antioxidants, amino acids and potassium are lurking under that sweet juicy veneer.
Watermelon is also full of lycopene, an important phytonutrient that gives fruit and vegetables their red pigment (think tomatoes, grapefruit and guava). Lycopene is a powerful antioxidant with anti-inflammatory benefits that is important for cardiovascular and bone health. In addition, watermelon contains the amino acid citrulline, which gets converted by our organs into arginine, another amino acid that improves circulation and promotes blood flow. In order to get the full nutritional benefits of watermelon, it's important to let it ripen completely. The more ripe the watermelon the more red the watermelon becomes, which signals that those critical phytonutrients like lycopene have become more concentrated.
So now that I've given you a free pass to eat as much watermelon as you please this summer, how about a fun healthy recipe to shake things up a bit? For the uninitiated, this may sound weird, but feta cheese is my favorite thing to pair with watermelon. This sweet and salty combination is incredible. I worked for a chef when I was in college who introduced me to this pairing. My palate was less adventurous then and I was quite skeptical about it, but the chef encouraged me to try it. I credit this moment of surprise and delight with opening my mind to stranger and stranger foods. Now I see watermelon and feta paired frequently. If you haven't tried it for yourself I encourage you to make this the summer you do. Here's a great recipe to get you started.
Watermelon, Feta & Mint Salad, serves 4-6
6 cups watermelon cubes
3 ounces feta cheese, crumbled or cut into small cubes
1 handful (or 1 loosely packed cup) fresh mint leaves
1 tablespoon rice vinegar
Be sure to make this salad right before serving so it doesn't get too juicy. If the watermelon and feta sit together for too long everything begins to dissolve together.
Pour off any juice from the watermelon and toss gently with the vinegar. Add feta and toss just until watermelon is lightly coated. Chop the mint into very fine ribbons and briefly toss with the watermelon and feta, reserving some to garnish the top. Top with a generous amount of fresh black pepper and add a tiny bit of sea salt if desired. (Taste first, as feta is pretty salty.) Serve immediately.
*recipe adapted from theKitchn.com