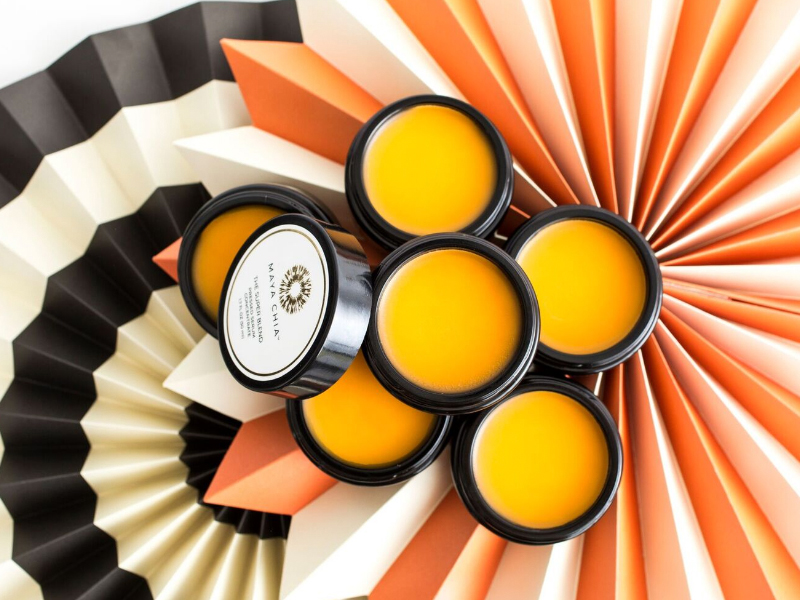 Earlier this summer we introduced Maya Chia, a high-performance natural brand that has harnessed the power of chia seed oil as the star ingredient. In case you missed my ingredient spotlight on why this oil is so amazing for skin, let me share some highlights. Chia seed oil is clinically proven to significantly increase skin hydration and skin barrier function, so skin retains more moisture than it would otherwise. Chia seeds are one of the richest plant sources of antioxidants, omegas and minerals. They contain up to 30% more antioxidants than blueberries, so is this essentially a topical super food that your skin will thrive on. If you struggle with dryness, it's a must-have ingredient.
As you can imagine, I fell in love with Maya Chia's beautiful face oil, body oil, and body balm, so when I heard about the launch of The Super Blend—a pressed serum brightening moisture concentrate—you can bet I ran straight for the jar. The Super Blend is similar to a balm, and I simply can't get enough of its rich, velvety texture. It is a pure delight to press this luxurious formula over freshly cleansed skin. A pea-sized amount or less will do. I love to warm The Super Blend on the tips of my fingers and then smooth gently over my face and neck. My skin feels instantly cocooned in the softest moisture, and The Super Blend absorbs right in so that skin is never greasy but adequately protected. You'll want to use this formula at night when your skin is in serious repair mode, but it is lovely for daytime use as well. The scent is complex, rich, and calming with neroli, rose, vetiver, cardamom, patchouli and jasmine as the main notes.
The Super Blend is a combination of powerful active botanicals and the most innovative natural anti-aging ingredients. Do you remember our ingredient spotlight for this month, babassu oil? That's included alongside a host of highly effective natural skin rejuvenators like natural astaxanthin, supercritical chia, shelf stable vitamin C ester, and coenzyme Q10. I'm obsessed with astaxanthin, a red pigment molecule found in certain marine algae that functions as a natural sunscreen for marine plants. In skincare, astaxanthin is a powerful anti-aging ingredient that is clinically proven to have 65x the strength of vitamin C to fight free radicals. Combined with the supercritical chia oil, vitamin C ester, and coenzyme Q10—this balm is one of your best lines of defense against premature aging.
Thanks to this bounty of incredible natural ingredients, the Super Blend brightens and evens skin tone, stimulates collagen, and fights inflammation. It also improves the texture of skin–including the look of fine lines and wrinkles—thanks to its ability to increase elasticity and firmness while keeping skin from losing moisture. If you are struggling with dull, damaged, or dehydrated skin, give The Super Blend a try. It's going to be a long winter, and your skin deserves the best.
The Super Blend is also available as part of Integrity Botanicals' limited edition "Ever Green" holiday gift box, which includes a selection of some of their best products beautifully wrapped and ready to gift. It's a great value that will go quickly, so don't miss it!