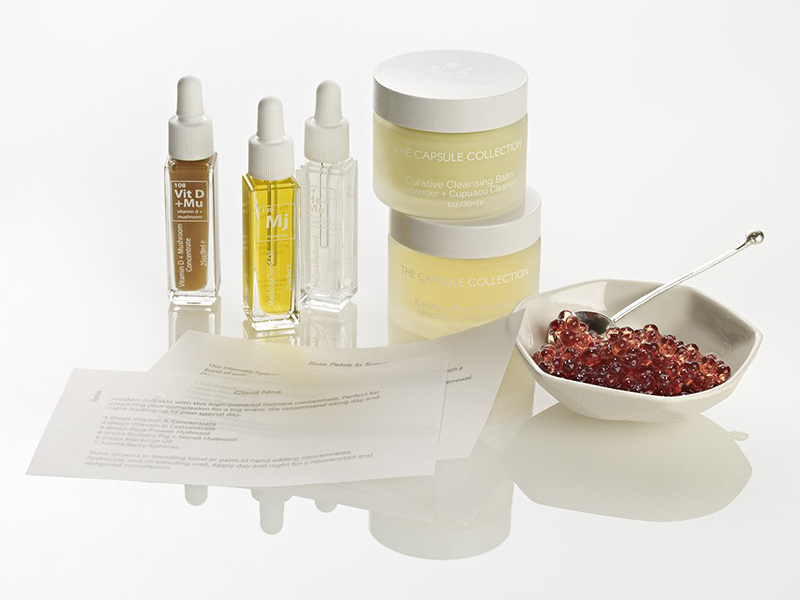 In the early days of green beauty, hardly any of the beautiful brands you see at Integrity Botanicals and beyond existed. Choices in clean skincare were extremely limited, so I spent my days learning about and collecting raw botanical ingredients that I could mix into DIY formulas to suit my needs. As the industry grew and more choice became available, I continued to supplement and customize my skincare. It's how I achieve my ideal, most effective routine.
When I heard about La Bella Figura's limited edition Capsule Collection, a deconstructed 15-piece ensemble that includes everything your skin needs to thrive, I knew this would be the ultimate in personalized skincare. La Bella Figura recognized that many of their customers seek a customizable skincare experience, and they sought to offer that. Additionally, founders Victoria and Karen were inspired by the innovative chefs and artists they love when they designed The Capsule Collection, and they took cues from the culinary world with their mise en place ensemble of ingredients and innovative techniques like the Extract Spheres. The Capsule Collection has brought a lot of joy and excitement back to my skincare routine. There are many reasons I love it, but the following three reasons sum it up.
1. The Capsule Collection allows for creative customization so your skincare routine is truly unique to your needs.
Have you ever loved a product but found yourself wishing you could tweak it and add something like vitamin C or resveratrol? The Capsule Collection makes that wish come true. If you're the intuitive or adventurous type, you'll be a master beauty chef in no time with The Capsule Collection. If that's not you, don't worry! Just follow the recipes La Bella Figura provides as part of The Custom Bar. The recipes are easy and quick to follow, and they'll provide tons of inspiration for your own concoctions.
When I step into my bathroom each morning and evening, I ask myself what my skin is hungry for, what it needs in that moment and beyond. Between the flights of oils and hydrosols, the Gel Concentrates, the Extract Spheres, and the Curative Cleansing Balm, there are endless ways to customize The Capsule Collection to get the routine of your dreams. The skin support system is there, just waiting for you to mix and apply.
2. The Capsule Collection couples innovation with high quality ingredients for a luxurious and effective experience.
La Bella Figura has always been a brand I trust to source the most incredible and effective ingredients, and they are masters at creating formulas that work in the most luxurious way. For The Capsule Collection, La Bella Figure selected a flight of three botanical oils that includes their famous Barbary fig seed oil (can't live without it) and vitamin C rich maracuja, or passionfruit, oil. These are complemented by a flight of three hydrosols, including a rare Barbary fig and orange flower blend that keeps skin clear and healthy. These single ingredients represent some of the most exquisite botanicals available, which you'll know by their effect on your skin.
Additionally, The Capsule Collection includes Gel Concentrates that will emulsify with the hydrosols and oils or can be layered to infuse skin with all the vitamins and antioxidants our skin craves. These include the Vitamin C + Papaya, Vitamin D + Mushroom, and Vitamin A + Carrot concentrates. I absolutely love having these concentrates available for my mix and match pleasure. I can't stress enough how effective yet gentle these concentrates are, and if you're familiar with the Modern Radiance Concentrate, you'll know what I mean.
These elements of The Capsule Collection are essential and beautiful, but the Extract Spheres and the Curative Cleansing Balm are where La Bella Figura truly shows their talent for innovation and creativity. The Extract Spheres pop in your hand or in the ceramic dish provided to reveal a burst of vitamin C rich kakadu plum extract or resveratrol rich Aronia berry extract. These are pure nutrient, and a couple of spheres will take your routine to the next level in terms of results and efficacy. Additionally, the Curative Cleansing Balm is wonderful morning or evening. Not only does it remove every bit of makeup, it rinses clean with water alone. This is the cleanser I've been waiting for, and I'm obsessed.
3. The Capsule Collection is a work of art that elevates your everyday skincare experience.
Yes, I said that—it's a work of art—and how often can you say that in this industry? Not often enough! From the moment the gorgeous box touches your hands, you know it's special. Every detail is accounted for, from the white cotton gloves you're encouraged to use for mixing to the handmade sterling silver sphere spoon and porcelain ceramic bowl. Welcome to your own exquisite little apothecary. If you're anything like me, these aesthetic details matter, and they set The Capsule Collection apart. You'll love displaying this gorgeous collection for easy use and inspiration.
The components of The Capsule Collection deliver all the vitamins and nutrients your skin needs in an innovative and luxurious manner, just as you'd expect from La Bella Figura. Have you ordered your Capsule Collection? Don't miss this limited edition release!