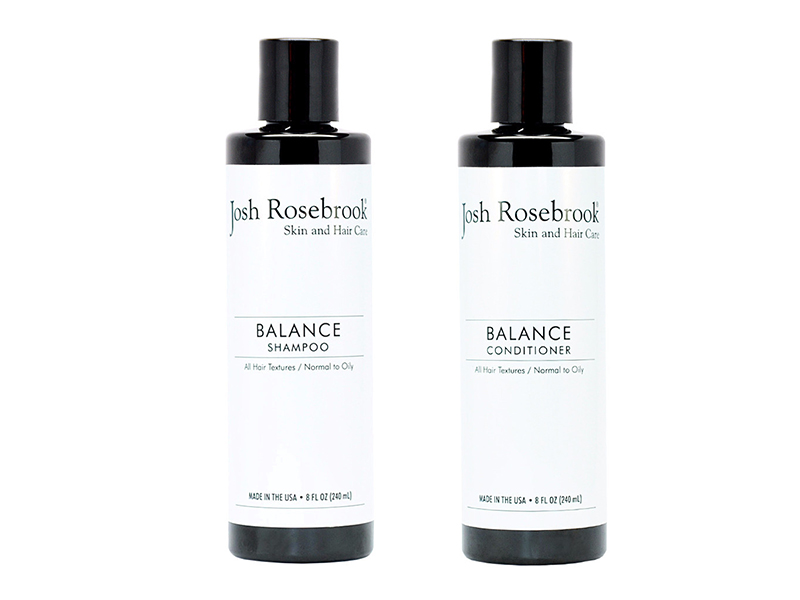 Who doesn't get excited about a new Josh Rosebrook release? From his skincare to his hair care formulations, Josh Rosebrook brings a special element to green beauty that is refreshing. His products are full of gorgeous botanical extracts and natural ingredients that synergize to deliver an experience that is as effective as it is ritualistic and relaxing. The scents, formulas and packaging are all mindfully unisex, adding additional appeal for those of us that enjoy being able to gift or collect items that don't scream, "I'm made for a woman!"
The new Balance Shampoo and Conditioner from Josh Rosebrook launched at A Night For Green Beauty in August, and I've been excited to get my hands this duo.
While I adore all of the styling products from this line, like the Firm Hold Hair Spray and the texture and volume styling spray called Lift, my hair type wasn't a good fit for the Deep Nourishing Shampoo and Conditioner (though people in need of moisture and gentle cleansing will adore it). Thanks to the Balance Shampoo and Conditioner, now fine haired people prone to oily roots can enjoy cleansing with Josh Rosebrook.
The first thing you'll notice about the Balance shampoo is its awakening, bright citrus scent. Lemon, rosemary and grapefruit oils are augmented by the faintest bit of rose to create a fragrance that feels more luxurious than your average shampoo and puts a positive spin on any morning. The shampoo has a nice gentle lather, nothing over the top but enough to make you feel like "hey, it's working!" Non-lathering shampoos are fantastic for certain hair types—those on the dry side, or thick and coarse hair—but when a shampoo doesn't lather with hair like mine, the result is normally limp hair that doesn't look very clean. The Balance Shampoo does a nice job of cleansing while still replenishing nutrients and infusing hair with life. After all, the bulk of the ingredients are herbal infusions.
With Josh Rosebrook's Balance Shampoo, my hair feels clean but ridiculously soft and conditioned, so much so that I'm tempted to skip the conditioner—but don't, because the Balance Conditioner is one of the best natural conditioners I've ever used. The Josh Rosebrook Balance Conditioner formula feels and behaves like the conventional conditioners of my past minus the silicones and other junk. I most often skip conditioner in my routine because, frankly, most natural conditioners don't seem to do anything for me. While they might add some moisture, tangles are usually still a problem. The Balance Conditioner is on a different level. The consistency is rich and creamy, and obviously so much more than a blob of botanical butters. Any tangles are instantly dissolved. It leaves hair feeling silky soft, and a comb goes right through without a snag, minimizing any damage that can occur from brushing wet hair. I'm left with manageable, healthy looking hair. This is my holy grail conditioner, and I can't wait for you to try it.