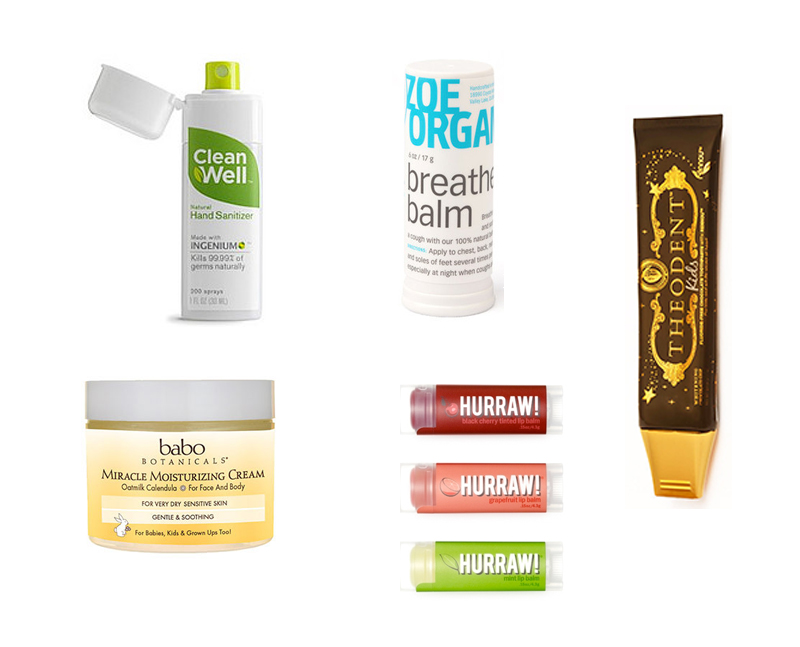 Hello, September. Once again, the rhythm of life brings us around to the fall season, which means the back to school buzz is upon us. How does summer fly by so quickly? If you have little ones, or even not so little ones, staying organized and prepared during the school season isn't just a luxury—it's a necessity. You can head off a stressful whirlwind of need-it-but-don't-have-it moments by putting together a back to school toiletry kit that will keep life moving while you adjust to new schedules and demands.
The Cleanwell Hand sanitizer is probably the most important item you can grab when the kids head back to school. I have multiples and stash them in the car, desk drawer and my purse. The original scent smells like fresh citrus and thyme, and there is also an orange vanilla scent. This alcohol-free hand sanitizer is gentle but effective and relies on a patented essential oil blend and active thyme to kill germs. For extra hand love, or for kids with eczema and dry patches, keep the Babo Botanicals Miracle Moisturizing Cream in your back to school kit. Aloe, oat kernel flour and a blend of anti-inflammatory herbal extracts soothe irritated skin—great for when new school uniforms chaff or frequent hand washing gets the best of little hands.
Before kids hit the kissing age, it can be difficult to motivate them to brush their teeth (and in a hurry, please). Allow me to introduce you to Theodent Whitening Chocolate Chip Toothpaste for Kids—need I say more? Maybe snag a tube for the adults, too. Pop a special treat into backpacks and briefcases and grab a Hurraw! Lip Balm for everyone in your family. There's a flavor for every taste so you can personalize it. If you've got a tween who is eager for makeup but still on the young side, Hurraw! Tinted Lip Balms make great makeup training wheels, and it's way healthier than the petrochemical ridden LipSmackers they'll be tempted by otherwise.
Finally, for those inevitable coughs, colds or respiratory troubles that kick up during the school year, the Zoe Organics Breathe Balm is a quick and easy way to get relief. Its therapeutic eucalyptus scent is soothing and opens up air passageways. The essential oils are anti-viral, adding extra immune system support to your day. If you gather up a handful of helpful treatments and toiletries like the Breathe Balm at the beginning of the school year or any busy season, you'll thank yourself later. It's always easier to head off a cold or keep skin irritations from blooming when you have the right products on hand. Get prepared with these basics before the year gets too hectic.