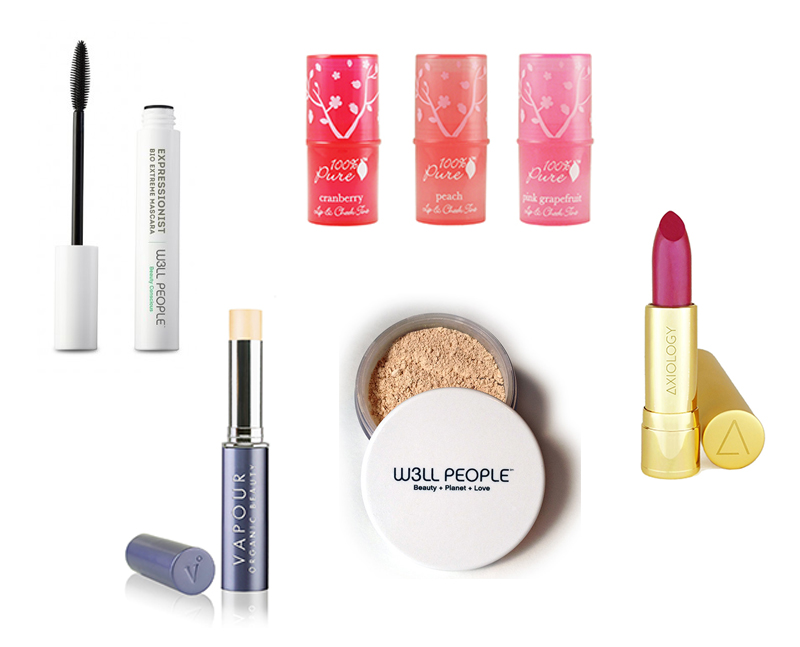 Have you done most of your makeup shopping at the drugstore, Sephora or the department store counters? Well girlfriends and boyfriends, there's a better way to get your cosmetics fix, and those retailers are far from it. Swapping your conventional makeup products for healthy, nontoxic cosmetics has never been easier, and that's because clean beauty brands are knocking it out of the park when it comes to performance, wear and color selection.
Brands like Vapour Organics, W3LL PEOPLE and La Bella Figura are not only making superior cosmetics, they are crafting them with skin health in mind, so the ingredient list for your foundation or blush may read like a treatment serum. Much of the conventional makeup out there can really irritate, suffocate and deplete skin. Green beauty brands are putting nourishing ingredients into makeup and leaving out the harsh fillers and skin irritants, so you can feel confident and safe about your choices while still getting your glam on.
Not sure where to start? Let me walk you through a few items that can easily be swapped for conventional products.
Are you a fan of mineral foundations? Not all are created equal, and many contain ingredients that can irritate the skin or do damage to the respiratory system when inhaled. W3LL PEOPLE Altruist Mineral Foundation to the rescue! This gorgeous foundation can be tailored to the look you want—from sheer to full coverage. It contains aloe, chamomile and green tea to keep skin nourished and calm.
Love that illuminating effect you get from your YSL Touche Éclat concealer? You won't miss a beat when you swap it out for the Vapour Organic Beauty Illusionist Concealer. This twist-up tube is super portable and makes skin look radiant thanks to the nourishing formula. Herbal extracts and botanical oils plus beautiful mineral coverage? Conventional concealer doesn't come close.
Move over Dior, because W3LL PEOPLE Expressionist Bio Extreme Mascara is stealing the show. Big bold lashes are possible without all of the nasty chemicals that can irritate eyes and cause dry, brittle lashes over time. This baby is petroleum-free, paraben free, coal tar-free and aluminum free!
Do you love the cheek stains from the mega green-washed line Tarte Cosmetics? (So not natural despite what their marketing says!) You'll find an even better experience with 100% Pure Fruit Pigmented Lip & Cheek Tint. Yep, it gets it's color from antioxidant-rich fruit pigments, and it's free of synthetic chemicals and artificial fragrance.
Lipstick with lead in it? Not here! Move over MAC, because Axiology lipstick has the full package—intense long-lasting pigment, conditioning vegan formula and a color range to swoon over. The formula is full of rich botanical oils that protect and repair while making you look incredible. Ditch that conventional lipstick and don't look back.
These recommendations should get you started, and I'm confident you'll be happy with how your skin responds. We've only just tapped the surface with regard to clean makeup choices. There's more to come!