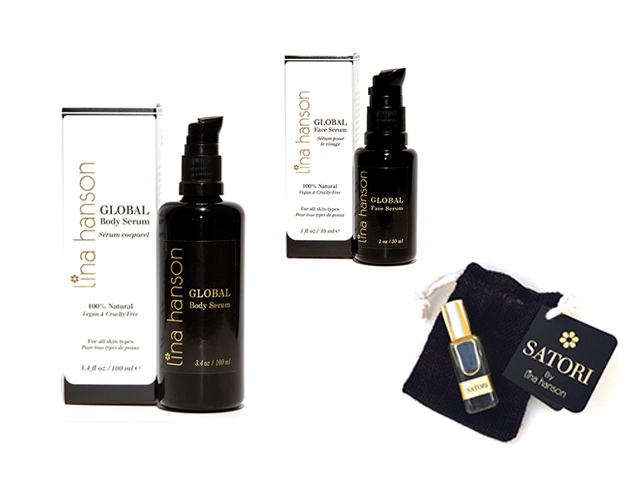 Lina Hanson Global Beauty is synonymous with purity and luxury. The line is a small collection of botanical oil-based serums that are each blended to perfection for a gorgeous experience every time. The line's namesake, Lina Hanson, is a makeup artist with a passion for traveling and a big heart. As a makeup artist Lina understood the importance of a healthy complexion, and she felt — like many of you — that unnecessary toxins in the standard creams and serums only harm our skin. She turned toward pure, botanical ingredients to care for skin and spent two years developing her first product, the Global Face Serum. Devoted fans have enjoyed glowing healthy skin ever since, and Lina has developed new products and expanded the line with a recent foray into perfume. I truly love every piece in this line.
Lina Hanson Global Face Serum. I was smitten from the moment this serum touched my face. The scent instantly creates a calm, peaceful feeling and heightens the pleasure of applying it. The main note is neroli, which is produced from the blossoms of the bitter orange tree and has a sweet, honeyed slightly green fragrance. It's rounded out by mandarin, palmarosa, frankincense and ylang ylang for an overall citrusy sweet affect that is quite blissful. Baobab, argan, marula, camellia, pumpkin seed and brazil nut oils form a blend of beauty super-oils that repair, rejuvenate and nourish your complexion. The texture is silky, sinks in fast and leaves an excellent base for makeup application. It's perfect for your evening routine, too. In no time your skin will glow.
Lina Hanson Global Body Serum. The beauty of this body serum is that it embodies all of the lovely aspects of the Global Face Serum — weightless finish and silky smooth skin — with a slightly different cocktail of botanical oils and a scent that complements the face serum in every way. Rice bran, avocado, apricot, argan, brazil nut, pumpkin seed and camellia seed are masterfully blended. The result is skin that feels velvety soft. I'm not exaggerating. This is not just any oil blend; it's a stunning example of how good oils can be when combined. Grapefruit oil, vanilla and yuzu (Japanese citrus oil) give this serum a warm, slightly sweet and very sensuous fragrance. You'll crave this body serum.
Lina Hanson Global Baby Serum. I have a confession to make: I bought this serum as a baby gift and kept it for myself! As a fan of the other Lina Hanson serums, it was just way too tempting, and I'm glad I broke the bottle open (though I did get another one for the sweet baby who inspired it). I love this serum for its gentle simplicity and highly moisturizing qualities. Free of fragrant essential oils that can be too much for babies, pregnant women and those with sensitivities, the Global Baby Serum is for delicate skin that needs extra gentle love and attention. Watermelon seed, safflower, jojoba, sunflower, camellia, apricot and grape seed oils provide essential fatty acids and additional nutrients that help soothe irritated skin and increase elasticity. It's luxurious but quick absorbing and suitable for the face and body. It's also offered at an incredible price for 2 ounces of high quality botanical oils.
Satori Global Scent No. 1 Perfume Oil. Way before I even knew Lina was blending perfume, I longed for a perfume experience that bottled the beautiful scent of her serums. Lucky us, Lina's first perfume oil Satori recently launched and it embodies the gorgeous global fragrances from around the world that I've come to know as the Lina Hanson scent. If you're already a fan of Lina Hanson, you'll adore this perfume. If you're new to Lina Hanson and discover you love her serums, you'll want this in your collection, too. Warm vanilla and sandalwood with crisp notes of citrus and ginger create an experience that is soft, uplifting and incredibly sexy. It's set in a base of fractionated coconut oil and packaged in a small roll-on bottle for easy toting. I can't get enough of this one.