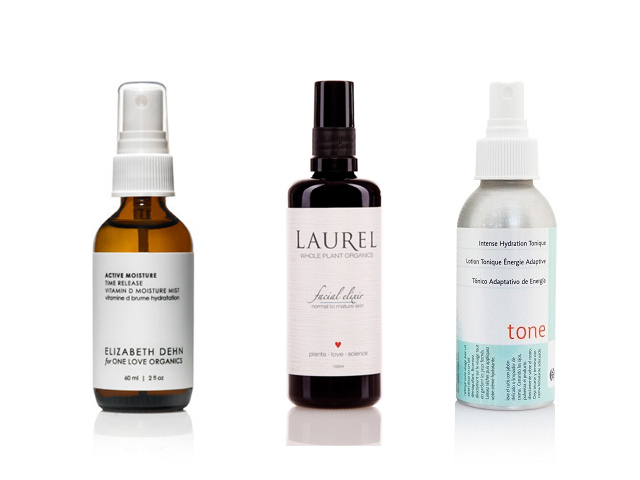 My first experience with a "toner" was probably similar to yours — an alcohol-based concoction that I swiped over my face while battling typical breakouts and oily skin as a teen. The toner would often burn, and it definitely removed oil, but it was overly harsh. Looking back, I'm a little horrified that I put my young skin through that torture and unwittingly caused it to be more out of balance than it would have been otherwise.
You may think of toners as something that is mostly for people who struggle with breakouts or oily skin. The reality is that there are toners and face mists that enhance and benefit all skin types, from sensitive to acne-prone to dry and mature. Most natural toners are alcohol free and full of nourishing, pH balancing ingredients, which is why I believe they're an integral part of a balanced skincare routine. Beyond the benefits they offer, many are such a joy to use because they include floral waters and essential oils that offer a delightful experience when misted on the face.
I reintroduced toners into my routine when I changed to natural products, and I've fallen in love with the practice of applying them and the variety of toners available. No joke, I keep at least three in stock so that I can add them to my day depending on my needs and mood. With most natural toners, you can spritz them on any time of day as a pore-refreshing drink of moisture for your skin, so don't hesitate to keep one on your desk or in your purse, especially if it's primarily a floral water.
Toners & Mists for Sensitive and Damaged Skin
Sensitive skin types can benefit from the skin soothing, anti-inflammatory ingredients present in many toners. Aloe vera is especially common in natural toners and mists, which is the epitome of soothing. Some essential oils and floral waters like rosewater and rose oil are calming and healing, particularly for sensitive and damaged skin. Try Laurel's Facial Elixir for Normal/Mature Skin, Kari Gran's Hydrating Tonic in Rose or Lavender, MUN No. 11 Anarose Toner.
Toners & Mists for Acne Prone and Oily Skin
If your skin is prone to breakouts, you'll benefit from a toner formulated with antimicrobial ingredients as well as calming essential oils and herbal extracts. Witch hazel and herbal infusions help purify without disturbing the acid mantel so that skin isn't further compromised when it's already stressed. Try Blissoma's Tone Adaptive Energy Tonique or Laurel's Facial Elixir for Oily/Combination Skin.
Toners & Mists for Dry and Mature Skin
Natural toners really excel in this category, and the extra layer of moisture that you get with a toner makes all the difference for dry and dehydrated types. Essential fatty acids and natural humectants enhance hydration levels for plumped skin. Try the Elizabeth Dehn for One Love Organics Vitamin D Active Moisture Time Release Mist, Josh Rosebrook Hydrating Accelerator, or Blissoma's Tone Intense Hydration Tonique.
Special Offer from Integrity Botanicals: Get a free Elizabeth Dehn Vitamin D Active Moisture Time Release Mist ($39 value) with any One Love Organics or Elizabeth Dehn purchase of $100 or more. Code: EDMIST
Offer available while supplies last. *Limited supply