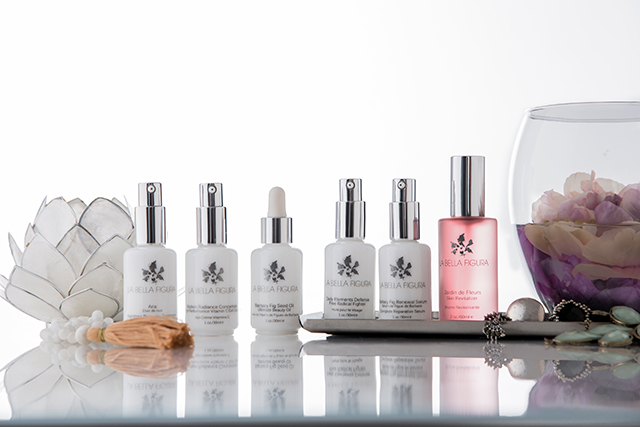 It's no secret if you've followed my work elsewhere — I am a longtime fan of La Bella Figura and consider them one of the most premium, luxurious lines in beauty. The fact that their products are completely nontoxic is just icing on the cake because when it comes to performance, La Bella Figura is hard to beat. Once you get turned on to the La Bella Figura experience and the results that accompany, you will understand just what I mean. For those of you already in the know, I can promise you there are some exciting new releases coming in the near future that are sure to impress.
One of the stunning things about La Bella Figura is that their talents as formulators are multifaceted and seemingly endless. They not only make incredible skincare, they offer exquisite perfumes and have most recently introduced a collection of makeup. The women crafting this line are innovators, constantly searching the globe for the most effective and unique botanical ingredients they can find. They formulate in a way that delivers maximum results while keeping the experience luxurious and relaxing, a true beauty ritual.
To give you an idea of what you can expect, I'd like to introduce you to the five products launching at Integrity Botanicals this week.
Modern Radiance Concentrate. If you are looking for a more even skin tone or need help with discoloration like sunspots, this highly concentrated vitamin C gel cream is just the ticket. Like most products in this realm, you need to give it 4-6 weeks to see results, but it won't disappoint. Unlike most sources of vitamin C in skincare, which come from ascorbic acid, the Modern Radiance Concentrate uses a natural active derived from one of the world's most potent sources of vitamin C, Australian wild-crafted Kakadu plums. This formula is brimming with reparative antioxidants that help strengthen skin and promote collagen production. It's such a refreshing product to use first thing in the morning, too. It has a pleasant citrus scent that is energizing and awakening, and when you apply a thin layer as directed, it's weightless thanks to its unique gel texture and perfect for layering. I love knowing that this concentrate is working its magic underneath my makeup.
Daily Elements Defense Face Oil. In the morning after you apply the Modern Radiance Concentrate, reach for the Daily Elements Defense Face Oil next. The name says it all. It's formulated to protect against environmental exposure and UV rays, oxidative stress and the cell and tissue damage that accompanies the daily grind. Sacha inchi oil is one of the star ingredients, and it contains mega omegas — it's the world's richest source of plant-derived omega 3 and 6. Guava seed, rosehip C02 and pomegranate C02 add high quantities of vitamins A and C, and camellia seed oil deeply hydrates. You can use this as a face oil on its own or add a few drops to a moisturizer or sunscreen, as I like to do, for an added boost. It smells luscious and fresh — a little earthy and slightly floral with delicate hints of jasmine.
Barbary Fig Seed Oil. This pure organic oil is La Bella Figura's star ingredient and with good reason! In terms of single oils, Barbary fig seed oil is a total game changer for its ability to rejuvenate skin and calm inflammation. Fine lines and hyperpigmentation are reduced and skin becomes incredibly soft when Barbary Fig Seed Oil is a staple in your routine. The oil has a unique earthy aroma that you'll come to know as the signature Barbary Fig Seed Oil scent. I crave it, but truth be told it's an acquired taste. The scent tells you how pure and unrefined it is, which you want in order to reap the full nutritional benefits of Barbary Fig Seed Oil. I love layering this over a moisturizer or applying it to my décolletage after cleansing. It's also rich in vitamin K and great for improving dark circles under eyes. Along with rosehip seed oil, this is one of my all time favorite single botanical oils because the results are quick to transpire and long lasting.
Barbary Fig Renewal Serum. Forget retinol. This potent serum is the natural answer to vitamin A treatments. It's a true powerhouse and a must-have for damaged skin, dry skin and mature skin in particular. It's best used at night when skin is in recovery mode and can adequately receive every ounce of nourishment and repair that this serum offers. The texture leaves skin feeling silky and smooth thanks to the broccoli seed oil, which has a similar feel to the finish that silicone leaves on skin. It gives a wonderful priming action, were you to wear this under makeup. The high amount of pure guava oil (third ingredient on the list after Barbary fig seed oil and broccoli oil) gives this serum its retinol action due to the high concentrations of vitamin A and beta-carotene. Like every other product from La Bella Figura, the scent is heavenly — a little sweet and gently floral with a faint lemon balm undertone. The scent comes from oils like magnolia blossom, rose, frankincense and Melissa leaf, which offer more than just fragrance and actually heal, tone and revive.
Aria Nighttime Cell Recovery Treatment. This treatment is very concentrated and full of active botanicals that are particularly good for damaged and mature skin, but that doesn't mean you won't benefit if you don't fit that description. Even healthy, optimal skin looks more radiant and nourished after an evening spent with Aria. Note that it is likely too active for allergy-prone and reactive types, however. Although it looks and feels like a face oil, think of Aria as a treatment that you use prior to applying your regular moisturizer or oils in the evening, and use it sparingly — three drops will do. The base is a blend of nutrient-dense botanical oils — avocado, camellia seed, carrot seed, maracuja, amaranth, pomegranate, Barbary fig and more — followed by super potent and antioxidant rich oils like green coffee bean, acai and papaya. Healing saffron, arnica and helichrysum oils help repair damaged cells. Aria is one big boost of nutrients, and you can tell by the absolute glow you'll find in your complexion when you look in the mirror the next morning. The scent is quite addictive — a little herbal and green with a fresh hint of pink grapefruit.