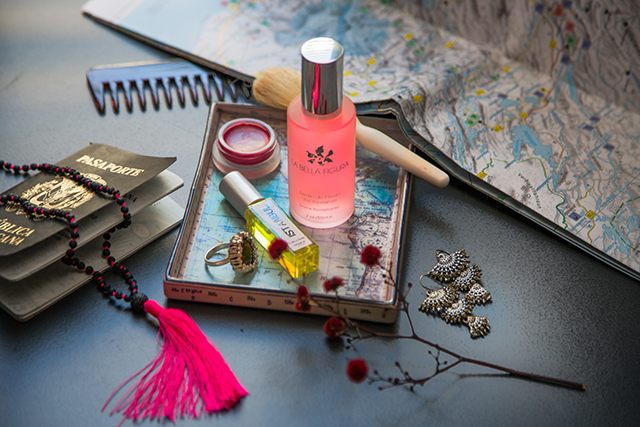 La Bella Figura was founded by two incredible women, Victoria Fantauzzi and Karen King. Not only do they run a luxurious natural skincare line, they also co-founded the preeminent event in green beauty — A Night For Green Beauty. (Integrity Botanicals is an official sponsor for ANFGB this year.) To celebrate the launch of La Bella Figura at Integrity Botanicals, I played a fun game of 20 questions with the founders that will give you some insight into what makes this line so special.
The beauty ingredient that has surprised you the most is…
Victoria: It's actually something we'll be using in our Crema Supernova launching later this summer. I don't want to say just yet, but it totally surprised me upon first try. Like magic. 
Karen: Early on, it was definitely Barbary Fig Seed Oil. The way it sank into the skin, helped balance and hydrate my skin, and eased my lifelong dark under eye circles was just a revelation to me. Recently, we were really surprised by a new ingredient that we will be using in our Crema. It did something that had both Victoria and I in awe. We can't wait to share this exciting ingredient!
If you had to eat the same thing everyday it would be…
V: If I was never going to gain an ounce and eating this same thing would be of no consequence I would choose chocolate cake. If not, a big bowl of fresh organic raspberries is my favorite. Although I'll never mix the two because I dislike berries in my chocolate cake.
K: I'm not sure I could just eat one thing. I think I would get too bored. But, if I were sure that I wouldn't gain a pound or clog my arteries I may be able to eat samosas with coriander chutney every day—they are just so delicious!
What's the one beauty product you can't live without?
V: Our pure Barbary Fig Seed Oil. It's versatile, works for everyone, gives instant results and makes my skin look happy.
K: Definitely our Découverte Under Eye Repair Serum. I use it day and night. It is the only thing that has helped with my hereditary dark circles, and believe me, I've tried everything under the sun. They have been the bane of my beauty existence since I can remember. . They will never completely go away, but now I'm so much less self-conscious about them.
When you travel for pleasure you always…
V: Get the scoop from cab drivers, bartenders, waiters. People that really know the inner dwellings of their city or town. In Spain the best seat in the house is at the bar. I've found the best restaurants that way. 
K: I always hit up the markets. You can really get the sense of a place by its markets. If the weather allows, we almost always buy fresh vegetables, fruit, cheese and a little treat and have a picnic in a park or square and people watch. It's such a fun and relaxing way to slow down and experience your new surroundings.
Is your zodiac sign a good fit with your personality?
V: I'm driven, loyal, passionate and I take charge. I think that pretty much fits the bill for a Leo.
K: My good qualities are fierce loyalty and honesty, and although my rebellious streak probably gave my parents a few gray hairs along the way, I've always been proud of my independent way of thinking. On the downside, when I am hurt, I can become very emotionally detached. It's sort of always been my defense mechanism. Although I think independence and a certain amount of rebellion is a good thing, it can lead way to stubbornness, and I can definitely be stubborn! I would definitely say I'm an Aquarian.
Current obsession?
V: Going to Tasmania. I recently read that Tasmania has the cleanest air recorded on earth. Half of the island is protected wilderness and apparently it's a foodie haven.
K: Spain. After my recent visit, I cannot get it out of my mind. It's such an amazing country filled with history, art, music and dance, and the friendliest most open people I have ever met. I can't wait to go back!
Do you have a green thumb?
V: Absolutely! When I was about three I spent so much time digging and planting things with my great-grandmother that somehow I had a seed embedded into the palm of my hand that was budding! It freaked my Mom out that I didn't want it removed and I cried so hard for days afterwards. Maybe I thought I was a tree? 
K: Not really, although I try so hard every year to grow a big beautiful garden. I have had some luck with a few flowers and greens (apparently I can grow arugula like no one's business), but I have had very little luck with vegetables. I've never been one to back down from a challenge, so I'm about to give it another try this summer.
Your favorite beauty tool is…
V: The tips of my fingers.
K: My finger tips. I buy brushes all the time, but in week or two I'm right back using my finger tips.
The first thing you drink in the morning is…
V: Coffee, I sweeten it with coconut blossom sugar and add a little cream. I'm hardly human before a cup.
K: Irish breakfast tea, every day since I was 12.
It's Saturday and you can't wait to spend it…
V: With friends. It's when I feel most social and I like catching up with people and meeting for drinks, dinner or parties and hearing about their lives. It's something I look forward to all week. 
K: Exploring the city with my husband and friends. We love to pick a neighborhood, take our cameras and just explore. We always find something we never knew about!
Your favorite time of year is… 
V: Spring when all the flowers and plants are blooming and all the little critters are happy and having cute critter babies. Baby ducks are the best!
K: After such long, cold and snowy winters here in Chicago, spring is the most exciting time. The whole city comes alive, emerging from the cocoon of winter and everyone is so happy I just love it!
The perfect beauty food is…
V: I've been having a beauty affair with mushrooms lately. Adding them to cooked food or sprinkling powdered mushroom into my homemade cashew milk. I recently discovered I'm Vitamin D deficient and boosting my diet with mushrooms has made my skin look better and my dopamine levels go through the roof. 
K: Fruits and vegetables—you just can't beat them. They're chock full of antioxidants, polyphenols, vitamins and anti-inflammatory properties. Each one has many different advantages, so eating a variety can really change your skin. The best part is that there are so many ways to get them into your diet: juices, smoothies, salads, raw or roasted… The list goes on.  
What's your favorite part of running a skincare line?
V: Working with smart people. I like connecting with creative people and collaborating with others to try new things. 
K: To learn all about nature's amazing plants, botanicals, flowers, seeds, etc. and all their incredible properties, and after researching getting to touch, feel and smell them for the first time. I always feel a sense of history and a connection to the earth in those first moments.
Name a woman who inspires you.
V: On a daily basis I think of my grandmother who was so kind, sweet, hysterical and loving. Her memory inspires me. 
K: My grandmother. She was so little and sweet but what a strong woman. She always did everything by hand. She also made the most amazing Brussel Sprouts ever!
Online or in print?
V: Is this question about magazines? If so I really like feeling the pages of print in between my hands. I feel like I'm one of the few people left on earth that doesn't own a Kindle and prefers reading real books. 
K: For news, I go online. For pretty much everything else, print. I'm old fashioned that way. I love the feel of pages in between my fingers, the crackle of a book spine, and if I could figure out a way to bottle it, the scent of a book (new or old) is one of my favorite things.
Would you rather live in New York or L.A.? 
V: I'd rather live in Chicago, but since that's not on the table I'd pick LA so I could hike more and spend Sundays by the ocean. 
K: Out of the two, I really love New York. New York has something for everyone. It's so diverse and has a sense of history yet always has its eye on the future, which you can really see in the architecture, and it never sleeps, which is great for a night owl like me. LA is relaxing and so much fun. The beach and sunsets are incredible, but I feel like LA is a great place to visit and NY would be a great place to live.
The DIY you love most is…
V: Cooking. I like doing it myself.
K: If I can do it myself, I will. I love DIY pretty much everything from cooking to decorating.
Favorite way to treat yourself?
V: I like adventure and travel so I'd rather spend my money on taking cooking classes in Istanbul, hot air ballooning and renting pretty Tuscan farmhouses.
K: During the week life is really hectic and all the stress leaves me feeling pretty sore and beat up, so the best way to treat myself is to take some time out and do yoga. It not only helps to stretch out sore muscles and loosen tightness but it really helps me to just focus on myself and bring a little clarity of mind.
The best beauty advice you've received is…
V: Don't get bangs. From my sister who reminded me of my hair in the 80's. She has first hand reference.
K: Never use a brush on wet or damp hair and always wash off your makeup before bed.
What's the next big thing in green beauty?
V: I think the next big thing is the crossover that's now happening. Green beauty has gotten so good that consumers who aren't into "green beauty" are coming on the scene just because products are much more effective and luxurious. We have customers contact us to say our Modern Radiance Concentrate is better than their conventional C cream and they won't go back. Green beauty is going to be the luxury chic women will covet. I'm excited! 
K: I think you're going to see green brands take the mainstream market by storm. Mainstream consumers are becoming more and more savvy and knowledgeable and are becoming more demanding regarding the safety of their cosmetics. Consumers are beginning to understand that natural products can be just as or even more effective and luxurious than their mainstream counterparts. We are starting to see big corporations like Estee Lauder acquiring some of the more natural leaning companies. I think this is just the beginning. Those recent acquisitions tell me that green beauty is going to be big business and us green little guys are about to give them a run for their money, and that is completely exciting for us all!
 Integrity Botanicals is hosting a fabulous La Bella Figura giveaway tomorrow on Instagram. Be sure to check it out!