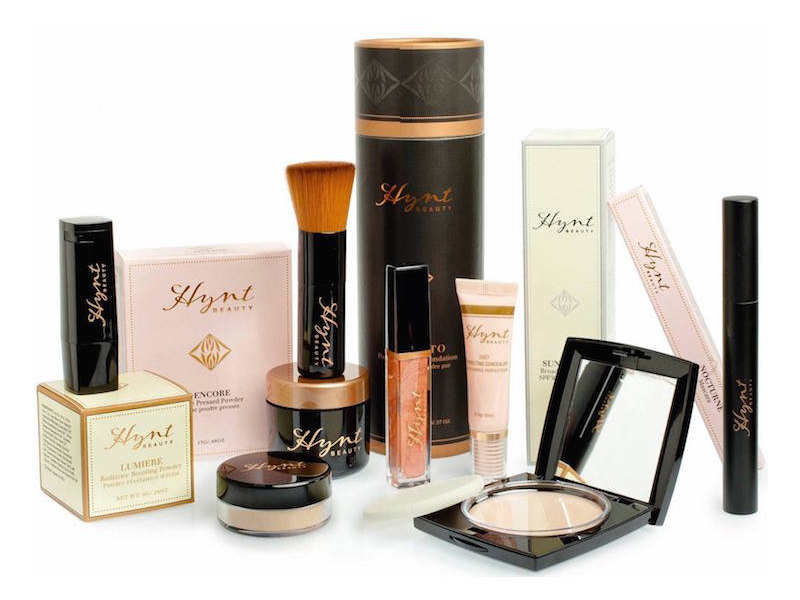 Just as I was beginning to pine for some new fall makeup, I got word from Terri that Integrity Botanicals was set to launch Hynt Beauty. One peek at this clean makeup line and I was dying to try all of it. Once I was able to try a selection from Hynt Beauty, I knew for sure this brand was going to become a staple in my makeup kit. Not only is Hynt free of harmful ingredients, it's gluten free and all the products but the mascara are PETA-certified vegan. Talk about filling a need! But the best part about Hynt? It's high performance makeup that lasts through the day. With clever packaging touches (more on this in a bit) and gorgeous colors to choose from, Hynt is well worth your time.
Hynt offers two products that I think are top notch—the Duet Perfecting Concealer and the Encore Fine Pressed Powder. Even if you don't dive into the fun colors in the eyes and lips departments, be sure to check out these two products. The Duet Perfecting Concealer is refreshingly full coverage, something I've desperately needed lately. That means a little product goes a very long way. A pin drop amount of concealer will cover an entire under eye. Just warm the product between your fingertips and pat on (Ashley's new Hynt video shows a perfect example of how to achieve this). Poof—bye dark circles! I thought I would use the light shade in the Duet Perfecting Concealer, but for under eyes the medium produced the most natural look on me. I love that this concealer gives me well rested looking eyes with minimal creasing, and this full coverage lasts!
Sometimes I really wonder why there aren't more pressed powders and foundations in the clean beauty space. When I saw that Hynt has a pressed powder, I knew I had to try it. The first brilliant thing to know about the Encore Fine Pressed Powder is that it has a built-in tray that holds the applicator sponge. The tray is on a hinge inside the compact, so you just flip it out to access the powder. This keeps the powder fresh since the sponge isn't coming into contact with it when it's stored. The powder itself is pretty incredible. You can pat or dust on for light coverage or build for full coverage easily. The formula is hydrating so it doesn't dry out the skin or accentuate fine lines. This is a dream come true since pressed powder has long been my preferred method of application. It travels so well.
A little Duet Perfecting Concealer and little Encore Fine Pressed Powder, and I'm ready for the day—but what fun would a day without a little color be? To that end, don't miss the Aria Pure Lipstick or the Libre Lip Gloss from Hynt. Again with the clever packaging, the Aria Pure Lipstick has a built-in mirror and lip balm in the lid of the product, so you're able to freshen up anywhere you please. I have "Pomegranate", which is a rosy coral that works perfectly for these early fall days. Shiraz is next on my list. I got a sample of it and this wine shade is everything I want for fall. Did I mention how moisturizing this formula is? If lip gloss is more your thing, put "Une Femme" in your basket immediately. This is the color collaboration that Ashley of The Green Bunny created with Hynt, and it is such a gorgeous everyday color and it feels so good on the lips—never tacky, just luscious. I love it.
In the eye department,  the Perfetto Pressed Eye Shadow Singles are another hit with me. My must-have is "Sunlit Dune"—a fabulous peachy champagne shade that brightens my eyes instantly. That said, you should pop over to the Integrity Botanicals YouTube channel and check out Ashley's new tutorial on how to create a fall smoky eye with Hynt's Sweet Canyon Eye Shadow Palette. Ashley is such a talented makeup artist and she really shows what Hynt is capable of—check it out! Finally, count me a fan of the Nocturne Mascara. The sleek black tube offers a natural looking lash that hasn't flaked or smudged on me once. Lucky you—Integrity Botanicals has a special offer that will get you this mascara for free (see below). If you're new to Hynt, there's a lot to discover. I hope you'll enjoy this pretty makeup line as much as I have!
Special Offer: Receive a free Nocturne Mascara ($24 value) when you spend $100 or more on Hynt Beauty at Integrity Botanicals. Upon checkout enter code: MASCARA