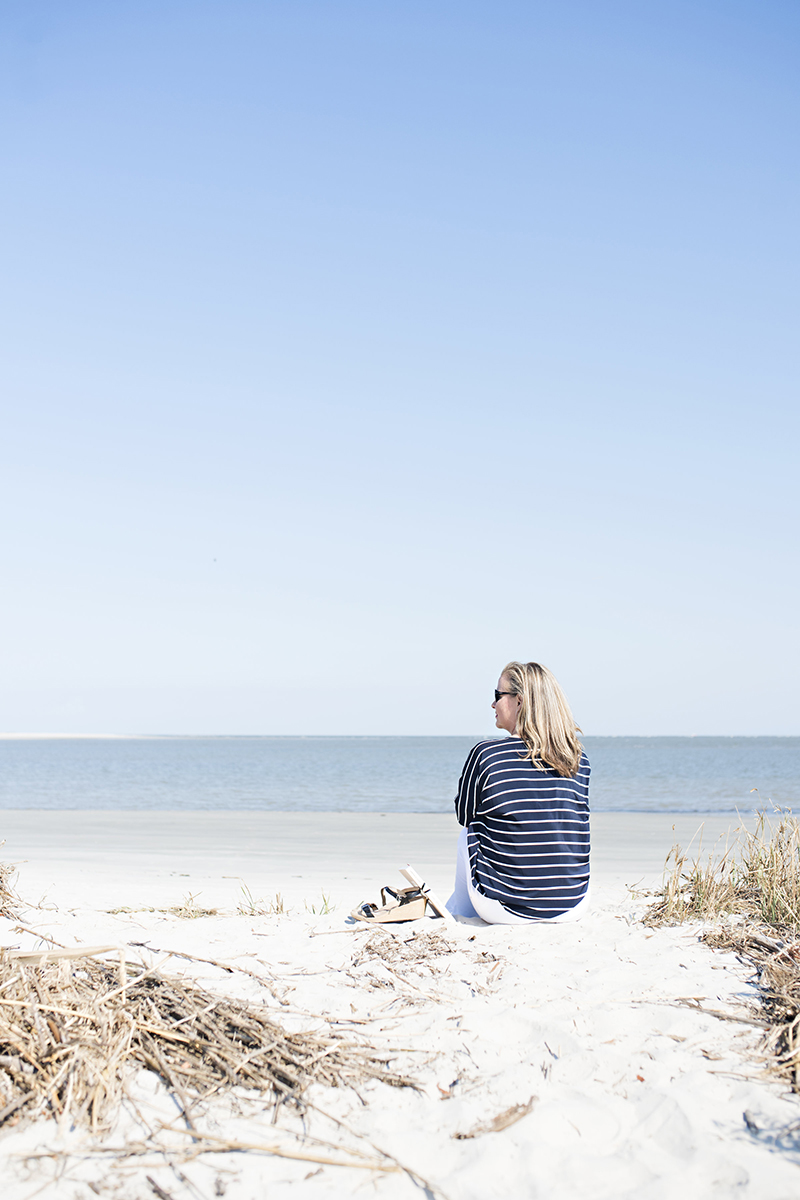 One Love Organics has been a staple in my beauty routine for many years, and the company keeps getting better and better thanks to founder Suzanne LeRoux and her vision for simple, pure and effective skincare. It's rare for a brand to have so many products on my top favorites list, but One Love Organics truly fits with my lifestyle and skincare needs. It was the first clean brand I shared with my mom when I was coaching her in switching her beauty products for safe, nontoxic options. She was instantly smitten with the Skin Savior Balm, and more. I feel comforted and cared for every time I use One Love Organics products, so you can bet I relished the opportunity to learn more about how Suzanne LeRoux uses them in her own daily routine.
I hope you enjoy this peek into Suzanne's AM and PM beauty routine! I love her approach to daily self-care.
Susannah: How do you typically start your day? What does your morning routine consist of on an average day?
Suzanne: I drink water and take my supplements the minute I wake up. I also like to turn on music to help get me going-I love Pandora stations because I like the element of surprise. And I am not a morning person so I need all of this to get me focused and going!
I use Easy Does It Foaming Cleanser to cleanse in the shower all over-face and body. When I turn off the shower, I spritz all over with Gardenia + Tea Antioxidant Body Serum—even my toes, it's a 2 second pedicure—and then I pat my skin dry. Every other day, I use Healthy Locks Dry Shampoo to refresh and add volume and so that I don't have to wash my hair every day. I use a crystal rock for deodorant and I spritz just a tiny amount of Pretty Bird from Florescent behind my ears, bergamot is a wonderfully energizing aroma for the morning. So far, you can see my routine is about efficiency and convenience. As a mom of two boys in school, I get about 20 minutes max to get it all done and out the door! 
While my skin is damp, I apply a small amount of Skin Savior Balm all over my face and neck. After being in the business and formulating for this long, this is still my go-to for smooth and clear skin. It is also literally a magnet for minerals, which is my makeup of choice. I use W3LL People Mineral Foundation and it compliments Skin Savior beautifully. I use Vitamin E Eye balm around my eyes, any dry spots and my lips. I put on some Kari Gran Lip Whip in shimmer, Vapour Organic's eye liner and I'm out the door.
How do you typically end your day? What does your evening beauty routine consist of on an average day?
It is as hard to wind down in the evening, as it is to wind up in the morning. For me, life is very much about rituals and I cherish my evening one perhaps the most. I walk, bike or even just stretch with my family and we talk about our day. After dinner, I make time to relax and play. This is when I get to take my time and have fun with my skin care routine. I will apply a new mask, test new formulas I am working on, indulge in aromatherapy.
For my routine, I end every single day with a thorough double cleanse. This is undoubtedly the step that makes all the difference for my skin. I start with Vitamin B Cleansing Oil for the first cleanse and follow up with Easy Does It or 2-3x per week, Brand New Day Scrub & Masque. I follow up with Love Springs Eternal Youth Serum while my skin is still really damp. Finally, I press a liberal amount of Vitamin E Eye balm around my eye and brow area, and then over my lips. Then I read—it's like a security blanket for me. I can't fall asleep unless I read a few chapters of a good book.
If you had time to add one beauty or self-care indulgence into your day, what would it be?
I am currently working on adding deep breathing to my self-care routine. My husband and I took a class recently with Max Strom who wrote the book A Life Worth Breathing. Breath work promises to help reduce stress, anxiety, and sleeplessness. It seems to help if you make time for it.
Feeling inspired to indulge in a little TLC with One Love Organics? Me too! What are some of your favorites from Suzanne's routine?