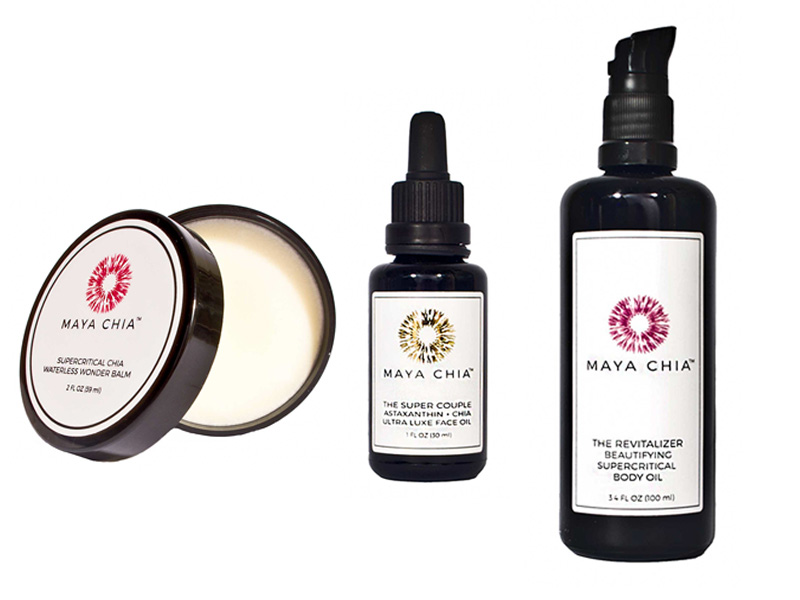 With so many botanical oil blends on the market now, it takes something special to impress. Maya Chia has been on my wish list of brands to try for a while, and it was instant love once I did. Maya Chia's skincare line is formulated with chia oil at the heart of the collection, and once I tried their products for myself I understood why this ingredient takes center stage. Chia seeds have gained status as a super food in recent years, and this special ingredient has an important place in topical skincare, too—chia is nutrient dense whether you're eating the seeds or conditioning your skin with the oil.
If you missed my recent ingredient spotlight on chia seed oil, let me break it down for you: chia seed oil is clinically proven to significantly increase skin hydration and skin barrier function, so skin retains more moisture than it would otherwise. Chia seeds are one of the richest plant sources of antioxidants, omegas and minerals. They contain up to 30% more antioxidants than blueberries, so consider trying this super food for your skin if you're craving a healthy complexion. Careful, though—not all chia oil is created equal. Maya Chia offers top of the line oil because they use a patented process called supercritical extraction to gently extract the oil without damaging the active compounds naturally present in the plant or leaving traces of solvent residue.
The result is the purest, most potent chia oil I've tried, as evidenced by how well it works in a short period of time. Here are three new favorites from Maya Chia…
The Super Couple Ultra Luxe Face Oil Serum first caught my eye because it contains not one but two super foods—chia and astaxanthin, which is a red pigment molecule found in certain marine algae that functions as a natural sunscreen for marine plants. In skincare, astaxanthin is a powerful anti-aging ingredient that is clinically proven to have 65x the strength of vitamin C to fight free radicals. Combined with the supercritical chia oil, The Super Couple becomes one of your best lines of defense against premature aging. This lightweight serum has a slightly pink tint thanks to the astaxanthin, but it doesn't show up on skin. The Super Couple is deeply nourishing yet feather light and quick to absorb. It feels similar to jojoba oil, and it seriously prevents dryness and takes redness out of skin. I love the soothing scent, which is an amalgam of some of the finest essential oils for skin health—rose, carrot, cistus, frankincense and chamomile to name a few.
The Revitalizer Beautifying Supercritical Body Oil is the perfect compliment to The Super Couple, and it's one of the best body oils I've tried. The happy orange blossom fragrance is addictive, and it makes me feel ready to take on the most frantic of mornings, but scent alone doesn't make the body oil. The Revitalizer has become a fast favorite because it makes my skin feel amazing, and the moisturizing effect lasts all day. Especially helpful for skin that's feeling sensitive or irritated after shaving or getting too much sun, The Revitalizer is calming and protective. I absolutely love the finish of this body oil because it's non-greasy and quick to absorb. In the summer this is especially important to me, and this formula also contains botanical oils like pomegranate and pumpkin that revive skin and add additional protection from the summer elements. Simply put, I'll be repurchasing The Revitalizer over and over again.
Another favorite from Maya Chia is the Supercritical Chia Waterless Wonder Balm, which has become something I look forward to ending my day with. I massage this luscious balm into my feet, legs and hands just before bed. This little bit of me-time and self-massage gets my body and mind to slow down, but it also keeps these parts of my body soft and hydrated. Forget rough, dry feet when you have the Waterless Wonder Balm. The texture is luscious, and as it warms under your touch the balm turns to a gorgeous consistency that reminds me of creamed white honey—minus the stickiness of course. The Waterless Wonder Balm also has the orange blossom fragrance found in the body oil—pure heaven! In addition to how truly healing the Waterless Wonder Balm has proven to be, this is one of the best absorbing and least greasy balms I know of, which is important in terms of experience. This goes on my list of great gifts for friends and family.
Maya Chia just launched at Integrity Botanicals, so be sure to check out this beautiful addition. We'll have a special interview with the founder of Maya Chia on Friday, plus a special giveaway you won't want to miss!