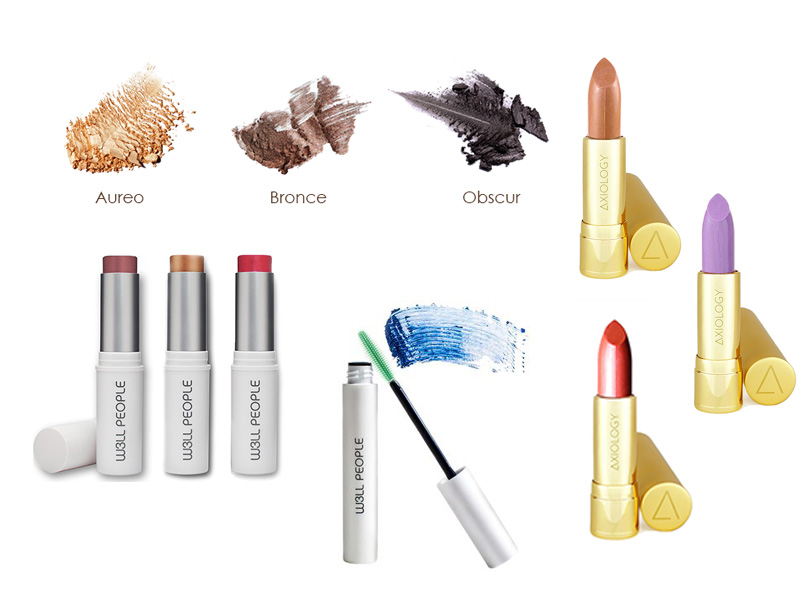 I've been playing with recent makeup releases from some of my favorite brands, and it's time you know about these goodies if you haven't discovered them already yourself. The color palettes have been great for late summer, and they'll transition into fall beautifully. Plus, who doesn't love new makeup colors to shake up the day-to-day routine?
If you've never considered moving beyond the traditional black and brown mascara colors, it's time to rethink that decision. W3LL PEOPLE recently expanded their color offerings for the mascara everyone raves about—the Expressionist Bio Extreme Mascara. It's now available in brown, purple and blue in addition to true black. While the Expressionist Bio Extreme Mascara has been a favorite for a while, I didn't dream I'd be into "wild" colors like blue and purple until I tried it for myself, and now I reach for these colors all the time as a way to add a unique touch without going over the top. I wear the blue most often, but purple is fun and would look stunning with green or brown-eyed ladies. What I love is that the colors are bold going on and then subtle once dry. Blue seems to change with the light by looking more black in some lighting and then clearly blue in others.
W3LL PEOPLE also released new Universalist Matte Multi-Use Color Sticks in gorgeous colors that will work all year long. Nude Berry (#10) is a fantastic neutral that's a flattering and subtle rosey berry shade—brilliant for lips and cheeks and everyday wear at the office. If berry isn't your thing, don't miss the new Nude Peach (#11), which truly takes that neutral nude look to a new level with its warm peach undertones that give a radiant inner glow effect. Finally, for the win is Pink Coral (#13)—a bright pop of fresh color that can create a finished look with just a swipe to the lips and a dab on the cheeks—no other makeup necessary. I think I could wear this color everyday without growing tired of it, and I'm already dreaming of the contrast it will make set against my black and grey winter wardrobe. The new Peachy Pink Bio Extreme Lip Gloss layers beautifully over all three new Universalist colors, and it's fabulous on it's own with just a dash of mascara on the eyes and a nude face.
For a fresh take on eye makeup, give the Gressa Eye Tints a shot. Packed in beautiful miron glass pots, the Eye Tints are organic and come in three shades. I love Aureo, a champagne gold that is perfect for brightening the eyes and low-key enough for everyday wear. Bronce is a unique and rich brown with red undertones that warm up your eyes, whereas Obscur is a rich brown with purple undertones that work well for a dramatic smoky eye or a gorgeous eyeliner. The Eye Tint formula is creamier than a pure powder, but it's not quite a cream. It goes on smoothly and leaves a velvety finish that stays put pretty well throughout the day. While a brush is handy for application, I use my finger most often to smudge and smooth it on.
If it seems like cheeks and eyes are getting all the love, don't worry—new shades from Axiology will hit the spot. Enlighten is one of the most unique colors I've tried with its sheer lilac and silver shimmer. The light and glossy finish just looks so chic with its amethyst glaze effect. For more of a statement lip, try the new creamy and matte Vibration. I'd say the description is spot-on—a sunset glow on a desert rose. Doesn't that sound sublime? It is! Finally, the new Instinct offers a fresh take on subtle nudes with its warm gold shimmer—understated yet otherworldly.
Are you into these new makeup trends? What would you most like to try?