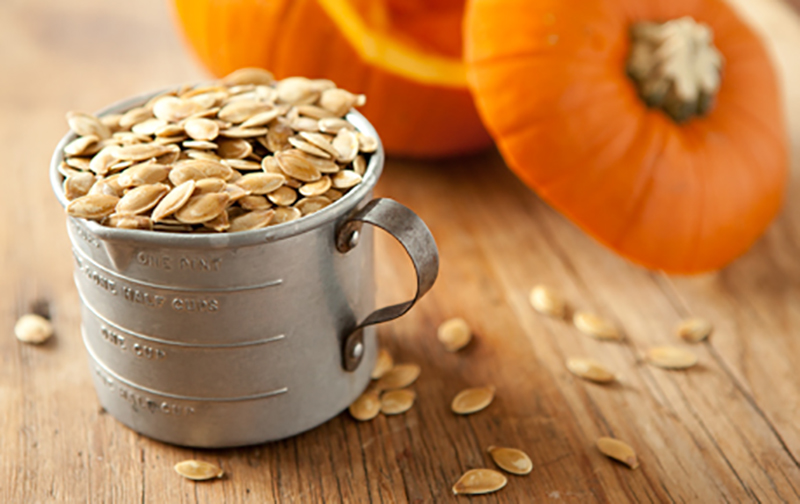 No doubt about it, pumpkin and pumpkin seeds are a healthy dietary choice—but did you realize that pumpkin has incredible benefits when applied to the skin?
I love to eat pumpkin seeds on salads and as a snack. They are rich in tryptophan, a mood-boosting amino acid that helps increase serotonin levels and contributes to sound sleep. Pumpkin seeds are also a good source of minerals like iron, zinc, phosphorus, potassium, selenium, and magnesium, plus vitamins including A, B, E, and K. While all of this adds up to superfood status in my book, this nutritional profile is the main reason why pumpkin enhances the health of your skin when applied topically.
Pumpkin oil is an ingredient you may have seen in some of your skincare products, and if you aren't currently using a product that contains pumpkin oil then consider incorporating one because pumpkin seed oil has some impressive benefits. This anti-inflammatory ingredient soothes and calms redness and deeply moisturizes thanks to the essential fatty acids, which have a balancing effect on the skin. Antioxidants like vitamin E protect the skin from free radical damage and help promote a youthful appearance, while vitamin C helps boost collagen production and keeps skin firm and smooth. Pumpkin oil is unique in that it is rich in zinc, a mineral that helps stave off acne and enhances the skin's ability to heal. This adds up to an ingredient that all skin types can truly benefit from, so choose pumpkin for healthy skin.
Finally, pumpkin enzymes have the ability to gently exfoliate, allowing skin cells to turn over and reveal fresh radiant skin. You can make a DIY pumpkin mask by combining 2 tablespoons of pureed pumpkin and a teaspoon of raw honey. Mix and leave on your face for 20 minutes to reap the lovely benefits of this gentle skin rejuvenator.
Be sure to include pumpkin in your routine for healthy, glowing skin. The following products are a great source…