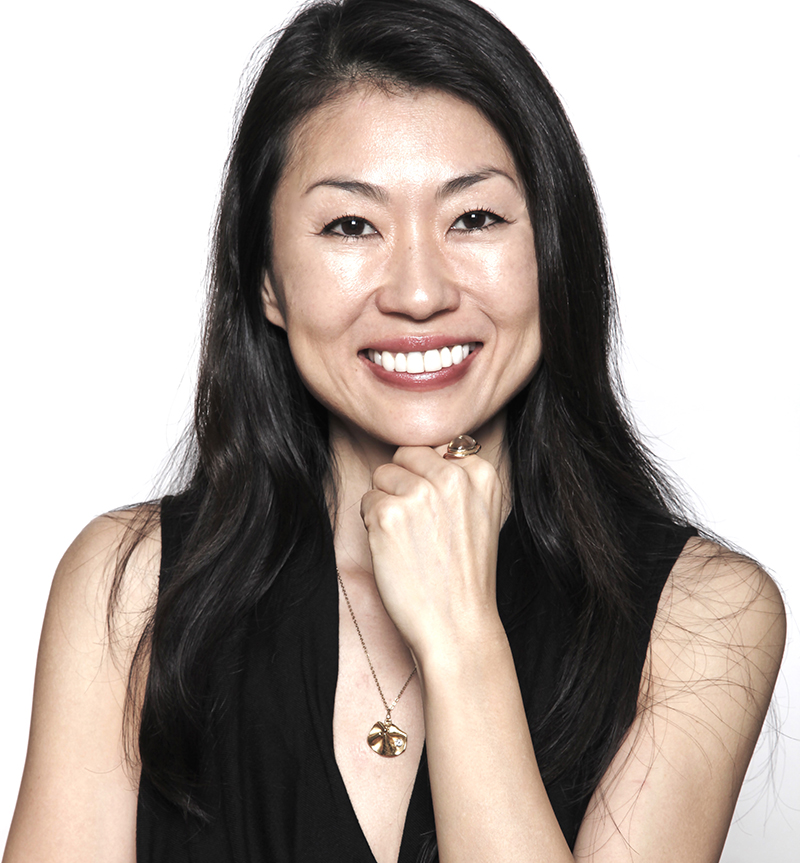 When I ran into Munemi Imai and her team at A Night For Green Beauty, I got a glimpse of the true passion MUN has for clean, nutritious skincare and high quality botanical oils. They told me about the new products that they were working on, and it was all too exciting to keep to myself. This interview with Munemi Imai will fill you in on what's new with this special line. Enjoy!
Susannah: Toner was the second product you introduced to the MUN line, so it must be an important part of a skincare routine in your opinion. Can you tell us why it's a good idea to use a toner and how it affects the PH balance in your skin?
Munemi: I come from Japan, a big toner culture. It's hard to skip a toner from our basic skin care routine. It's a must have. Sometimes they're called "lotion" or "essence" over there, but it's meant to be toner. I realized when I moved to NYC in 2001 that no one—including makeup artists—was really using a toner. And when I looked around the market then, mostly what I found was different from what I was accustomed to—toners that to balance and hydrate the skin. Instead the toners on the market were intended to dry out acne prone and oily skin and had high contents of astringent ingredients like methanol and ethanol (also called ethyl) alcohol.There are types of alcohol that have antiseptic and antibacterial properties, but can be very drying.
The right toner will restore skin's pH level. The skin's pH level refers to how acidic or alkaline something is, on a scale of 1-14, with 1 being most acidic and 14 being most alkaline. Food we intake should be on the alkaline side, but our skin's natural pH is below 5. Studies show it on the more acidic side with an average of 4.7. Water is 7 in the US and 8 in Europe. In addition to balancing the skin's pH level, toner actively helps to clean, smooth, soften, hydrate and clear the skin. Toner also prepares the skin for whatever you apply to it next, which is why they work so well in tandem with serums and moisturizers. I always start with a toner on a model's clean face to start prepping their skin.
In a world of countless toners to choose from, what makes the No.11 Anarose Rejuvenating Rose Toner a unique and effective product?
I've always loved multi-purpose products as a makeup artist and this one is no exception. Rose water is something that I used for many years and Bulgarian is the finest. Rose water is suitable for all skin types including acne prone, rosacea and mature skin. For deep hydration and suppleness, we use proven moisture-binding ingredients such as hyaluronic acid and aloe vera. We use Prickly pear seed oil in our serum, and this toner got Prickly pear stem extract. It is high in water binding polysaccharides, essential amino acids, flavones, vitamins and anti-oxidants that are highly effective at moisturizing and soothing. It provides penetrating, long lasting hydration, and protects from environmental damage. Goji berry is wonderful for anti-aging because it is high in antioxidants and essential fatty acids Omega 6. It has proven effective at reducing photo-damage on the skin caused by UV rays. 
We also use a combination of white flowers including pale rose, jasmine and daisy, which are clinically proven to make skin feel soft and velvety while eliminating roughness and dryness. Willow bark extract provides a mild exfoliation effect. We suggest applying with a cotton pad. It can target the whole face evenly and hydrate the skin while gently removing the unwanted dry flaky skin on surface. On a lazy night, you can use this as a gentle wipe off makeup remover/cleanser too. Social media maven Eva Chen said recently on Instagram that she uses our toner as her morning cleanser too! She is a very busy editor and a mom, and she tests so many beauty products all the time. Our pH balanced toner looks like a great fit for her lifestyle as a morning cleanser and at the same time it balances and hydrates her skin. I love to see the multiple-purpose uses of No.11 Anarose.  (Thank you Eva for sharing!)
I've heard MUN has some exciting new things in store for customers. Can you tell us what's to come in the months ahead?
Yes. We just launched the Travel Set that includes No.1 Aknari Brightening Youth Serum (5ml), No.11 Anarose Rejuvenating Rose Toner (15ml) and a new addition and Travel Set exclusive—organic Argan oil (20ml). This set would be excellent for a gift for the upcoming Holiday season as well as for people who want to try our products but aren't ready to commit to the full price and size. We included Argan oil in this set because we think that Argan is such wonderful and reasonable multi-purpose beauty oil. I believe that ours is a bit special from what is on the market. We've gone through many suppliers and producers and this Argan is one of the very best in quality, yet it doesn't have that "too rich" texture and strong nutty smell that higher end Argans tend to have 
We are also launching a body serum called No.7 Ayour Body Toning Serum toward end of the year. The main ingredient is Moroccan Ecocert food grade Olive oil, which is derived by the same women's cooperative we have been working with who produce the Prickly pear seed oil and Argan oil in No.1 Aknari Brightening Youth Serum. Did you know Morocco produces incredibility high quality olive oil? I was introduced it when I traveled there for the first time in 2010, and I learned to eat it with eggs in the morning. It's so delicious. It feels great that this oil is what I love to eat and also very nourishing on my skin. It's also got Cucumber seed oil, Rosehip oil, and our star ingredient from Morocco, Prickly pear seed oil, plus Non GMO Vitamin E oil and essential oils of Lavender, Frankincense, Marjoram and Neroli. I loved the concept of body oil that it's not diluted with anything else, water and all other fillers and texture enhancers. Although some had truly lovely scents, pretty much everything I've tried on a market was too greasy, and I ended up always taking a lotion to my set. So this led me to create a body oil with the highest quality raw materials available that allowed people to enjoy the full nutritional benefit without having have to deal with greasiness or slippery after feel on the skin. I studied aromatherapy so I wanted this to be both skin care product and aromatherapy product. Each ingredient was carefully selected for skin benefits as well as the effects from aromatherapy. It's a very soothing and nourishing formula on the skin with relaxing and calming scent on mind. Everyone falls in love with the scent right away.
Then we have a new cleanser coming out next year. This one is inspired by my heritage, my home country Japan and Eastern Asia, and I married it with a Moroccan ingredient. We'd love to share about it more when the launch gets closer. So please stay tuned!
As an entrepreneur and professional makeup artist, you must have your hands full. What's your favorite way to unwind and treat yourself?
I love good night's sleep, at least 8 hours is ideal for me. I sleep in when I can. I think sleep is such a genius thing. It's free as long as you can have the time, it reduces the stress and not to mention it's great for the skin.
Do you have a favorite piece of beauty advice you'd like to share with Integrity Botanicals customers?
I believe in empowerment through beauty. I know that as simple as putting a light makeup on and feeling prettier can significantly boost one's confidence and lift spirit. It doesn't have to be complex. You don't need to follow trend and try all what's new. Making your beauty routine with what's enjoyable, manageable and suit your style. Everyone is different, from how many products they need to feel comfortable to how much time they can spend on one's beauty routine. There are no rules. If you are not sure about something, make it simple. Most cases, it always works. There is beauty in simplicity, and style is what define us and make us beautiful. And you own it.