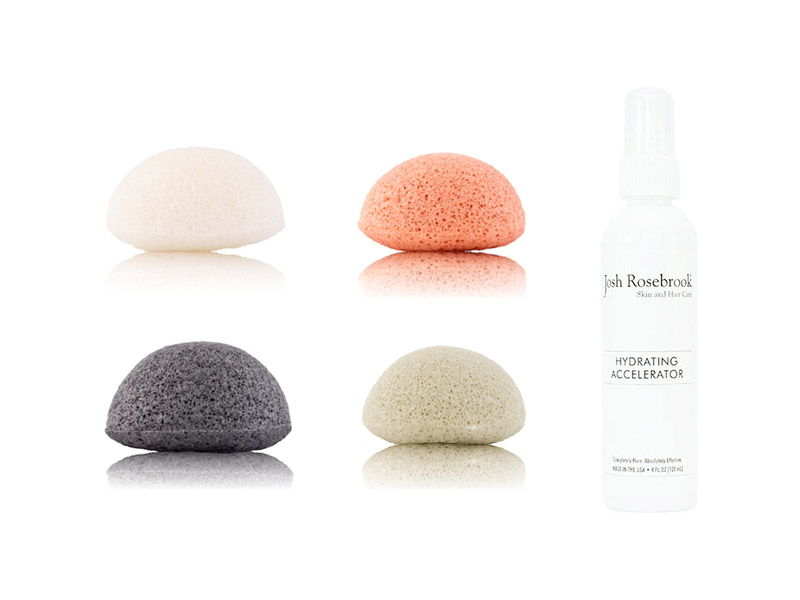 Though I'm a big fan of regular exfoliation through the winter (bye dry, winter patches), I'm not a big fan of over cleansing skin, which is easier to do than you think. That's why I limit my winter morning cleanse to a Konjac Sponge followed by a toner like the Hydrating Accelerator. If you're washing your face twice a day with a cleanser, try scaling back to once a day and see if it makes your skin more resilient to the winter air and dry indoor heat.
How to Cleanse Without a Cleanser…
Follow your normal routine in the evening to remove makeup, SPF or anything else that may have accumulated in your pores during the day. I love a good oil cleanse, especially in the winter. In the morning, skip the cleanser. Your skin will retain more of its protective natural oils and you won't disturb the acid mantle or pH balance.
Even though you're skipping the cleanser, you'll improve tone and clarity if you stimulate the circulation. A konjac sponge made from natural vegetable fiber is perfect for this task, and it works beautifully sans cleanser. It will get your blood flowing and awaken your complexion while smoothing out your natural oils evenly across the face. Choose the konjac sponge that is right for your skin type. I love the clay infusions, which help remove impurities gently and can absorb excess oil. After moistening the konjac sponge until it's soft and buoyant, massage in a circular motion around the face for a moment. Enjoy the soft texture on your skin.
Once you've boosted your complexion with a gentle konjac sponge cleanse, seal the deal with a spritz from a toner like the Josh Rosebrook Hydrating Accelerator. The scent is heavenly and really helps you enjoy the moment, and the ingredients will lend a clean finish to the skin—perfectly prepping it for a fresh application of your face oil or serum. I love the herbal infusions present in the Hydrating Accelerator for their ability to calm and add antioxidants and minerals to my skin. The formula is antibacterial while adding moisture that plumps skin cells and balances the acid mantle.