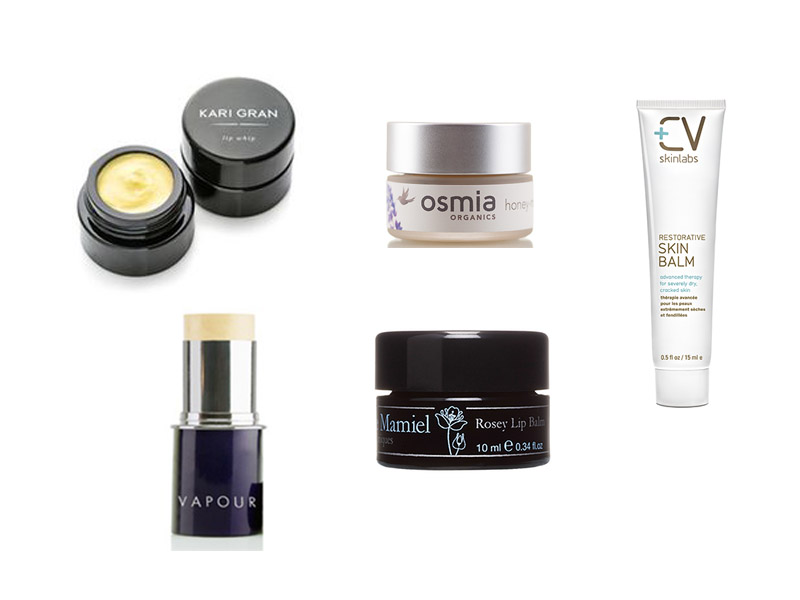 When I was growing up, Lip Smacker was a big deal, especially the Dr. Pepper flavor. Like most families, we also had a stash of Chapstick, Carmex and Vaseline around the house for chapped lips and winter dryness. Somehow, they never seemed to do the trick. My lips would feel extra parched by the time those salves wore off. I'm happy to report that this is far from the situation with botanical based lip treatments. Not only are they long lasting, your lips will feel soothed and protected. Plus you don't have to worry about petroleum-based chemicals in your lip treatment.
The cold winds of January have arrived, and you may suddenly find yourself with dry, cracked lips. It's time for a roundup of the Top 5 Products for Dry Lips…
Kari Gran Lip Whip — I've been raving about this lip treatment for a few years. The formula is silky and cushions your lips while making them look plump and polished. Camellia, avocado, olive and calendula oils restore and deeply hydrate. You can choose from cinnamon or peppermint flavors, or go for some color like my current fav, Jolene. The Lip Whips enhance your look just like a cosmetic but behave like a conditioning treatment.
CV Skinlabs Restorative Balm — This salve comes in a small squeeze tube, which makes it easy to use as a multipurpose balm for lips, hands and anywhere you're experiencing dryness or discomfort. It's even great for breastfeeding moms because it doesn't need to be washed off before nursing. It includes ingredients that have healing, immune boosting, antiseptic and skin-regenerating properties like calendula, seabuckthorn oil and arnica. This belongs in every medicine cabinet and handbag alike.
De Mamiel Rosey Lip Balm — This is the "little black dress" of lip balms with its beautiful glass packaging and complex rose scent—a combination of the finest Rose Otto, rose geranium and rose wax. The formula is long lasting and leaves a rosy glow on lips. Rejuvenating ingredients like mango butter, evening primrose and manuka honey make this formula as healing and softening as it is delightful to wear.
Osmia Honey and Myrrh Lip Repair — The sweet and earthy scent of myrrh comes through in this reparative balm. Formulated in the cold and super dry Rocky Mountains, you can bet Osmia knows how to protect and repair lips. Honey and myyrh act as healers in this treatment, while lanolin, cupuacu butter and tamanu protect and condition. This balm really stays in place, and it's a great choice if you need lip protection through the night or you're the active outdoorsy type.
Vapour Lux Organic Lip Conditioner — One of my all time favorite lip products, the Lux Organic Lip Conditioner comes in a fat little tube that makes it easy to get full coverage with little effort. The formula is creamy and emollient and truly soothes with a combination of helichrysum flower, lemon balm and calendula flower. The jojoba and coconut oil base is long-lasting and really penetrates the lips for deep conditioning. The balm has a light fruity scent.
Each of these botanical lip treatments brings something unique to the table, so grab a few—they're more fun than Dr. Pepper Lip Smackers—promise!