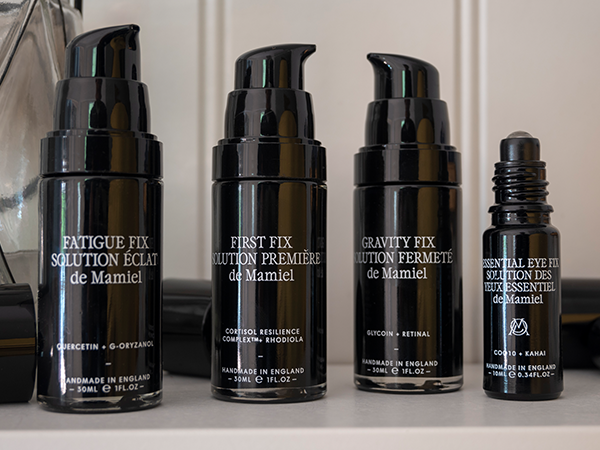 In the sea of clean, holistic-minded beauty brands, what makes one stand out? When it comes to de Mamiel, that special "x-factor" for me has always been the way founder Annee de Mamiel has managed to create formulas that feel at once bespoke and universally relevant, whether it's her Altitude Oil or the Sleep Series, in her Hertfordshire, England lab. 
Another thing that sets Annee apart from many of her brand's contemporaries is that she is actively practicing as an integrative facialist, seeing clients over the course of years, gathering data about what really works– long term– while concurrently formulating new products for them and for the rest of us.
I had the opportunity to speak with Annee over zoom recently, to learn more about de Mamiel's incredible new line, the "Fixes." There's First Fix Stress Response Serum, Gravity Fix, Fatigue Fix, and the Essential Eye Fix, all created out of the knowledge and experience Annee has gathered over the past many, many years as a facialist, as well as from her degree in Anatomy/Physiology and her studies of Chinese medicine.
de Mamiel grew quite naturally out of Annee's practice as an integrative facialist, where she made bespoke, seasonal oils for her clients. The company officially launched in 2013, and grew from word-of-mouth praise. The Fix line is the culmination of everything Annee has ever created, she told me. It's truly holistic, taking into account how the whole body works overall, and how the mind affects body and skin. The Fixes are here to address long term issues, and to give long term results.
I want you all to have the opportunity, as I did, to hear more about the Fix line in Annee's own words, so below is a [lightly edited-for-length version] of my Q and A with her. After that, I'm excited to share the details on an incredible Gift With Purchase that de Mamiel is offering for Integrity Botanicals blog readers!! You don't want to miss this, so be sure to read all the way to the end for the code!!!
Q & A with Annee de Mamiel:
Emily: What inspired you to create a whole new line of products, and decide that the Fix line had to be born?
Annee: My patients always inspire what is next! Not being able to achieve long term results on my patients' skin, with some of their concerns, just bothered me. I just kept thinking, "what am I missing?" I would keep addressing the symptoms, and going through what I was seeing on the skin, treating gut health, sleep and all sorts of things. It was when I read Elizabeth Blackburn's work on Telomeres that the penny began to drop that I was seeing the effects of constant stress and that too needed to be worked on to achieve elevated results.
The Fixes are the core of de Mamiel, they are about the long term effect of modern day constant stress on our skin. it has taken along time to get them right so they perform on all levels – (emotional, physical and cellular level).
Each Fix is built around Stress Responses I have observed and the metabolic pathways that each response impacts. Our bodies are designed for major stresses – we can cope with that the flood of hormones and the repair that is required when that stress goes away, however we are living in a time of always being on, and constant micro doses of stress on a daily level don't ever go away.
Stress just keeps building within us and most of the time we are unaware of this. Our bodies' response, however, is the same as the intense stress of a major event. This constant exposure to cortisol in our system doesn't go away and begins to become destructive. Over a period of time impacts the cardiovascular systems, blood glucose levels, inflammation pathways, oxidation pathways, glycation pathways to name a few the next problem is the negative feedback loops the body has inbuilt to keep checking on itself leads each pathway to have secondary effects for example the inflammation pathway where we see redness and delayed wound healing for example also leads to an increase in free radicals, dryness and dehydration.
Emily:  We know you worked on the First Fix for 13 years!! That is incredible– can you tell us a little bit about the process and what you learned over that time? 
Annee: de Mamiel is formulated to work on multi levels in the body. Designed to address the effects of stress on the skin, treat and repair the skin and work at an emotional level to reduce the production of cortisol. I call this EpiC (emotional, physical, cellular). This is important because if we are not addressing the root cause the symptoms will keep coming back and long term results are minimal. The problem was that once I had worked through my theory, was finding research data and proof of specific ingredients on the skin, which would deliver the results I was after. Slowly the information began to emerge and we also conducted our own studies with independent sources.
Each Fix is unique, working on a different metabolic pathway. First Fix also has the Cortisol Resilience Complex, a bespoke blend of powerful essential oils designed to calm the mind and slow down the Sympathetic nervous system. Testing showed a significant increase in relaxation which helps to reduce the body's production of cortisol and slow down the vicious circle of stress response.
Emily: What is the most unusual or newest ingredient found in the "Fix" products? Anything you haven't used before?
Annee: There are so many!…
Cortisol Resilience Complex – this blend of essential oils which I worked with Neuroscientists to test efficacy through EEG studies to activate parts of the brain that are responsible for the stress response.
Neurophroline – Neurophroline is a specific extraction from the seeds of Tephrosia.
Purpurea or Wild Indigo, which is a native Indian plant used in the Ayurvedic tradition for its benefits on the skin. It can regulate the production of cortisol by keratinocytes and activate the release of beta-endorphin, which is a natural calming neuropeptide that acts on mood, and so can also be claimed to offer instant stress regulation.
B- Ciracadium – which is an extract of roundhead bushclover – it helps to resynchronize the body's Circadian rhythm which is upset by high cortisol levels and deregulated by stressful lifestyles and exposure to blue light emission, it has an anti-oxidant effect under blue light stress and regulates key biological functions being rhythm dependent.
Retinal – from sunflowers which work on cellular turnover and is in testing has less side effects than retinol.
Ectoin – is the self-defense and survival substance of microorganisms living in the harshest of salt lakes and desert environments. It has shown incredible efficacy, shielding the skin from extrinsic and intrinsic factors of skin aging and cell damage.
We are so grateful to Annee for taking the time to share her incredible knowledge with us!
I've gotten the opportunity to test out all the Fix products, and can tell you that they are all as amazing as you might hope. Knowing that their delightful scents aren't just pleasant, but are part of the healing properties of the serums makes the whole experience more meaningful, and I started getting compliments after just a few days of using the Fatigue Fix in the mornings and the Gravity Fix at night.
The Gravity Fix is my favorite of this line– it contains Retinal, a form of the beloved skincare ingredient Vitamin A, which is further along in the chemical process than its relative, Retinol, which means it's closer to the end-goal and thus has less chemical reactions than Retinol, and causes less dryness and sensitivity than Retinol does.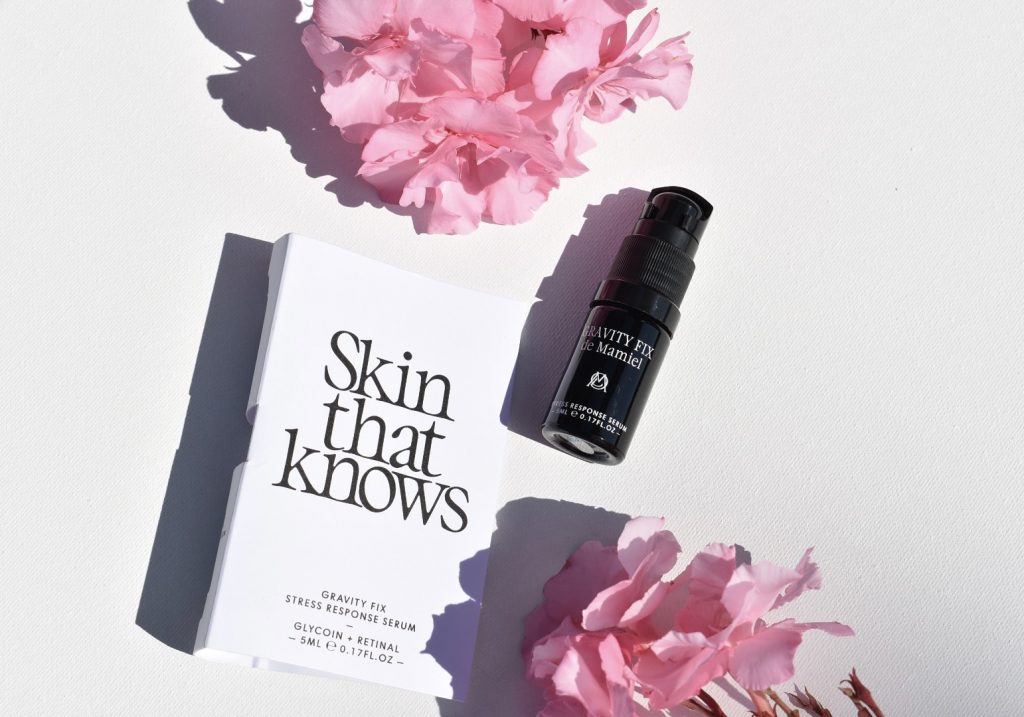 I can't recommend the Gravity Fix enough, and luckily, you can try it for free with any de Mamiel purchase! Use the code: GRAVITYFIX for this exceptional Gift with Purchase (5 ml / $50 value!) and find out why Gravity Fix is so unique! We are sure you will love it. Don't forget to breathe in the lovely scent– that is part of the healing magic!