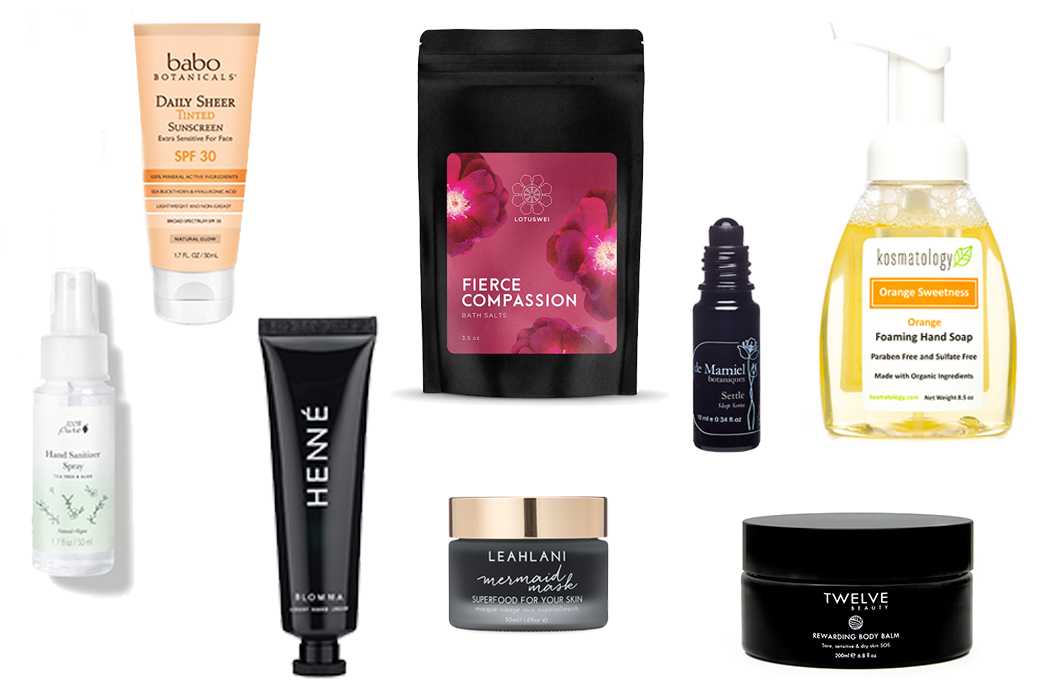 As I write this, I am on day sixty-eight of shelter-in-place quarantine during the coronavirus pandemic. Some days it seems like a fun, weird, isolated vacation— I live in California, so the weather's been nice, we have a small pool in the backyard, and I love spending time with my husband and kids. But other days, sheltering in place feels like a suffocating, scary, frustrating exercise in insanity. Homeschooling the kids while also trying to do my job, cook approximately seventeen meals a day, do eighty-five loads of laundry every week, and run the dishwasher nearly constantly, is legitimately hard work.
But the truth is that the ability to shelter in place is a luxury. It can feel like a burden, but it's absolutely, positively a privilege. Both my husband and I always worked from home, even pre-pandemic. My kids are missing their friends and schools, but they have each other. It's 2020, so we've got Netflix aplenty and we're so lucky to have all the food and necessities we need. When I think of it this way, I know how fortunate I am.
And then, of course, I begin to feel guilty. Here we are, complaining about having to stay home, missing friends, juggling work and kids' schooling, when there are so many people whose jobs necessitate them not only going out into the world, but often caring directly for those with Covid-19 or exposing themselves to others who might be carrying it. And here I was, whining about how much I miss going to Whole Foods to browse and get a fresh-pressed juice or an iced coffee! By comparison to those on the front lines— delivering the mail, doing the grocery shopping for those of us who are higher-risk for Covid-19 and can't go in stores, and taking care of the sick who need them so desperately— our lives at home are nothing short of luxurious.
I'm not the only one who is having these thoughts, the common dichotomy of feeling both victimized by the existence of the virus and incredibly lucky to not be directly affected by it in a life-threatening way. Anyone who is reading the news or paying attention is aware that this pandemic has exposed and/or underlined gross inequities and serious flaws in the systems of our government, economy, health care, and basically every institution imaginable. And yet, there are these amazing heroes— doctors, nurses, custodians, security guards, mail carriers, grocery store employees, delivery persons, the people who pick up our trash and recycling, and so many more— who continue to go out and do their jobs because they are needed. Because they can help. Because they feel called to do so, or because they have to do so to support their families. Whatever the reason, whatever the job, these selfless individuals deserve those 7:00 pm applause breaks they get in major cities, and so much more, as well.
Several of our readers have reached out to ask us here at Integrity Botanicals what they can send to a friend or family member on the front lines. We are touched and moved beyond measure that you all want to send gifts to the people you love who are out there literally risking their lives to save others, and we want to help. If you read the Mother's Day blog post, you know we love helping you put together gift bundles of all sizes and shapes, tailored to the people you want to honor and comfort. But first, we had to research what it is these heroes really need!
I talked to four people working on the front lines— three doctors and a registered nurse— about how their routines have changed, what they need in order to take care of themselves, and the things they're doing to keep themselves sane. I'm honored to share their thoughts with you, in hopes that we can all honor the front-line workers in our lives with a gift or treat to show them our gratitude. Plus, I've added a bunch of suggestions and ideas from the team here at Integrity Botanicals, in case you want some specifics.

1. Something Fancy
The doctor I spoke to who is in Colorado said, "It's nice to get something fancy that makes me feel special." She said that these days, staff in the hospital where she works are not allowed to wear jewelry, they only wear scrubs all the time (instead of usually wearing regular clothes to see patients in non-emergency situations), and that she, like all of us are, is constantly washing her hands. She said that at work she feels like she's bathed in Covid, so it is great to have things at home that make her feel more normal, and even a little special.
We know these hard-working heroes are comforted by candles once they get home, to literally clear the air, set a relaxing mood, and feel relaxed. Woodlot makes the best candles! If you feel paralyzed by too many great options, I personally recommend starting with the Woodlot classic, Original. It's a real mood-lifter, and one of those universal scents everyone likes.
I also recommend sending a pampering at home treatment, like a face mask. Leahlani's Mermaid Mask is Integrity Botanicals' best-selling mask by far, and with good reason! It's soothing, effective, and great-smelling.
2. Hand Cream
A cardiologist working at a hospital in New York City told me that "hand cream is the hottest ticket in the hospital." So, if you're looking for something to send to a front line worker, this should be your go-to.
Henné Hand Cream comes in two scents; Blomma, a lovely, gentle floral suitable for all people, and Citrus, which is a mild, fresh citrus, not at all overpowering. 
3. Tinted SPF is the new makeup
A neurologist in Mt. Kisco, New York, told me that her daily makeup use has changed. Before COVID, she wore a face full of makeup daily, plus hair products, but now that is not possible due to the masks, goggles, and other protective wear doctors use at all times. She said it's gross when you are sweating behind a mask all day, and I can only imagine! Now she might wear a tinted SPF moisturizer and possibly some lip gloss, but there is definitely no reapplying during the day, as doctors want to minimize contact with their own faces and especially mouths as much as possible.
We all love Josh Rosebrook's Tinted Nutrient Day Cream for a totally effortless one-step SPF moisturizer.  I also adore Fitglow's Vita Shield SPF 30, which is not tinted, but rubs in completely sheer and feels great on my skin– it's very moisturizing. Babo Botanicals makes a very affordable tinted SPF Moisturizer, and BONUS: You can get a free Wild Rose Lip Tint SPF 15 with any Babo purchase right now!  Simply use the code: LIPTINT Blissoma's Aura Phyto-Brightening Serum is also a great layer to boost any sunscreen as it uses pomegranate extract to counteract environmental damage .
4. Aromatherapy is helpful at the end of the day
I spoke to a Registered Nurse at a Cancer Center in Maine, who says it's hard to wind down at the end of the day, and she uses and appreciates aromatherapy for this.
I recommend Lotus Wei Quiet Mind Mist for this purpose– it not only has the perfect name, but it really works. You spray it on the crown of your head, the tops of your shoulders, and mist a bit on your pillow, and voila! (Plus, it's great for use on kids!) I also love everything from de Mamiel's Sleep Series, especially Settle for bedtime.
Gua Sha and Face Rollers also help wind down from the stress of the day. Send the hard-working hero in your life a Lanshin Gua Sha tool!
5. Scent-free at work
The nurse also told me that at work, staff and employees are encouraged to not wear anything with a strong scent, less it bother a patient, so they are always on the lookout for a good, unscented lotion or hand cream. I'm currently using  Babo Botanicals Sensitive Baby Fragrance Free Daily Hydra Lotion for my dry hands, and I also love CV Skinlabs Restorative Balm. It's great for hands if they are chapped from all the hand washing and/or as an overnight treatment for hands, lips, face, or any extra-dry spots.
6. Or, something that smells amazing
Alternatively, some healthcare professionals told me they would love something with a soothing scent to wear as a lip balm during the day, so that the scent would waft from their lips to their nose beneath their masks. I recommend a multipurpose balm like Maya Chia's Waterless Wonder Balm— it's rich with soothing shea butter and a marvelous orange blossom scent, or something like Leahlani Skincare's Bless Balm, which can be used all over the face or just on lips and other dry areas, with Blue Tansy to soothe any redness.
7. Lip balm has to last all day
For safety, those on the front lines, especially the ones who work at hospitals and medical facilities, are trying to avoid touching their faces while at work, to avoid transmission of Covid19 in case they've been exposed. Thus, no one wants to have to reapply lip balm constantly, or at all. Here are some that will keep lips feeling moist behind those masks without needing to reapply right away. Twelve Beauty Hylauroil Lip Treatment is relatively new to Integrity Botanicals but it's already a huge hit. It's not here just to mask the problem, but to really solve any dry lip issues from the inside out. You also can't go wrong with Osmia's Lip Repair— it's a classic, and it truly works.
8. Heavy-duty deodorant
To that same end, deodorant has to last all day, too. These recommendations don't require reapplication, and will keep these heroes naturally stink-free through even a stressful, hard work shift. Send your front-line worker a sampler of best-selling Routine Deodorants. They're bound to find several that they love in this pack.
9. More moisture, please!
Keep in mind that our hardworking heroes are showering more than usual now as a result of working in places where they are exposed to Covid — many are often showering twice a day, so moisturizing products are key.
Babo Botanicals' Moisturizing Baby Shampoo and Wash with Oatmeal and Calendula is not just for babies. Grownups can enjoy a thorough cleanse that adds moisture to the skin, instead of stripping it away. Body scrubs are also wonderful for this purpose. One Love Organics' Vitamin C Body Polish is full of nurturing oils that moisturize as the organic sugar crystals exfoliate. Follow cleansing with a luxurious body oil fresh out of the shower— no need to even towel off! Just add oil to damp skin— like Osmia Organic's Body Oil in Naked (unscented) or a soothing fragrance like Night or Light . For extra moisture, an intensive, nourishing product like Twelve Beauty's Rewarding Body Balm is the ultimate. It's unscented and is a heavier moisturizer without any greasy after feel.  It's more like a thick lotion than a "balm," and I've heard from two separate front line workers (in the medical field) that they're loving it for use on their hands, because it's so moisturizing and also unscented.
10. Hand Sanitizer
The official sponsor of 2020 is, apparently hand sanitizer, and this is true whether you're a civilian or a medical professional or working at a grocery store. We all need it, and Integrity Botanicals has got it! 100% Pure makes an excellent one.
11. Even better: Hand Soap
If you're at home, even better than hand sanitizer is good old hand washing. You might have heard (I'm kidding, you've definitely heard) that we're supposed to wash for at least 20 seconds with soap and warm water. Some soaps can strip moisture from your skin and make your hands dried out and cracked. Not the case for Kosmatology Hand Soaps. They are simply the best, and you can get them in full size and travel size. I personally recommend the full size, since they're easier to use and last longer, but if you're on the go, you're going to want both. These soaps are so moisturizing, and while they are a little bit pricey for soap, they are definitely worth it in my opinion to save your hands, especially now with the constant washing everyone is doing.
12. Eye Cream
We've all seen the photos of medical professionals' faces after a long day wearing goggles, masks, and other PPE— those red marks on their faces where the masks or goggles dig in? Those areas need some serious TLC! I recommend an eye cream, one that is designed to encourage lymphatic drainage, increase circulation, and is formulated for the most sensitive skin of the eye area.
Fitglow Beauty's Eye C Firm Cream  contains caffeine to boost microcirculation. Kypris' Ad Astra has peptides to smooth and refresh, and Maya Chia's The Eye Achiever is a multi-correctional serum that utilizes the most nutrient-dense micro- and macro-algae extracts along with a ton of other amazing plant oils.
13. Bonus round: Bath Salts
I think that no care package is complete without some Bath Salts from Lotus Wei. At $12, they're super-affordable, so adding them to your gift is a no-brainer. More importantly, there are so many varieties from which to choose, and each is uniquely effective. Whether you want to send Fierce Compassion (perfect for healthcare providers!), Inner Peace (um, I'll take one of those– who doesn't need that right now!?), or simply Infinite Love (always a good idea), there's something perfect for the person you are gifting.
We love sending care packages to your friends and loved ones. We try to pack all orders as elegantly as possible, but also remember we have the gift wrap option on our site, too, so if you want that extra oomph for your care package, don't forget to select that option at checkout.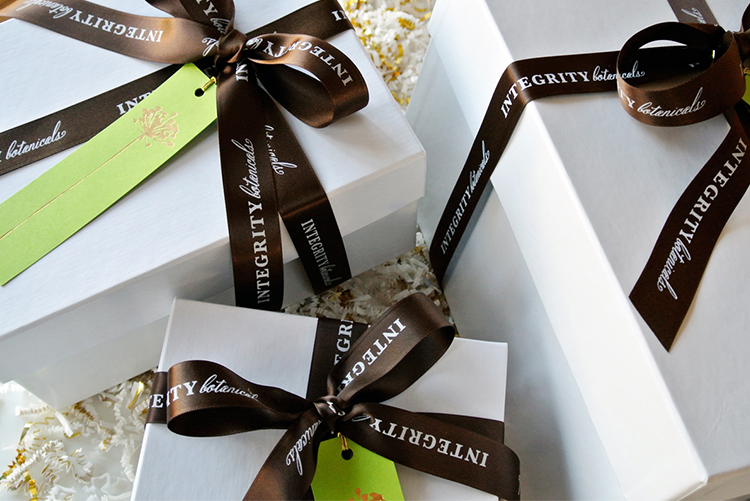 I hope this roundup helps you put together a delightful, customized gift for the hero in your life. Or for yourself— because whether you're homeschooling, on Zoom all day, trying to balance work and life in a small space, or going out on the front lines so that the world can keep surviving, you're a hero, too, and I hope you will treat yourself to something nice! Trust me, you deserve it. And it can really turn your mood around to have even the tiniest luxury. That's not frivolous at all— it really, truly matters. Please stay safe, take care of yourselves, and don't forget to do something nice for someone. It'll make you feel great, too.