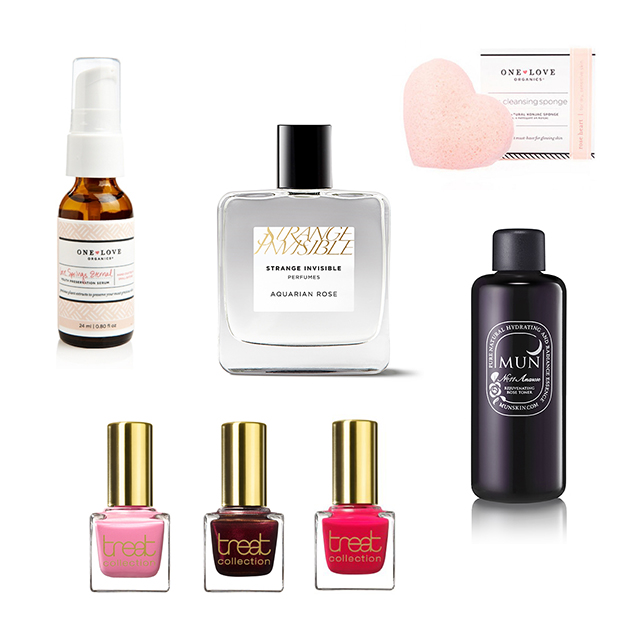 It's February and that means one thing: Valentine's Day. As I've grown older I've noticed many people shrug off February 14th as just a commercial holiday meant to boost candy and greeting card sales. While there is plenty of truth to the commercialization of holidays, did you know that Valentine's Day has been associated with romantic love since the high middle ages (think Chaucer's lifetime)? During the 18th century in England people began expressing their love for each other by offering flowers, sweets and handmade cards. The Valentine's tradition goes back pretty far, long before NECCO was making Sweethearts candies stamped with little love notes.
As an homage to Valentine's Day and the spirit of love, I've curated a handful of products that inspire soft and tender feelings, whether toward yourself or others.
1. Treat Collection Nail Polish in Something Special, Date Night and So Sweet. This trio of colors would make the sweetest gift for your bestie. Something Special is a bright cherry-hued red. Date Night (a personal fav) is a deep Bordeaux red infused with a golden shimmer — very sexy. So Sweet is a fresh pink that has Valentine's Day written all over it.
2. One Love Organics Love Springs Eternal Youth Preservation Serum. I admit that beyond their gorgeous, effective products I love One Love Organics because the branding makes everyday feel like Valentine's. The Love Springs Eternal serum has Bulgarian rose oil to tone and moisturize in addition to a patented plant-derived ingredient called D'Orientine S, which is clinically proven to protect skin from environmental sources of skin damage.
3. One Love Organics Rose Clay Heart Konjac Cleansing Sponge. These little sponges are quite the miracle! Made with 100% pure konjac plant vegetable fiber, One Love Organics has added French red and white clay to detoxify and exfoliate. These can be used without soap for a gentle, circulation stimulating cleanse.
4. Strange Invisible Aquarian Rose Perfume. This scent is on the androgynous side and is made with hydro-distilled rose and the warming essence of marjoram and sandalwood. Each essential oil combines to make a fragrance that inspires love and warmth. Strange Invisible takes natural perfumery to a new level, and this is the ultimate indulgence.
5. MUN No. 11 Anarose Toner. I cannot get enough of this rose-based floral toner. It leaves my skin baby soft and the gentle rose scent is sublime. The formula is ultra soothing, so sensitive and dry types will adore it. Hyaluronic acid and prickly pear stem extract boost hydration and enhance the performance of any moisturizer that is layered on top.
Do you love Valentine's Day? What inspires you this February?