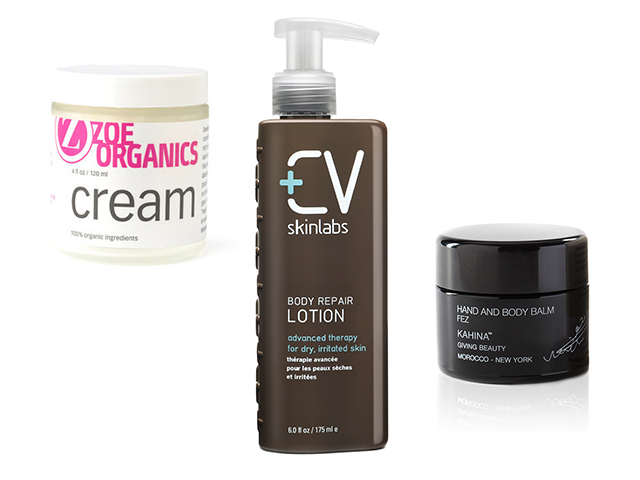 For many of us, winter is tough on the condition of our skin. Between running the heater on high indoors and being exposed to the harsh cold outdoors, skin just seems to wither and dry up. At best, skin can become uncomfortable, red and itchy. At worst, skin can become painful, cracked, inflamed and vulnerable to infection. There are a few things you can do to help your skin stay well conditioned and hydrated during these colder months of the year and a few products that will help you feel more comfortable, too.
First, monitor your shower temperature. My instinct in cold weather is to take a shower in water that's as hot as I can stand, and I fight that inclination everyday. Why? Water that is too hot is brutal for skin. It disturbs the outermost layer of skin cells and oil that protect your hide and help retain moisture. Take a lukewarm shower to ensure that thin protective layer of natural oils isn't stripped. Second, keep a humidifier cranking all winter long. With heaters running, there is little moisture in the air of most homes. A humidifier helps replenish the air's moisture content, which is good for skin and your respiratory system. Third, make sure to keep skin well exfoliated with body scrubs and natural sponges.
Most importantly, pick some super moisturizing and healing products to protect your skin. Here are three wonderful options with different consistencies — a lotion, balm and cream.
CV Skinlabs Body Repair Lotion. This lotion is pure bliss for irritated dry skin, including skin conditions that are often exacerbated by winter weather like eczema. It's free of essential oils and unscented, which is great for those with sensitivities or anyone who wants to layer products. The secret behind the effectiveness of this lotion is CV Skinlabs proprietary Tr-Rescue Skin Complex — a powerfully healing blend of turmeric, alpha-bisabolol and reishi mushroom. This anti-inflammatory blend speeds the skin's healing process. Additional ingredients like beta glucan, calendula and aloe add moisturizing properties that can't be beat.
Kahina Giving Beauty Fez Hand and Body Balm. This salve is a velvety blend of hyper-nourishing butters and oils like carrot seed oil, shea butter, coconut oil, olive oil and mango nut butter. Kahina's signature argan oil helps soothe with high concentrations of vitamin E. Beeswax helps seal in moisture and protect skin from the irritation and dryness we often experience during winter. Add to that an infusion of calendula, which calms and heals skin. The scent is one of my absolute favorites — a rich, warm blend of rose, orange, sandalwood and patchouli.
Zoe Organics Cream. This cream is one of the most protective and soothing treatments on the market. With a base of organic shea butter that's blended with organic jojoba, rosehip, avocado and coconut oils to deeply nourish and protect dry skin, this is a seriously rich treat for your skin. It's fragrance-free but has a naturally occurring light coconut scent from the blend of butters and oils. Sensitive skin types will love Zoe Organics Cream, and it is gentle enough for kids and babies because it was developed specifically for very dry skin and conditions such as eczema.
 Treat your skin right this winter and you'll diminish the usual skincare woes that come with the season.