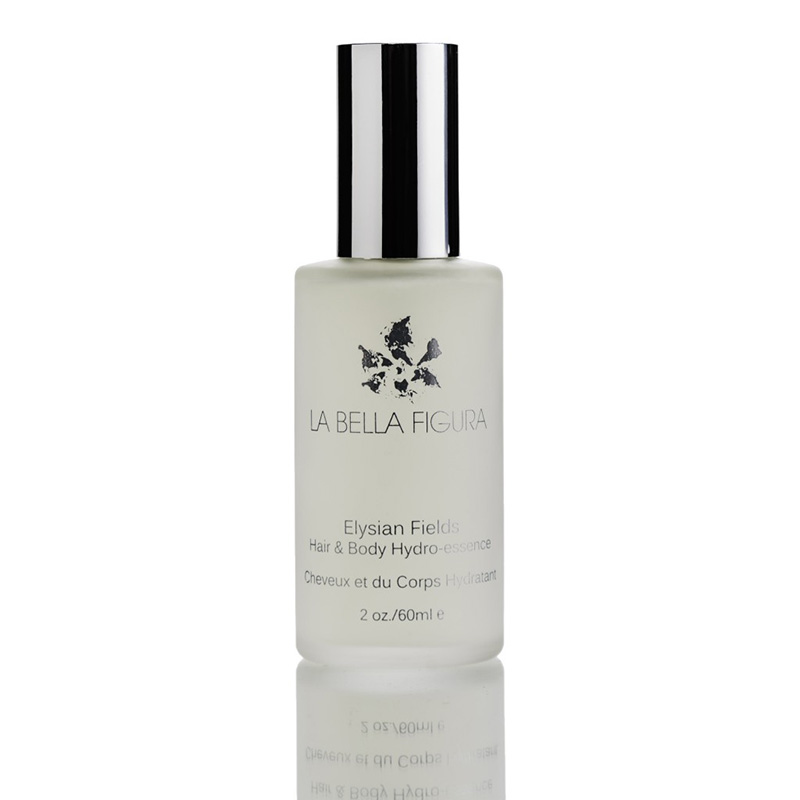 Multi-use products have a big appeal, but for one reason or another they often seem to fall under the makeup category more often than not, or perhaps it's a balm or moisturizer that works for the body and the face. Nothing too out of the ordinary, right? For this reason, I was intrigued when I learned that La Bella Figura created a hydrating mist for the hair and body. Trust me, this is way different than spritzing your favorite rose hydrosol on your hair as a little refresher.
The Elysian Fields Hair & Body Hydro-essence is a hair styling product and skin quencher all in one, and I can't get enough of it.
What I love about the Elysian Fields is that it adds lightweight shine and texture to my fine hair. A very in the know hair expert—the founder of Yarok—once told me that hair looks best when it's broken up and texturized in a way that gives depth and dimension, especially in photos. Elysian Fields does this for my hair without any stickiness or stiffness. I want that shine and light texture, but I also want to run my fingers through my hair without getting stuck midway. Hair oils and styling creams are generally too much for my hair type, but the Elysian Fields provides a light gloss and separation without weighing my hair down. It's also an incredible refresher for second or third day hair, after my dry shampoo has done its thing. It makes my hair look healthy and gives it a little bounce, plus it imparts an incredible light floral scent.
Truth be told, I used Elysian Fields on my hair long before I tried it on my skin. Since it performed like a lightweight styling product, I thought maybe it didn't make much sense to spritz it on my skin. I traveled to the W.E.L.L. Summit in Boston last weekend, and I didn't have room for my go-to toner, so I put the Elysian Fields to the test on my skin. Of course, I had one of those head-smacking moments—it's a gorgeous treat for the face! To understand why, all you really need to do is glance at the ingredient list. With pure aloe vera, rose otto and neroli hydrosols plus a handful of potent and vitalizing extracts from watermelon, mushroom, mango flower and more—this mist adds the vitamins, minerals and antioxidants our skin craves. Finally, the beauty hero hyaluronic acid is included to help hold in moisture. Yes, it's possible to have one mist that works beautifully on skin and hair, and the Elysian Fields is it!