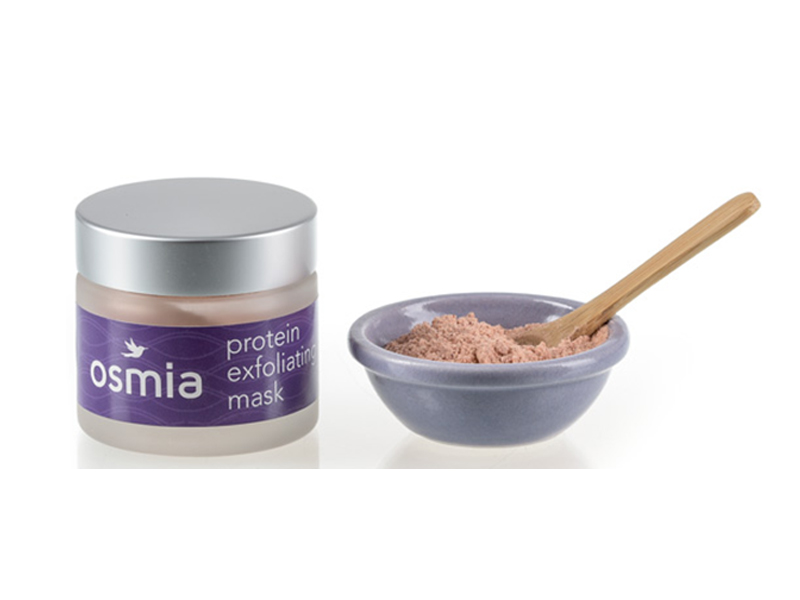 Say the words "exfoliating mask" to me and I'm all in. Add protein to the mix, and I'm beyond intrigued. Sometimes simple is so right, as is the case with Osmia Organic's Protein Exfoliating Mask. Four ingredients work together to provide an experience that is both rich and vigorous. Any dry patches will be sloughed off, smoothing out the surface of the face, while skin is left feeling soft and supple. Don't let the fact that this mask hardens when left on for 15 minutes fool you—there's no moisture and oil-absorbing clay in this treatment. Just hand milled adzuki beans, protein rich organic quinoa, red sandalwood powder and essential oils.
Despite the simple ingredient list, there are layers of action to this exfoliating mask. The adzuki beans—used traditionally by Japanese for exfoliation—are combined with the quinoa to create an enzymatic exfoliation in addition to the physical exfoliation brought about by these powders. The red sandalwood tones and refines skin further and lends to the pinkish red hue of the mask, along with the adzuki beans. Smell the mask and you'll pick up the faint hint of something like sprouted beans—fresh and vegetal—alongside the calming scent of the essential oil blend, which is reminiscent of lavender and palmarosa. All in all it's a very Osmia scent that's fresh and clean and makes the experience rejuvenating and delightful.
While this mask exfoliates very well, it's not an abrasive scrub by any means. I love that you can make a paste and use this mask just as a quick and effective exfoliate, or leave it on and let it dry before massaging it in to refine the surface of the skin. Either way you choose, it comes with the perfect ceramic bowl and wooden spoon to mix the mask quickly and efficiently. The bowl has enough room for add-ins like yogurt or honey. The Protein Exfoliating Mask is fantastic choice for all skin types, even those with dry skin since the proteins help moisturize and soften. Plus, regular exfoliation is important for helping skin stay radiant and ensuring your serums and treatments can absorb properly. Don't miss this lovely brightening treat, especially if clay masks are generally too much for you.