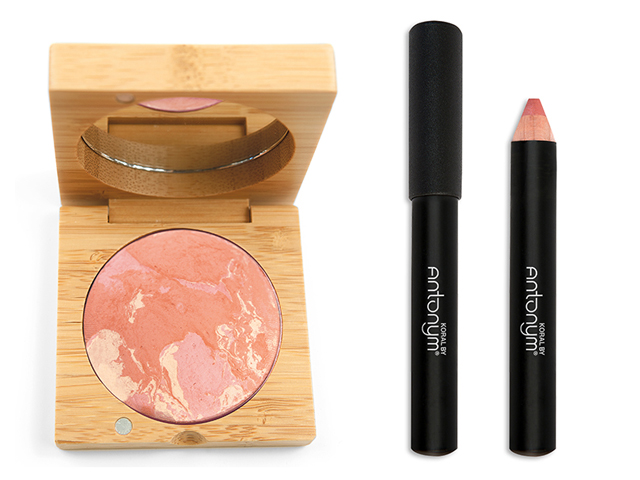 Don't you just love finding makeup basics that you can depend on for a natural and fresh look no matter what is going on with your skin or how short on time you are?
The entire line of Antonym cosmetics is Ecocert certified, and many of their products are certified organic, too. Already a fan of the mascara and eyeliner (one of my all-time favorites), I was excited to try a few additional items from Antonym — the Certified Organic Baked Blush and Certified Natural Lipstick Pencil in Koral. This blush and lipstick pencil are perfect for when you want to go for that "my skin but better" look — fresh and awake but oh so natural. They are also great colors to build on if you're going for a more bold makeup look.
The Antonym Organic Baked Blush comes in a chic compact made from sustainable bamboo. It has an easy to open magnetic closure and a large, deep-set mirror for touch-ups on the go. The formula starts as a crème that is then baked until it transforms into a fine, silky powder with a buildable transparent finish. The blush is beautiful to look at with its marbled combination of several shades of peach. Because it packs a few colors into one compact, you can really tailor your look to your mood or needs. The palest shade of peach does a great job of highlighting, while the more pigmented colors give a natural flush of color to the cheeks. It even looks great on the eyes! The blush is molded into a slight dome shape, which makes it super easy to pick up multiple colors in one swipe, or just a touch of one color for targeted use.
The Antonym Natural Lipstick Pencil in Koral has become a fast favorite and a real staple in my makeup kit. Long-lasting and waterproof, the lipstick glides on, wears smoothly and provides moisture thanks to the sunflower oil and shea butter that it's formulated with. Koral is a soft peach-nude with a barely noticeable shimmer. It's understated and looks beautiful yet low-key on its own. Pair it with lipgloss to dress it up a little more. Try it with the W3LL People Bio Extreme Lipgloss in Sparkling Grapefruit. I've also come to rely on it as a nice alternative to a lip liner when wearing deeper shades of lipstick. The pencil allows for a quick and precise application, which I really appreciate, and the waterproof formula helps hold lipstick in place.
Antonym has become a trusted source for makeup basics. From the lovely packaging to the natural colors and dependable performance, the overall experience once again proves that you don't have to compromise when it comes to makeup. Natural and organic wins again.