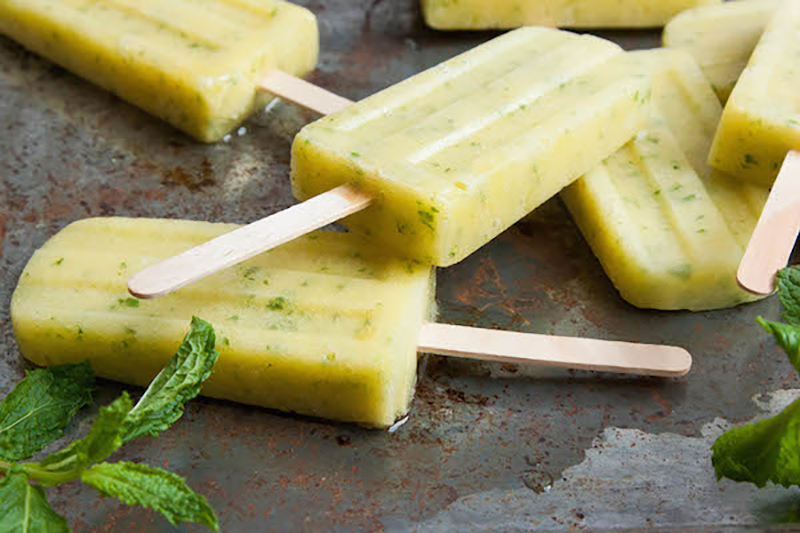 How long has it been since you had a popsicle? We have a few gourmet popsicle makers where I live, and they substitute the typical weird-science ingredients and flavorings with real fruits and foods. You can actually find some pretty healthy fruit and yogurt popsicles in grocery stores these days, but it is so easy to make your own and tailor the recipe to your taste and dietary needs. Plus, popsicles are the absolute best way to keep cool during hot weather, so make your own and have them on hand all summer.
While visiting family in Dallas recently, my brother took us to Steel City Pops, a gourmet popsicle joint with the most delicious flavor selection I've ever seen. The ingredient combinations were so simple yet healthy and flavorful, and I was inspired to try making my own as a fun way to benefit from the vitamins and antioxidants that fruits and herbs have to offer. The Steel City popsicle I chose was pineapple and jalapeño, and that is the inspiration for this recipe, though I've left out the jalapeño and opted for mint, which is more kid friendly and easier to work with.
Pineapple is packed with antioxidants and vitamins. In addition to being a great source of dietary fiber, it contains high amounts of vitamin C, manganese and bromelain—an important enzyme that reduces inflammation in the body and helps with digestion issues. Pineapple also offers potassium and thiamin, a B vitamin that helps with energy production. In addition to offering all these nutrients, pineapple is such a refreshing and tropical flavor to enjoy during a hot summer, don't you think?
Pineapple & Mint Popsicles

2 cups fresh pineapple

¼ cup fresh mint leaves

¼ cup water

2 tablespoons raw honey

Combine pineapple, water and honey in a blender or food processor and blend until smooth. Add mint and blend for another 30 seconds. Pour into popsicle molds or Dixie cups, add a popsicle stick to each and freeze for at least 4 hours. Enjoy!
*photo via The Kitchen Corner Blog