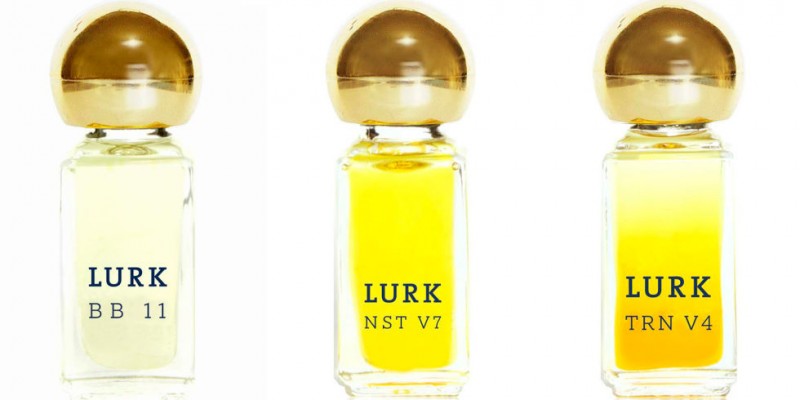 As much as I love skincare and makeup, fragrance is the thing I get most excited about from the ever-growing clean beauty catalogue. Perfume is where botanical ingredients really demonstrate their range. Plants have so much to offer by way of scent, which you've no doubt observed first hand from products that include essential oils in their ingredients. Essential oils have a lot of therapeutic potential, but when we step away from the practical and purposeful reasons for including things like rose oil in our routines and simply enjoy the essential oils and absolutes for the sake of relishing a beautiful scent, it becomes something entirely different. Perfume is transformative and transfixing, but I never truly found it so until I experienced botanical perfume.
Lurk has been a personal inspiration and an endless well of good scent for a few years. It's still difficult for me to choose a favorite among the original lineup. Somedays it's RSW005, others it's BS003, but I love them all. When Lurk released two eau de parfums last year, I celebrated like it was a national holiday, so you can imagine how excited I was about the news of three new scents. Each brings a unique fragrance profile to the line, and it's clear that Lurk's founder, Anne Nelson Sanford continues to hone her craft. They are all beautiful perfumes, and you should find an excuse to try them for yourself.
Here's what you can look forward to from the new scents…
BB11 Described as a blend of ambrette seed with notes of warming black balsam and succulent florals, this blend feels the most feral of the three new scents, and with good reason—ambrette seed is a botanical musk, and it's derived from the seeds of the hibiscus plant. Though my nose can't isolate the signature scent of ambrette seed in this perfume, the musky effect is there and it adds tenacity to the fragrance, which starts off sweet and fruity and grows increasingly powdery before settling into a warm, balsamic note that tickles the nose. This is one of the richest most unique scents in the collection, in my opinion.
TRN V4 This perfume begins with a sweet, intoxicating watery note that must be the lavender blossom. As it opens on the skin and begins to reveal new layers, neroli and Bulgarian rose emerge with neither being too pronounced. These are supported and rounded out by spicy tobacco, which is gently present and doesn't overtake the floral body of the perfume. The scent is a clean floral that I find fairly unisex and truly refreshing. It is a wonderful perfume for this time of year.
NST V7 My favorite of the three new perfumes, this creamy citrus and floral scent has a touch of warmth and is very unique. Pink lotus and Owyhee, which is a sweetly scented oil from the artemisia species, combine with sandalwood and tuberose into something irresistible. When smelled straight from the bottle I get a green carnation-like fragrance, but on the skin it deepens and warms in tone while remaining soothing, soft and floral. Another beautiful scent for summer, NST V7 reminds me of fresh blooming jasmine, too.
If you're not sure where to start, Integrity Botanicals has an exclusive kit available that gets you NST V7 and BB 11 with sample of TRN V4 for $75 (full retail of $110).