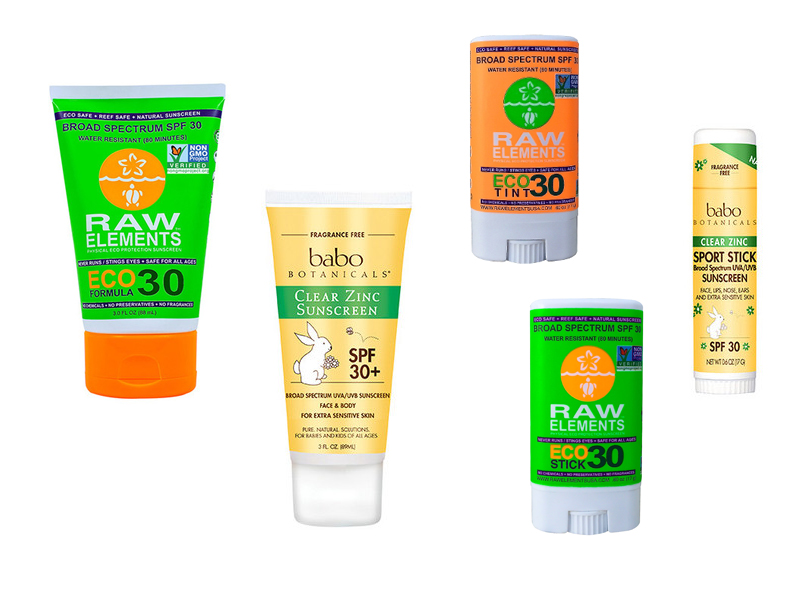 Do you wear sunscreen daily? In the summer when we're lured outside by gorgeous warm weather, it's more important than ever to choose an SPF with physical protection from mineral filters like zinc oxide. Sunscreens that use chemical filters like oxybenzone and avobenzone are the most common sunscreens on the market, but they come with some serious toxicity concerns (see this great article from the EWG for more information) and should be avoided. Mineral sunscreens have gotten better and better over the years, so ditching your chemical variety for a safer non-toxic version is easier than ever.
For easy coverage that helps prevent sunburn and sun damage, try the Raw Elements Eco Formula SPF 30 Lotion or the Babo Botanicals Clear Zinc Sunscreen Lotion SPF 30. Both rely on zinc oxide to protect from the sun. The Raw Elements Eco Formula is an emollient sunscreen that is on the thicker side, but it spreads easily thanks to lovely botanical oils like hemp seed oil, sunflower oil and mango butter. The first two ingredients are organic green tea and black tea, and it also includes organic coffee bean. These antioxidants add additional protection. The whiteness fades into skin quickly and it is water resistant up to 80 minutes, so it's perfect for summer activities. While I love the Raw Elements ingredient list the most, the Babo Botanicals formula is nicer for everyday wear when you're just strolling about at the park or sitting at an outdoor café. The formula is more matte and absorbs into skin within minutes leaving no white cast thanks to its clear zinc formula. It also includes antioxidants like green tea as well as rose hip to boost protection while jojoba, coconut oil and avocado oil nourish skin.
For squirmy babies or quick touch ups on the go, Raw Elements and Babo Botanicals both offer stick sunscreens that are easy to pop into a pocket or a bag and can be swiped on with little effort. I watched my sister-in-law apply the Babo Botanicals Clear Zinc Sport Stick SPF 30 to my little niece with no trouble just as we were heading to the park. The Raw Elements Eco Stick 30 is a great option, too, because it is water resistant and comes in a super slender little stick that goes anywhere. Swipe onto nose, cheeks or lips for quick coverage that won't sting or run into eyes. Raw Elements Eco Tint 30 is another great stick option that has a little bit of color to help it blend in well with any skin tone. I love these options because they're portable and easy to apply, and they never feel too heavy.
Remember, the absolute best way to prevent premature aging and pesky sun spots is to wear sunscreen. Just make sure you're choosing sunscreens with healthy ingredients like Babo Botanicals and Raw Elements.