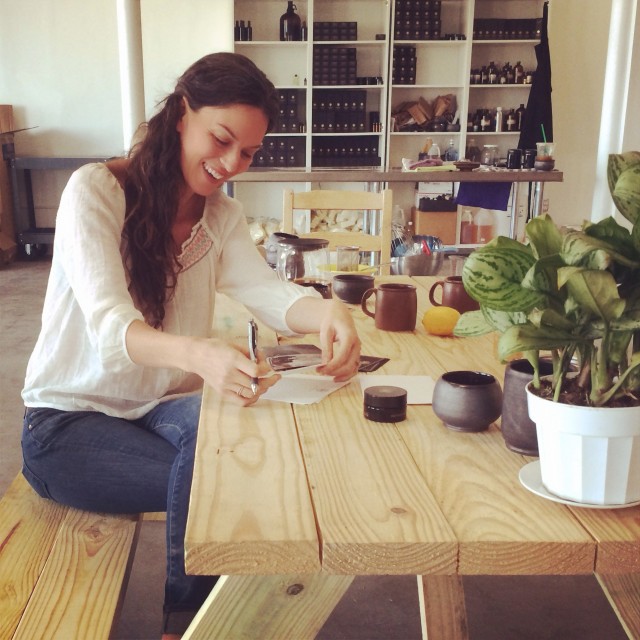 Today May Lindstrom launches at Integrity Botanicals, and it's also May Day! A traditional spring holiday celebrated in cultures around the world, the earliest May Day celebrations took place in pre-Christian Rome, with the festival of Floralia, a festival held in honor of the Roman goddess of flowers, Flora. While May Day has evolved throughout history, at heart it is still a celebration of all the beauty spring brings with it. Today we're celebrating May Day with another goddess of flowers, May Lindstrom.
The talented skincare chef shares a little bit about her philosophy and eponymous line. It's always a delight to hear from May.
Susannah: How did your journey as a skincare formulator begin?
May: My adventures into skincare began as a small girl. Growing up, I would spend full days mashing wild plants into a pulp and covering myself, and everyone who would humor me in "potions" made from these vibrant green liquids and the clays I would dig from the iron rich soil in my yard. I am passionate about pure, potent ingredients and about a return to our roots. Our planet provides such an elegant bounty of delicious botanicals, clays, salts and spices that it is hard for me to fathom how we have strayed so far from that to the current trend of hocus-pocus performed in laboratories, mass produced plastic bottles filled with damaging synthetic chemicals and cheap fillers.
I believe in simplicity. While I have given an incredible amount of attention to designing products that create a feeling of decadence and celebration, my very core is as basic and grounded as it gets. Beauty truly does come from within and I know that without a healthy body and spirit, our skin suffers. I can talk for days about nutrition and the delicate balance of our inner workings. There is no magic bullet in a bottle, not from my line and not from any other. May Lindstrom Skin was born out of a desire to create blissful bookends in my day, a time-out morning and night that was just for me. Having formulated for years out of necessity and in response to pain (I am blessed with highly sensitive and extremely chemically reactive skin), I yearned to create something that was simply luxurious and lovely.  
My foundation in purity and simplicity is solid, but it was time for me to embrace playfulness and beauty in my potions, going back to the delight I felt as a child, creating my own little piece of magic.  I wanted to feel something when I picked up a bottle and entered my cleansing ritual. I wanted to feel peace, joy and celebration all in that one moment. And I wanted to share that with every woman I loved and cared about so she could feel this too.
Your products have this magical harmony to them that results in a luxurious experience. What influences your ingredient choices and how you combine ingredients?
Each of my formulas was developed to feel so incredibly special that they would undoubtedly become a catalyst for unlocking decadent bathing rituals, creating the time and space for the personal connection you deserve. I am on a quest to reveal radiant skin while igniting recognition of our individual beauty. I have always been fascinated by the idea of ritual, setting daily reminders to take time out and indulge in ourselves. I am very much a romantic and I believe that the greatest love story begins with yourself and overflows from there.
My collection is handcrafted using only the finest exotic and nutrient-rich ingredients that are sourced and harvested in a mindful and sustainable manner. I purchase raw ingredients in their fresh and active state from a very small handful of suppliers who work directly with farms from all over the world. With the plant ingredients especially, this is incredibly important. It is imperative to fill each and every bottle with the most vibrant raw materials possible. That sometimes means a lot of searching and alternating areas of the world I source from for each ingredient as seasons and even political climates fluctuate and certain crops are more or less abundant. I select only ingredients that are: Organic. Bio-dynamic. Wild Crafted. Cruelty free.  Sustainable. Conscious.
I create my own proprietary formulas. No outsourcing — this means I do not purchase base formulas, use labs, generics or shortcuts. Each bottle is inspired, formulated, hand blended and personally filled from my private studio in micro-batches for ultimate freshness and efficacy. Essentially, I look at my role like I have the responsibility to come up with the most incredible (skin care equivalent) chocolate chip cookie recipe of all time — one that will be passed down to my children and grandchildren, and theirs. Always made in the same loving way, with the best quality ingredients and care, and with unwavering delight.
Who is the May Lindstrom line for? Can anyone benefit from your products?
This collection is for those who appreciate beautiful things — and see their self within that. The woman who knows how to love herself well and the one who is learning to do so. The woman seeking something special as a treat for herself. The woman who believes in treating herself daily to something delicious, who embraces ritual and loves a good story. 
Skincare does not have to be complicated. Most of my clients come to me with skin that is simply exhausted, devoid of its own light and luster. We train our skin to depend on product to regulate moisture levels, to dry up our acne, to perform minor miracles on wrinkles and spots… What we need to realize is that the magic happens when we embrace our skin's natural rhythm and create the space to care for our whole selves, inside and out.
I believe our skin has the ability to heal itself if we let it. It is our responsibility to provide abundant nutrition and hydration and to be gentle in our care. By limiting our exposure to harsh chemicals and extreme treatments, we open up to gentler methods. I build each of my products on the same philosophy and ingredients that have been treasured and shared by women all over the world since the beginning of time. I trust in earth's bounty and the wisdom of those who came before me.
All skin types can revel in this type of care. The positive reviews on my work pour in daily from clients with extreme acne, highly sensitive or reactive skin, those with eczema and rosacea, clients who are ill, undergoing chemotherapy or are post-surgery. I formulate for skin, period.
What does your own beauty ritual look like from day to day, and what (besides your skincare line) do you find makes the biggest difference in the health of your skin?
Our wild little house wakes early, first to the sound of the chickens who rise with the sun. Their clucking excitement for the day rouses our pig, who is much louder, and equally chatty. The cats begin their prancing, pestering our dog, and my nearing-three year old daughter has never been the best sleeper so she's up too, dancing and telling disjointed stories and making us all laugh. Mornings are active, and it's usually all I can do to work in a quick splashing of water and massage with The Honey Mud, followed by The Youth Dew and a mist of The Jasmine Garden. Often, there's only time for water to cleanse, and I'm grateful then that my night routine is more thorough. When time is particularly tight, I skip the steps in the bathroom altogether, instead misting my face generously with The Jasmine Garden as I rush out the door, pressing The Blue Cocoon into areas of dehydration or sensitivity, and lightly massaging awake my complexion. It takes only a minute of my day, and makes all the difference in the world. 
On slower days, my favorite way to wake up is with a hot shower and a more lively skin treatment with The Clean Dirt. This is so invigorating, and crazy effective. I allow the formula to sit for a few minutes while I wash my hair (Yarok or Rahua are favorites), and when I rinse everything away, I can literally feel dead skin being released from my complexion on my fingertips. It's amazing, a formula I am super proud of, and our global best-seller. 
If my skin is feeling dry and sensitive, I will sometimes wear The Honey Mud into my shower — this is a great trick, and will protect your skin from the drying heat and water, while also maximizing the power of the rich ingredients and giving you the perfect morning treatment. Skin simply glows after.
Also on shower days, I never skip The Good Stuff. This is massaged on liberally head to toe, always into soaking wet skin before I even leave the tub. There is something about this blend that feels extra indulgent to me, and makes every day feel like a celebration. Skin is left crazy soft and silky, lusciously aromatic, illuminated and just slightly golden. It's gorgeous. You have to try it to understand how necessary it is in your ritual.
In the evening, I make time always to thoroughly cleanse after my daughter goes to sleep. The Honey Mud is my daily staple, rotating with The Clean Dirt every second or third day (at the frequency I wash my hair). I try to do weekly treatments with The Problem Solver (my skin shows when I skip this), and after every cleansing or treatment I hydrate with either The Youth Dew or The Blue Cocoon. Often, I layer these to take full advantage of the unique qualities of both blends, and always complete with The Jasmine Garden.
I've discovered that one of the most vital elements to my own ritual is to be in the moment. Even if you have only five minutes, make it the most delightful five minutes of your day. Savor it, drink everything in and let yourself get a little swept away.
What excites you most about the green beauty landscape presently?
So much! In the last year or so, I'm seeing a lot more playfulness in formulations — more experimentation with color and texture, new scents and ingredients, products that don't look like everything else out there. There is a sense of wonder and magic in our ritual again, and that is everything I believe in.
I'm excited that more brands are pushing the envelope on introducing stunningly beautiful packaging and an experience that brings us joy and pleasure. This is a game-changer for a hundred different reasons. 
There is enough trust now that "green" can equal effective (and exceed the synthetic standard) without compromise. With this trust comes our ability to go even deeper, to dig in and come up with something even more special than simply "clean". Rather than a focus on who is greenest, we get to push for simply the goal of creating the best possible formulas in the world, period. I'm absolutely thrilled to rise to the challenge.
To celebrate the launch of May Lindstrom at Integrity Botanicals, enjoy a free Jasmine Garden Mist ($60 value) when you spend $200 on May Lindstrom. Just use the code JASMINEMIST now through Sunday at 11:59 pm PST.