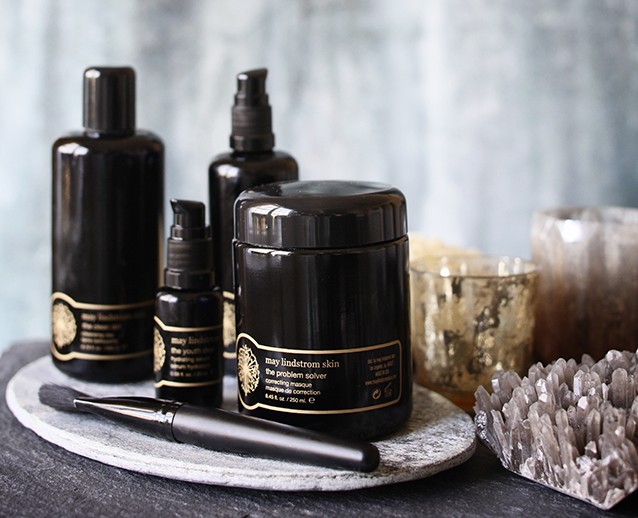 May Lindstrom makes truly covetable, artisan products. Every product I've tried is a top-shelf item that impresses me time after time. The May Lindstrom experience is akin to having a meal that looks so simple but surprises you with the most intense flavors and aromas, satisfying you beyond belief. The products are both luxurious and practical, with healing elements that benefit so many skin concerns.
Here's a glimpse into what makes each item special.
The Honey Mud, gentle cleansing silk. Delicate and sensitive skin, say hello to your new best friend. This silky cleanser has an almost pudding-like consistency that feels like heaven on skin. The texture of this cleanser is so unique and delightful. A mix of raw honey, white halloysite clay and aromatic plant oils gently cleanse and hydrate while infusing skin with active enzymes. The Honey Mud can be used as a mask, too. I love to wear it for 20 minutes before rinsing away so that my skin is infused with the healing and hydrating properties of raw honey. Even though it is packed with honey, it emulsifies and rinses away with little effort. I hardly need any more moisture after the Honey Mud. The scent is gentle, inviting and addictive. It smells of fresh honey, cocoa, vanilla and with a slightly sweet floral touch, probably from the ylang ylang and sweet orange. The overall effect is super hydrated, glowing skin.
The Clean Dirt, cleansing clay. This is a desert island product for me. I could survive on the Clean Dirt and a nice face oil and still have radiant skin. The Clean Dirt took the green beauty world by storm a few years ago for its unique and effective formula. You simply mix the Clean Dirt with a few drops of water to activate. I like to blend the Clean Dirt with rosewater for an extra boost. This mix of cleansing clays, warming spices and healing salts also contains water-activated vitamin C and sodium bicarbonate, so when you mix it with water it fizzes up before turning into a soft mousse consistency that spreads beautifully onto skin. The warming spices like cinnamon, nutmeg, clove, turmeric and ginger create a slight tingling sensation and increase blood flow to the skin, encouraging cellular rejuvenation. I like to use the Clean Dirt before each shower, sometimes letting it sit for about ten minutes before hand. It exfoliates nicely and I'm able to use it daily without over doing it. The scent is an aromatic, warm spicy mélange that is both invigorating and calming and reminds me of fresh gingerbread. This cleansing clay comes in a generously sized bottle and lasts a long time, even with daily use.
The Problem Solver, correcting mask. Another generously portioned product, this highly concentrated mask is also a dry formula that you activate with water. With so product little required, the Problem Solver is a great investment if you have trouble with acne, hormonal breakouts or just want to deeply cleanse pores and detoxify skin. Like the Clean Dirt, it has a powder-to-mousse formula that helps retain the freshness and potency of the ingredients. The Problem Solver can get a little messy since it transforms into a jet-black blend of raw cacao and bamboo charcoal with rhassoul and fuller's earth clay. Red sea salt and vitamin C help exfoliate and brighten the complexion. In addition to the warming spices found in the Clean Dirt, the Problem Solver has a smidgen of cayenne pepper as the last ingredient. The mask is pretty intense, especially when worn for 45 minutes as directed. Expect a slightly hot and tingling sensation, particularly when you wash it off. My face is usually a little flushed after use, so I use it mostly in the evening and wake up with clear, toned and happy skin.
The Youth Dew, hydrating facial serum. This is a new May Lindstrom product for me, and it is a truly opulent experience. Consider it a golden, conditioning elixir for the face. A cocktail of 20 the most regenerative and nurturing botanical oils such as sea buckthorn, rosehip, evening primrose, borage and tamanu oil form the base. These are married with CoEnzyme Q10, an ingredient May Lindstrom calls "time-stopping". Also known as ubiquinone, this is a vitamin-like substance is found in all of our cells that behaves as an antioxidant. The Youth Dew is a medium-weight face oil with an intensely golden hue thanks to beta-carotene rich sea buckthorn. It ever so slightly enhances the color of your skin. Softer than soft, deliciously-scented with a calm rosy-citrus aura, Youth Dew is blended to perfection and benefits both morning and night routines. It's best applied to slightly damp skin, one or two drops at a time, and the Jasmine Garden is the perfect precursor. Prepare for skin that's soft as velvet.
The Jasmine Garden, botanical mist. If you love floral mists, the Jasmine Garden is a must-have. If you're still unacquainted with the practice of using flower mists, the Jasmine Garden is the perfect introduction. It's a little more gourmand in scent than other botanical mists I've used. Sultry, fresh jasmine is softly rounded out by vanilla and cocoa oil and supported by heart-opening rose and ylang ylang. Witch hazel purifies and refreshes skin. The experience is calming and refreshing. For most people, scent is so personal and can quickly become associated with a moment in time. I first smelled the beautiful Jasmine Garden at A Night For Green Beauty last August. I caught my first breath of Jasmine Garden from the hands of May herself, who was generously spritzing it in the air for us to experience. Each time I use the Jasmine Garden I'm taken back to that special warm evening in L.A. You'll make your own memories with this lush botanical mist.
The Blue Cocoon, beauty balm concentrate. This balm is a wonder. It melts between warm fingers quickly and leaves cushioned, plush skin in its wake. It's emollient so a tiny amount is all you need for the whole face. It can be applied thickly for a super protective layer that is particularly advantageous in the winter, but I think it is best applied with a light touch so that it works in any season with any skin type. Start with far less than you think you need — you'll be surprised. When you get the perfect amount, your skin will have a nice satin-like finish. What really sets the Blue Cocoon apart is its power to calm and soothe the most irritated, inflamed skin. The secret is blue tansy, an azulene-rich natural antihistamine and anti-inflammatory. It eases symptoms like redness and discomfort. You can actually smell the balm's ability to sooth skin. The cocoa-mint scent radiates peace and healing calm. Try using it as a spot treatment on troubled areas like cystic acne, rosacea or eczema.
The Good Stuff, radiance oil. The ritual of applying this oil, especially straight out of the shower on damp skin, is one so indulgent it simply forces you to be present in the experience. I can appreciate that. Plant oils like jojoba and macadamia nut create a base that is deeply nourishing but quick to absorb. Sea buckthorn and translucent golden minerals give the slightest hint of color and glow, which makes this product a godsend this time of year when my skin is in its palest and most lackluster state post winter. The Good Stuff makes baring my limbs in the spring sun all the more appealing. The comforting scent of real cocoa shines among rose, lavender and ylang ylang in this whisper-soft fragrance that warms even more against skin. This is a gorgeous and indulgent way to keep skin looking dewy and radiant.