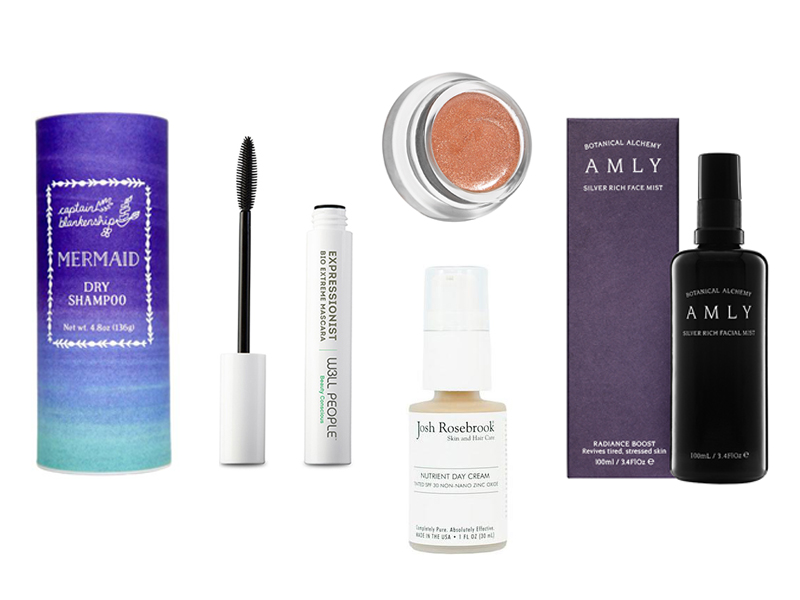 These days my mornings start really early and I'm usually short on time. With our busy modern lives, I'm guessing your situation is similar. I love lingering over skincare routines and self-care treatments, but most mornings I've got to be efficient with my grooming efforts, so I turn to products that make an impact and save me time. Products that multitask or allow you to skip time-consuming things (looking at you, shampoo and conditioner) altogether are absolute life savers. If it helps make my routine easier while also helping me feel my best all day long, I'm into it.
These 5 products are my essentials for a quick but lovely morning routine during the week…
Dry shampoo is a must because I cut out a ton of time and effort if I don't have to wash and style my hair. Captain Blankenship Mermaid Dry Shampoo is a staple for me—I love it so much! The clean rose geranium scent really helps freshen hair so you're not only free of greasy roots, you're extra lovely smelling. I also have to give a shout out to Yarok Feed Your Style Dry Shampoo for its extra fine texture that makes this powder utterly disappear at the roots. It's lavender-citrus scent is mild in comparison, and it "cleans" hair beautifully.
I don't even bother washing my face in the morning if I'm in a rush. Instead I reach for a face mist to wake up and hydrate my skin. If I'm feeling like it really would be nice to face my face, I'll just wipe my misted skin clean with a cotton round and then mist again. I'm still loving the Amly Silver Rich Facial Mist for it's moisture-boosting properties, peptides, probiotics and revitalizing flower extracts. This mist is a fantastic way to instill some inner peace during a hectic morning.
Following the mist, I reach for a one-and-done moisturizer with SPF that will even out my complexion where needed. Additional concealer is always an option on a rough morning, but I love the simplicity of nearly bare skin, and the Josh Rosebrook Tinted Nutrient Day Cream corrects and brightens skin tone while giving your skin everything else it needs for the day. The texture is perfect, leaving skin well moisturize, calm and comfortable while providing protection thanks to the non-nano zinc oxide.
Two makeup products consistently make the cut as essentials for me on a busy morning. The first is my beloved Disco Queen Gloria Radiant Crème Blush by La Bella Figura. This buttery balm of a blush looks amazing and natural, and the color is so versatile I wear it on cheeks, eyes and lips. Another one-and-done! Plus, the formula is super healthy for your skin—a true boost of antioxidants and nourishment. The final step is the W3LL PEOPLE Expressionist Bio Extreme Mascara—usually in brown—and my eyes look bright and awake. I love the lengthening effect this mascara has on lashes, and it applies quickly and cleanly thanks to the molded rubber brush with its lash-grabbing cascade shape. These two products take less than 3 minutes to apply and they enhance and define your features in just the right amount, so no matter how short I am on time I still feel completely ready for the day ahead.
What products make your morning routine a breeze?