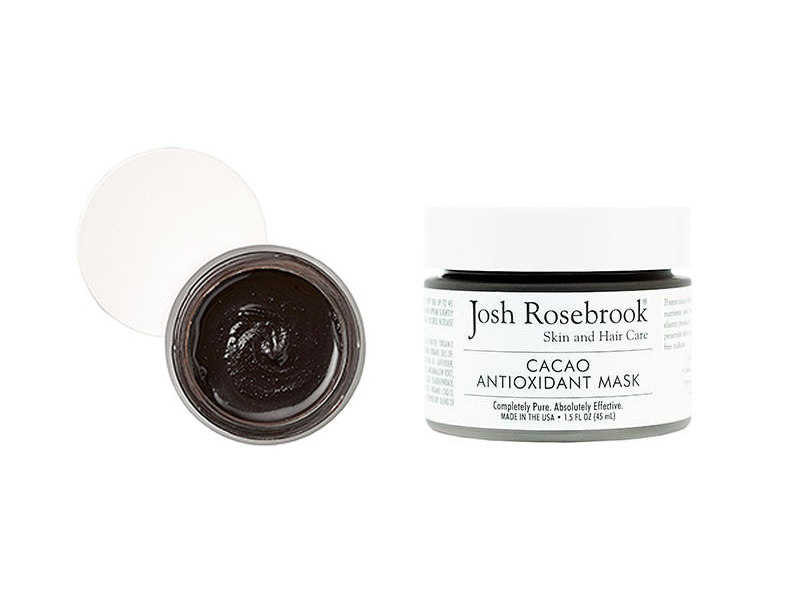 The Josh Rosebrook Cacao Antioxidant Face Mask is as luscious and rich as the most decadent chocolate frosting. The chocolate scent with its hint of orange really does smell good enough to eat, and while this treat might feel as indulgent as dessert, it's beyond healthy. The Cacao Antioxidant Face Mask was Josh Rosebrook's first creation, and it's the mask that inspired him to go bigger with his line of botanical-rich skin and hair care products. Once you try it, you'll understand why. If you're feeling gloomy or rundown, this is an awesome pick-me-up minus the sugar crash.
The moment you open a fresh jar of the Cacao Antioxidant Face Mask, your senses are completely refreshed. The soothing scent wafts gently up to your nose, making you more eager than ever to put this mask on your face. The consistency is thick but so smooth and spreadable. Just be mindful to keep the lid on the jar so air doesn't dry out the texture. There are some masks you just slap on quickly and go. The Cacao Antioxidant Face Mask is different. I'm compelled to take some time with this mask, first being mindful to spread it across my skin evenly so every inch of my face benefits from its goodness, and then really savoring the process of doing something kind and nourishing for myself by relaxing during the 45 minutes the mask is active. Removing the mask is always easier in the shower, so I surround the treatment with other relaxing elements like a full-body sugar scrub. Yum.
While it's always lovely to create spa moments at home, it's what's in the jar that motivates me to use the Cacao Antioxidant Face Mask over and over again. The ingredients work together to detoxify, tone and shrink pores while providing skin with a burst of antioxidants. The cacao is incredibly rich in flavanols, so it stimulates blood flow and helps bring a surge of nutrients to the skin. Overall tone will be improved as will the appearance of dull, lack luster skin. It also includes CoQ10, which helps neutralize free radicals and restore the structure of skin. I love the intelligent and powerful infusions of herbs and sea mineral rich ingredients like bladderwrack that help detoxify, strengthen and calm the skin. The Cacao Antioxidant Face Mask leaves skin feeling smooth and hydrated, which is a wonderful surprise for such a deeply detoxifying mask. Whether you're a chocolate lover or not, this mask will benefit anyone willing to indulge. I highly recommend it as a weekend treat to yourself.